printer friendly version
Keeping Pietermaritzburg safe
CCTV Handbook 2011 Integrated Solutions, Government and Parastatal (Industry)

Identifying and apprehending criminals requires concerted effort from multiple parties.
CCTV is playing an increasingly important role in the detection of criminal activity and the apprehension of the participants in the recorded crimes. What is apparent is that the chain of evidence, from the recording stage up to the incarceration of the arrested perpetrator of the crime, requires buy in from a number of interdependent parties. Hi-Tech Security Solutions investigated the current status quo of this symbiotic relationship.
Lucas Holtzhausen, who has been the driving force behind the Safe City initiative in Pietermaritzburg, said that criminal activity increased rapidly after the amalgamation of the SAP and homeland police in 1994. "There was a moratorium placed on the recruitment of new police force members and with the natural attrition of the existing police force, there was a lot more scope for opportunists to commit criminal acts without the risk of apprehension."
Holtzhausen, who is the general manager of Safe City, explained that Des Winship, the previous chairperson of Business Fighting Crime (BFC), realised that something needed to be done to urgently address this untenable situation. "In 1999 BFC undertook research on the viability of tackling the crime epidemic on a more targeted basis through the use of CCTV.
"BFC approached the Msunduzi Municipality and the SAPS to get buy-in from both parties on a concerted crime-fighting initiative. The result was financial support from the municipality and a commitment from the SAPS to provide manpower on a round-the-clock basis for a control room. This was the start of the precedent-setting Safe City project," said Holtzhausen.
Judicial cooperation
The third element in the process was the co-operation of the judicial system. "We had lengthy discussions with the Public Prosecutor's office who expressed frustration at the backlog of CCTV footage cases in the system," said Holtzhausen.
"Unfortunately, the courts were unable to accommodate these cases as there was no specific courtroom equipped to handle the viewing of such evidence." The solution came in the form of a dedicated CCTV evidence-viewing courtroom, equipped with a DVD player, a laptop and a large screen TV which was supplied by BFC.
Situated at the fire station in Pietermaritzburg, Safe City is a Msunduzi Municipal entity and is tasked to manage and operate 68 fixed cameras and one mobile CCTV camera in the Pietermaritzburg area, in partnership with the Msunduzi Municipality, SAPS, National Prosecuting Authority, BFC and Community Policing Forums (CPF).
"Our mission is to prevent and detect crime in camera surveillance areas under the jurisdiction of the Msunduzi Municipality in order to encourage a crime free environment for the benefit of the Municipality's communities and to attract investors and promote development, tourism and job creation," said Holtzhausen.
The project was approached in a systematic, business-like manner. "With business principle leadership input from BFC we decided to appoint a consultant to investigate and source the security equipment we would require to make the project successful," said Holtzhausen.
Making it work
"Dihlase Consulting Engineers' Pieter van Rensburg took the bull by the horns and instituted a feasibility study, followed by a full report detailing what was needed to launch the project and what was expected of the equipment to be used at Safe City," Holtzhausen explained. "By appointing an independent person to handle the execution of the equipment acquisition, we were able to approach the project in an objective manner and to finitely match the equipment to the exacting needs of each application.
"After a comprehensive tender process, Dihlase appointed Provicom Electronics as the surveillance and monitoring equipment supplier. Provicom has been responsible for the sourcing and installation of the high-quality Panasonic and JVC CCTV equipment which links to Synectics software," said Holtzhausen.
The control room, which houses banks of screens, was designed by Dihlase to provide maximised viewing quality and real-time reaction time. "We currently run three shifts with seven operational staff manning the monitors in the control room. They are supervised by a control room manager, while service backup for the monitors and cameras is provided by a team of three technicians who are available on a 24/7 basis. Evidence of their dedication to their jobs is the fact that downtime on the cameras is less than 1%," Holtzhausen added.
The uptime of the cameras is an obvious necessity in ensuring that documented evidence is not compromised. "Safe City undertakes ongoing proactive maintenance of all equipment and maintains a stockholding of all essential equipment parts," Holtzhausen said.
Safe City operates on two levels to identify and apprehend criminals. "We have a programme whereby members of the public and local businesses can text details of suspected or known criminal activity into the control room for action by one of the control room staff. If we have a camera in that vicinity we can manipulate its positioning to gather footage. Alternatively, we can request a patrol unit to go immediately to the reported scene," Holtzhausen said.
Securing the chain of evidence
Holtzhausen, who is an ex SAPS employee, pointed out that the chain of evidence is crucial when presenting CCTV footage as evidentiary material. "We make three copies of the requested footage and place each copy into a separate sealed evidence bag which is then recorded in the SAPS evidence register. We retain the master copy, one copy is given to an investigating officer for further action and the third copy is placed in the possession of the Public Prosecutor. The chain of custody is very strict as one would expect in such a sensitive area where we have to account for every step in the process."
Since instituting the Safe City initiative, crime has been drastically reduced but some criminals do not learn from their mistakes. "We have found that criminals become familiarised with the positioning of the cameras and generally avoid these areas after they have been apprehended once. However, the pickpocket thieves are extremely territorial and will continue to return to the location of a previous arrest because it falls within their area of operation," said Holtzhausen.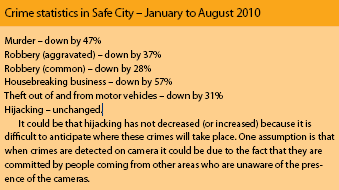 Safe City is a perfect example of how communities can work together with law enforcement and judicial authorities to combat and reduce crime in targeted areas. "We have built up a very good relationship with the authorities, to the extent that the authenticity of our footage has never been questioned. This is in part due to the fact that all our staff undergoes stringent security clearance screening prior to their employment and all training and certification is undertaken by SAMAE and PSIRA respectively," Holtzhausen said.
"In 2009 and 2010 Safe City has seen 3067 incidents and 87 cases have appeared in court.
Safe City has also effectively stopped crimes by spotting them as they are about to happen, and sending immediate help to counteract them," Holtzhausen said.
Public prosecutor
Second Public Prosecutor for Pietermaritzburg, Sharleen Haggard, said that the Safe City project in Pietermaritzburg is a possible benchmark for the rest of the country and as far as she is aware is the only project of its kind in the country.
"As Lucas said, a number of factors played a role in the launch of Safe City. From the Public Prosecutor's perspective, we were faced with a high volume of congestion in the court rolls so a dedicated courtroom was required to cater for the processing of videographic evidence from CTTV footage.
"The hearing and prosecution process was prolonged because there was no single courtroom with the necessary infrastructure. Cases therefore had to be constantly remanded until they could be heard. The courtroom which is now dedicated to processing CCTV footage has very effectively speeded up the evidentiary and testimony process to a finalisation stage," Haggard said.
"There has been a dramatic decrease in the number of crimes occurring in front of CCTV cameras and therefore a decrease in the number of cases appearing in court. This is assumed to be because criminals are now aware that such evidence is processed faster and more effectively to secure an arrest and sentencing due to the streamlining of the process.
"Before we secured the dedicated courtroom we were dealing with approximately 20 to 30 first appearances every day with up to 10 matters a month being finalised by each prosecutor." The number of first appearances has been drastically reduced and the number of matters being finalised is now down to less than two per month. "This is no doubt due to an awareness of the system and the deterrent effect of the cameras all over Pietermaritzburg."
Haggard is adamant that similar systems could be implemented throughout South Africa. "If you put more cameras into different areas, crime will decrease as a result. Obviously you will need to employ more people to man and monitor these cameras but the cost to the consumer will decrease because of reduced theft levels and therefore the ultimate payoff is greater."
Further reading:
Smart water management
Axis Communications SA CCTV, Surveillance & Remote Monitoring Integrated Solutions
South Africa is currently facing a water crisis, with scarcity and inefficient water management posing significant challenges to sustainable, consistent access to water. Smart technology and powerful partnerships may offer a proactive solution to SA's water crisis.
Read more...
---
Empowering Istanbul's public transportation
Dahua Technology South Africa CCTV, Surveillance & Remote Monitoring Integrated Solutions
Dahua's intelligent transportation solution, using technologies like DSM and AI-based passenger flow counting, has facilitated an intelligent system upgrade for nearly 6 400 minibuses and electric buses in Istanbul.
Read more...
---
Collaboration delivers integrated and holistic security
Guardian Eye CCTV, Surveillance & Remote Monitoring News Integrated Solutions
Guardian Eye and Lytehouse have partnered to integrate their speciality solutions and provide a holistic security offering that overcomes the fragmentation of security systems and services.
Read more...
---
Smart obsession: Cities within security
Business Connexion Integrated Solutions IT infrastructure
Rebatho Madiba, from BCX, explores the security and connectivity considerations that define the development of smart city foundations, naturally, with connectivity and security the most important considerations.
Read more...
---
Project services to best-practice standards
Mustek Security Technologies Integrated Solutions
Mustek Security Technologies is dedicated to providing security solutions and distributing the full spectrum of blue-chip surveillance solution-driven products, primarily for the government and corporate arena.
Read more...
---
Rapid deployment video surveillance
Blacklight Group CCTV, Surveillance & Remote Monitoring Integrated Solutions
Kelly McLintock explores the importance of implementing rapid deployment video surveillance systems on construction sites to enhance safety, minimise losses, eliminate downtime, and promote productivity.
Read more...
---
Cultivating safer and smarter cities
CCTV, Surveillance & Remote Monitoring Integrated Solutions
As a provider of video management software (VMS) and physical security information management (PSIM) solutions, AxxonSoft enables cities to anticipate and respond swiftly to security threats through advanced video analytics and intelligent surveillance capabilities.
Read more...
---
Overcoming resistance to changing your current operating model
Editor's Choice Integrated Solutions
Business survival goes beyond cutting costs and driving efficiency, it's about using data and technology as strategic assets to develop speed, agility and resilience, keep up with customer demands, beat the competition and grow the business.
Read more...
---
Access to sustainability
Gallagher Integrated Solutions
With access control and mobile solutions rapidly advancing, businesses have an unprecedented opportunity to exceed expectations with frictionless experiences, while also cutting costs on energy efficiency and supporting sustainability efforts.
Read more...
---
Cloud for security and operational optimisation
Secutel Technologies Retail (Industry) CCTV, Surveillance & Remote Monitoring Integrated Solutions
With the abundance of services available to retailers, SMART Security Solutions asked Andre Vermeulen, GM at Secutel Technologies about what the company's SecuVue cloud services can do for this market.
Read more...
---