printer friendly version
Positive growth, tougher competition
CCTV Handbook 2011
News
Hi-Tech Security Solutions asked the surveillance industry what they expect from the market in 2011.
There always seems to be something new in the surveillance market, whether its new analytical capabilities, high definition functionality coming to analogue technology or cheaper thermal cameras being made available to the non-government market. This year, Hi-Tech Security Solutions once again asked some of the leaders in the South African surveillance market to tell us what they expect to see happening over the next year or two.
Standing left to right: Roy Alves, Bertus van Jaarsveld, Johann Schoeman and Mervyn Low. Seated left to right: Mark Chertkow, Gregory Collier
As publishers we hear that sales are down and the remarkable historic growth of IP (Internet Protocol)–based systems is down for the first time ever. The first point of discussion must therefore be: what is happening at the coalface?
Fortunately, although sales over the past year have been down, the IP side of the industry is still growing. Country manager of Axis Communications, Roy Alves says there is no doubt that the recession has affected sales figures, but he says the conversion to IP is still ongoing. IP camera sales are slower this year, but not to the extent that some predicted.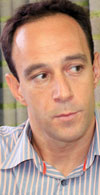 Roy Alves, Axis Communications
Pelco's Johann Schoeman agrees, noting that Pelco has seen its analogue sales holding steady while IP system sales far outgrew them. He adds that analogue sales are generally slowing globally, although in South Africa the slowdown is more pronounced.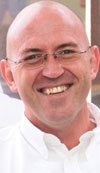 Johann Schoeman, Pelco
"Almost all the big projects that are going to tender or being awarded now are for IP systems," adds Mervyn Low, product manager at SentronicsSD.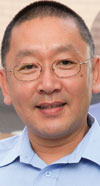 Mervyn Low, Sentronics
Wireless options
There is also good news from a relative newcomer to the surveillance market. Miro Distribution's Bertus van Jaarsveld says the company has seen almost 70% growth on the IP side in the last year. This has been boosted by the demand for wireless IP networks (Miro's history is in the distribution of ICT and wireless systems).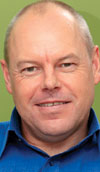 Bertus van Jaarsveld, Miro Distribution
Dimension Data's Gregory Collier sees wireless networking as more of a temporary option. He says companies are more likely to use wireless until they can run cables because of the power issue. Battery operated cameras are a hassle.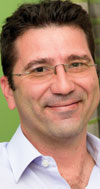 Gregory Collier, Dimension Data
Power over Ethernet (PoE), however, is becoming more popular as a way to cut down on the electrical cabling work that needs to be done before installing cameras. It is simpler to lay network cables with PoE than it is to install new electrical outlets.
Van Jaarsveld is a wireless fan, but admits that wireless is not always the right answer. It can be an effective option when the network and its usage is planned correctly. In remote areas, using solar or wind energy to power cameras is an option some users are installing, negating the power problem.
Schoeman has also found that, in certain areas, the high incidence of cable theft has resulted in more people opting for wireless transmission.
Niche is good
Mark Chertkow from Graphic Image Technologies (GIT) also has a good tale to tell for those focusing on niche surveillance markets. GIT deals with narrowband CCTV, which means using minimal bandwidth, running video streams at eight kilobits per second. The demand for bandwidth sensitive solutions is growing as more companies realise the benefits of streaming video over wireless, for example, using cellular networks that are renowned for unreliable throughput speeds.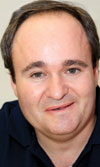 Mark Chertkow, Graphic Image Technologies
Remote surveillance offerings, which are also in a growth phase, are one of the key areas for GIT. The company can record a full video stream on a DVR, and then broadcast at very low rates to any devices the user chooses.
Of pixels and clarity
High definition (HD) seems to be all the rage today, both in the consumer and commercial space. Low says there is a definite move to HD, although there still seems to be some confusion as to what the term means. There is also some confusion when it comes to the bandwidth required for HD.
The H.264 standard has reduced the bandwidth required for HD images substantially, but in multicamera installations there are still issues that need to be resolved. Low says more customers are opting for multiple streams of video at different bandwidths. They may, for example, store video at full resolution to ensure any later interrogations can make use of all the benefits of HD, while only streaming lower-resolution images to control centres.
Alves comments that not only does HD offer wider and improved images; it also delivers far better colour fidelity which is very important when considering the overall quality of an image.
News that the analogue world is also about to release their own HD cameras bodes well for companies that have large analogue installed bases. The HDcctv Alliance (http://www.highdefcctv.org) has defined a standard for analogue HD and is expecting to make an impact on the growing HD market. From the website the alliance promises: "HDcctv is the world's only electrical interface standard for HD surveillance video, providing 100% digital transmission of uncompressed HDTV signals over existing coax."
Alves believes this technology will have an impact in the market and give analogue systems a longer lifespan, but he says it is somewhat cumbersome and does not expect to see a long lifespan. "...it might sustain them for a little bit of time but I do not see it as the future," he says.
Intelligent analytics
There has been a lot of hype around the intelligent analytics question in the past year and we can expect substantially more to come. But do not expect fireworks just yet. Schoeman says analytics look great in controlled environments, but often fail to deliver in the real world. That is why so many companies offer their analytics for free. You cannot complain about something you got for nothing. He admits the quality of the applications available today is far ahead of where they were a year or two ago, with some of the simpler functionality delivering great service. The more complex analytical solutions out there, however, have some way to go.
Alves is in agreement, stating that we will see more advanced analytics coming down the line, with a drive to do more on the edge (in the camera). More of the decisions will be made at the camera, which will only feed the results down to the control rooms or storage systems. "I think in the foreseeable future, five to 10 years, if any camera manufacturer does not have some superior intelligence or analytics in their camera, they are going to struggle to be competitive."
Thermals make a scene
One of the biggest newsmakers in the past few months, with more fireworks expected in the coming year, is the thermal camera. These devices have recently been offered at lower price points than they were traditionally available at and are making quick inroads into the market. Alves notes that thermals are still more expensive than your traditional network camera, but are selling well.
He says South Africa is one of the biggest consumers of thermal cameras per surveillance installation. The reason for that is that thermals are not identification devices, but perform an almost unbeatable detection service.
When you need to determine if people are intruding over a large area, thermals are probably the best option. If you need proof to take to court, on the other hand, things get a bit more difficult as thermal images cannot identify people.
From a green perspective, Low adds that thermal cameras use substantially less power and can cover more ground than standard devices which makes them an environmental asset. He also notes that more manufacturers have seen the thermal growth trend and are bringing cameras to market at a rapid rate.
Low says Sentronics has also seen an upturn in demand for thermals, primarily for perimeter or border protection; or specialist fields, such as catching rhino poachers. He says when identification is needed, customers often purchase twin thermal/optical cameras. The thermal detects movement and its optical counterpart zooms in for the identification.
Software wars
Camera management software is another topic that generates interest today. On the one hand, there are camera specific applications that allow users to do almost anything as long as they buy one manufacturer's camera, while other companies avoid hardware altogether and only provide the software to manage multiple cameras.
In the old days, mature analogue systems were pretty much a plug-and-play affair. With the advent of IP systems, however, this changed as proprietary lock-in was the norm. The Physical Security Interoperability Alliance (PSIA) and the Open Network Video Interface Forum (ONVIF) are two standards being commonly adopted that theoretically avoids this problem – if your software is compliant with one of the standards, all manufacturers that develop accordingly to it should be able to plug their cameras into your platform without a problem. That is the theory anyway.
Software developers will generally adopt these standards and will incorporate as many cameras as possible into their systems to be able to serve as broad a customer base as possible. They also provide a list of hardware their platforms are compatible with as part of their marketing drive.
Schoeman believes that as competition heats up, with hundreds of companies developing camera management software either for their own hardware or for multiple brands, we are going to see an industry that is very beneficial to clients.
On the one hand, he expects to see hardware companies giving away their software free, at least for the entry-level market, and charging clients for licences to run other cameras on the software. The software is given away as a value-add to the particular brand's hardware, but you will pay to run other cameras on the same system.
For the professional software developers, we have already seen entry-level systems available free, with smooth upgrade paths to corporate or enterprise level systems. Alves says increasing competition see more basic applications available free, with users paying for additional, more complex functionality.
The gorilla in the mist
As in many security conversations these days, the topic of the IT gorilla ready to steal business away from traditional security operators must be dealt with. With IP growing as fast as it is, traditional IT networking companies are in prime position to extend their existing relationships and infrastructure in companies to include surveillance projects.
Cisco is one company that is already making inroads into the traditional security market with a multitude of products that slot into its infrastructure products, according to Collier. The company is even in the process of developing self-provisioning cameras which will allow users to simply position and plug a camera into a Cisco switch to have it automatically configured. The reduction in technical skills necessary to install network cameras would be significant, making this a popular choice among potential customers.
The result of this threat from IT will have to be seen, many have heard it all before and think nothing will really happen, while others are contemplating their response to it. It could result in a price war, value being added to surveillance hardware to keep smaller companies in the loop. We may also see smaller companies merging or being acquired to ensure they have the critical mass to survive increased competition. For example, we should see further integration of audio and video in the near future, as well as integrating these with present technologies to broaden the reach of surveillance beyond security.
Expectations
Looking ahead at what the various players expect from the surveillance market in the year ahead is always interesting. We therefore end this report on the 2011 Surveillance Round-Table with a take from each of the participants as to what they think is in store for the coming year.
Low says megapixel IP is definitely on the increase with some organisations predicting as much as a 45% growth rate on IP cameras in 2011. He says this means a further erosion of the analogue market. However, he notes that one of the drawbacks for the local market is the bandwidth situation – which is poor. This means smaller players using ADSL cannot afford the bandwidth required for decent video coverage of branch offices because the upload speeds are so abysmal.
Van Jaarsveld is more positive, noting that Telkom is launching synchronous DSL services (SDSL) soon which will go a long way to solving this problem, although the cost issues might still be a problem. He also sees a continued bright future for IP surveillance, although the question about how many megapixels a camera supports will not be a purchase factor. Issues such as durability, weather and vandal resistance, ease of installation and onboard features such as analytics and even storage will influence future buying decisions.
Alves expects to see hosted surveillance services taking off in the coming year or two and he expects that ISPs will offer surveillance monitoring as a value-added service to its clients. We can also expect one of the larger analogue companies in Europe or perhaps Asia making a sizable acquisition to bring it into the mainstream – perhaps in the access control or network video market.
Schoeman expects to see cameras becoming cheaper until there is little differentiation on price. We will, however, see differentiation in the application and of the images obtained from the cameras. He expects to see a boom in systems that interrogate and analyse the enormous amounts of metadata cameras collect. Over the next few years, we will see more effort being put into how we can take that data and use it proactively.
Collier agrees seeing a market trend towards more converged intelligent CCTV systems where we can actually do something with the metadata to use it as a proactive tool, not a reactive tool. As far as acquisitions go, he says, "Keep an eye on the IT market."
Chertkow believes the days of centralised CCTV footage that overloads the network is over and we will be seeing a move towards a distributed CCTV platform. This means content will be where it can be used or is needed, such as on the edge where cameras can interrogate it and only send relevant footage to control rooms. Not only does centralisation overload the network, the costs of maintaining and managing huge storage systems is also extremely high.
The surveillance market is set to continue its growth in the coming year. However, while the rest of the world gets excited about recovering from the recession (we hope), South Africa may not enjoy as much of a positive upswing. Nonetheless, thanks to an acceptance of crime of all sorts as normal in this country, the IP market is set to continue climbing and niche markets will offer lucrative opportunities.
We can also expect pressure from IT companies looking to supplement their traditional income with new areas of value-add. And as in other industries, the time to sell products or technology is ending. Companies today want solutions that solve business problems and incorporate surveillance and other aspects of security. Pricing will be important as will service, but taking away problems and adding value is where the money will increasingly be spent.
Credit(s)
Further reading:
Paxton opens first experience centre in South Africa
Paxton News Access Control & Identity Management
The new Paxton Experience Centre in Johannesburg is now open and welcoming security installers and end users who want to see Paxton's products in action.
Read more...
---
Paratus signs re-seller agreement with Starlink for Africa
News IT infrastructure
Pan-African telco and network services provider Paratus Group announced it has entered an agreement as a distributor for Starlink's high-speed services across the African continent, available immediately in Mozambique, Kenya, Rwanda and Nigeria.
Read more...
---
4IR is opportunity
News
In South Africa, digitalisation remains 'at a nascent stage' which means significant work still has to be done when it comes to addressing skills development around 4IR in the country.
Read more...
---
Five ways to reduce your cyber insurance premiums
Security Services & Risk Management News
With the global costs of cybercrime expected to soar to $13 trillion within the next five years, cyber insurance is booming as organisations try to mitigate the risk of financial losses.
Read more...
---
Client satisfaction boosted by 85% at Thungela Mine
Thorburn Security Solutions News Security Services & Risk Management Mining (Industry)
Thorburn Security, a division of Tsebo Solutions Group, has announced its recent collaboration with Kwa-Zulu Natal security company, Ithuba Protection Services, as part of its Enterprise Supplier Development (ESD) initiatives across Africa.
Read more...
---
Fidelity SecureFire steps into critical fire response space
News Fire & Safety
With the majority of fire stations around the country being crippled by a lack of resources to offer effective responses, Fidelity Fire Solutions has launched its own 'first responder' model, Fidelity SecureFire.
Read more...
---
The state of edge security report
News IT infrastructure
Edge computing has grown from being a niche use case in a handful of industries to offering a major opportunity for enterprises across industries to spread computing power around the world.
Read more...
---
CHI selects NEC XON as trusted cybersecurity partner
News Cyber Security Industrial (Industry)
CHI Limited, Nigeria's leading market player in fruit juices and dairy products, has engaged in a strategic cybersecurity partnership with NEC XON, a pan-African ICT systems integrator.
Read more...
---
Collaboration delivers integrated and holistic security
Guardian Eye CCTV, Surveillance & Remote Monitoring News Integrated Solutions
Guardian Eye and Lytehouse have partnered to integrate their speciality solutions and provide a holistic security offering that overcomes the fragmentation of security systems and services.
Read more...
---
Kaspersky appoints new GM for Africa
News Cyber Security
Kaspersky has announced the appointment of Andrew Voges as the new General Manager for Africa to boost regional market positioning and enterprise protection.
Read more...
---