printer friendly version
Pulling the plug on clock card issues
Access & Identity Management Handbook 2011
Access Control & Identity Management
Biometric fingerprint reader eliminates buddy clocking at Bathroom Bizarre's distribution centre.
When bathroom and kitchen fixtures and fittings company Bathroom Bizarre decided to transfer all of its salaried staff onto an hourly-paid basis at its distribution centre in Boksburg, it needed a smart system to monitor and control the clocking in and out process.
"We did not want to go the traditional clock card route as this would have meant hours of work manually checking the clock cards, tallying up hours worked, rechecking to ensure accuracy, then inputting this data into our payroll system," said the company's distribution manager David Grobler.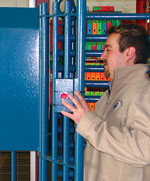 David Grobler with the Bathroom Bizarre access system
"Despite hours of typing, processing and cross-checking, on traditional clock cards the result is inaccurate invoicing, unexplained non-chargeable hours, a poor audit trail to deal with queries and limited management information to minimise idle time and bottlenecks," added Uniclox's James Olivier.
"In addition, we wanted to alleviate the necessity of having to employ security guards to oversee this manual clock card process. Sadly, manual clocking is open to abuse, with buddy clocking being one common hot spot," Grobler said. "We therefore decided to opt for the installation of a biometric fingerprint reader system which, because its principle of operation depends on the input of unique personal identity data (the person's fingerprint) and its continual verification when passing through access points, it is practically infallible.
"We considered a number of suppliers but chose Uniclox because of the service they provided. Time is precious so when Uniclox responded immediately to my request for a quotation, it was a clear indicator to me that whenever I needed service from them in the future, they would be positively responsive. An added bonus is that their system is also very cost effective."
Bathroom Bizarre elected to go the rental route and Uniclox provided full on site training on the fingerprint biometric terminal as well as its Vision Unique interface software. These core modules are designed for South African labour conditions and are easy-to-use and intuitive. Because the software is parameter driven, it was tailored to Bathroom Bizarre's specific requirements.
At the time of the installation, the two points of control were situated at the main entrance to the warehouse and the canteen, with 41 employees registered on the system. "We faced a challenge with this configuration, however, and had to address the situation quickly to ensure infallible record keeping," Grobler said.
The Uniclox system accurately keeps records for the company which is important in cases of dispute. "We did in fact have a couple of cases where employees were claiming to have clocked in at work at, for example, 08:00 when in fact they actually only clocked in at 09:00," Grobler said.
The system, which currently monitors 36 employees, is connected to the HR department and allows the HR staff to extrapolate information quickly and accurately to draw up payslips.

For more information contact Uniclox Technologies, +27 (0)11 454 2234, info@uniclox.co.za, www.uniclox.co.za
Credit(s)
Further reading:
Facial access control for ministry
Issue 1 2020, ZKTeco , Access Control & Identity Management
The Ministry of Culture in Saudi Arabia has adopted ZKTeco's facial recognition technology and fingerprint biometrics to manage access control into its building.
Read more...
---
New Door Pilot app from dormakaba
Issue 1 2020, dormakaba South Africa , Access Control & Identity Management
With new dormakaba Door Pilot, automated doors can also now be operated on the basis of remote control technologies. The system, comprising the Door Pilot app for smartphones and a Wi-Fi interface for ...
Read more...
---
Identity lifestyle
Issue 1 2020, Suprema , Access Control & Identity Management
Once the technology of the future, biometrics has quietly snuck into our daily lives through smartphones and access controls into our places of work.
Read more...
---
Securing BP's new head office
Issue 1 2020, ISF SFP , Access Control & Identity Management
ISF SFP was awarded the contract to secure the first development phase for Oxford Parks, the new head office for BP South Africa.
Read more...
---
Combining aesthetics and access control
Issue 1 2020, Turnstar Systems , Access Control & Identity Management
Prestigious law firm Bowman Gilfillan recently upgraded its physical security with the addition of four Turnstar Speedgate Express access control lanes.
Read more...
---
Video doorbells from Ring
Issue 1 2020 , Access Control & Identity Management
Ring has a number of video doorbells available in South Africa that run off batteries or power and enable users to answer their doors from anywhere.
Read more...
---
Centurion to unveil new product
Issue 1 2020, Centurion Systems , Access Control & Identity Management
Centurion Systems will be hosting its third Access Automation Expo this year, with dates confirmed for Durban, Johannesburg and Cape Town.
Read more...
---
Looking ahead with mobile access technologies
Access & Identity Management Handbook 2020, Technews Publishing, HID Global, dormakaba South Africa, Salto Systems Africa, Suprema, Gallagher , Access Control & Identity Management, Integrated Solutions
Given the broad use of smartphones around the world and the numerous technologies packed into these devices, it was only a matter of time before the access control industry developed technology that would ...
Read more...
---
Mobile access is more secure than card systems
Access & Identity Management Handbook 2020 , Access Control & Identity Management
The ability to use mobile phones as access credentials is one of the biggest trends in a market that historically has been slow in adopting new technology.
Read more...
---
This is the future. This is what we do.
Access & Identity Management Handbook 2020, ZKTeco , Access Control & Identity Management
ZKTeco has created a unique range of visible light facial recognition products combined with a flexible Android platform.
Read more...
---