printer friendly version
Pulling the plug on clock card issues
Access & Identity Management Handbook 2011
Access Control & Identity Management
Biometric fingerprint reader eliminates buddy clocking at Bathroom Bizarre's distribution centre.
When bathroom and kitchen fixtures and fittings company Bathroom Bizarre decided to transfer all of its salaried staff onto an hourly-paid basis at its distribution centre in Boksburg, it needed a smart system to monitor and control the clocking in and out process.
"We did not want to go the traditional clock card route as this would have meant hours of work manually checking the clock cards, tallying up hours worked, rechecking to ensure accuracy, then inputting this data into our payroll system," said the company's distribution manager David Grobler.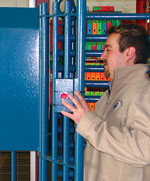 David Grobler with the Bathroom Bizarre access system
"Despite hours of typing, processing and cross-checking, on traditional clock cards the result is inaccurate invoicing, unexplained non-chargeable hours, a poor audit trail to deal with queries and limited management information to minimise idle time and bottlenecks," added Uniclox's James Olivier.
"In addition, we wanted to alleviate the necessity of having to employ security guards to oversee this manual clock card process. Sadly, manual clocking is open to abuse, with buddy clocking being one common hot spot," Grobler said. "We therefore decided to opt for the installation of a biometric fingerprint reader system which, because its principle of operation depends on the input of unique personal identity data (the person's fingerprint) and its continual verification when passing through access points, it is practically infallible.
"We considered a number of suppliers but chose Uniclox because of the service they provided. Time is precious so when Uniclox responded immediately to my request for a quotation, it was a clear indicator to me that whenever I needed service from them in the future, they would be positively responsive. An added bonus is that their system is also very cost effective."
Bathroom Bizarre elected to go the rental route and Uniclox provided full on site training on the fingerprint biometric terminal as well as its Vision Unique interface software. These core modules are designed for South African labour conditions and are easy-to-use and intuitive. Because the software is parameter driven, it was tailored to Bathroom Bizarre's specific requirements.
At the time of the installation, the two points of control were situated at the main entrance to the warehouse and the canteen, with 41 employees registered on the system. "We faced a challenge with this configuration, however, and had to address the situation quickly to ensure infallible record keeping," Grobler said.
The Uniclox system accurately keeps records for the company which is important in cases of dispute. "We did in fact have a couple of cases where employees were claiming to have clocked in at work at, for example, 08:00 when in fact they actually only clocked in at 09:00," Grobler said.
The system, which currently monitors 36 employees, is connected to the HR department and allows the HR staff to extrapolate information quickly and accurately to draw up payslips.

For more information contact Uniclox Technologies, +27 (0)11 454 2234, info@uniclox.co.za, www.uniclox.co.za
Credit(s)
Further reading:
A contact-free hotel experience
Issue 7 2020, Technews Publishing , Access Control & Identity Management
Check-in and go straight to your room without stopping at the reception desk at Hotel Sky in Sandton and Cape Town.
Read more...
---
AI digitises coronavirus management
Issue 7 2020, NEC XON , Access Control & Identity Management
NEC XON is using NeoFace Watch and specialised thermography cameras to measure temperature and identify employees and visitors.
Read more...
---
Combining visual and IR face recognition
Issue 7 2020, Suprema , Access Control & Identity Management
The FaceStation F2 offers face recognition and anti-spoofing performance.
Read more...
---
Anviz unveils FaceDeep5
Issue 7 2020, ANVIZ SA , Access Control & Identity Management
Anviz Global has unveiled its new touchless facial recognition identity management and IoT biometric device.
Read more...
---
Touchless biometric options
Issue 6 2020, Entry Pro , Access Control & Identity Management
When it comes to estate access control management, the foremost topic of conversation at the moment seems to be the importance of touchless biometrics.
Read more...
---
Fast access to Kevro production facilities
Issue 6 2020, Turnstar Systems , Access Control & Identity Management
Employee and visitor access at Kevro's Linbro Park premises in Gauteng is controlled through eight Dynamic Drop Arm Barriers from Turnstar.
Read more...
---
Know your facial recognition temperature scanner
Issue 6 2020, ViRDI Distribution SA , Access Control & Identity Management
Facial recognition with temperature measurement is, for the most part, available in one of two technologies – thermopile and thermography/IRT.
Read more...
---
Suprema integrates with Paxton's Net2 access control
Issue 6 2020, Suprema , Access Control & Identity Management
Suprema has announced it has integrated its devices with Paxton's access control system, Net2.
Read more...
---
Contactless check-in at hotels
Issue 6 2020 , Access Control & Identity Management
Onity has delivered the DirectKey mobile access solution to hotel chains around the globe, which allows for contactless check-in and property access.
Read more...
---
UFace facial recognition now in SA
Issue 6 2020, Trac-Tech , Access Control & Identity Management
Trac-Tech has secured the distribution rights to the UFace range of contactless biometric facial recognition and identity management IoT devices.
Read more...
---