printer friendly version
Improving mine access
Access & Identity Management Handbook 2011 Access Control & Identity Management, Mining (Industry)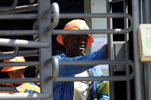 Murray & Roberts improves its access control and time management capabilities.
During the third quarter of 2007, Stanley Security Solutions was called in to help address the access control and time management requirements of Murray & Roberts Cementation, which operates in the mining sector primarily in the Brits and Rustenburg areas.
Murray & Roberts was looking to not only address its direct access control and time management requirements, but also to centralise the total control of its time management function. No mean feat when one considers the locations of the various sites and the challenges around IT infrastructures in the mining areas.
As is typical with most mining entities, the time management component of their business is considered rather old school – there was no access control, time and attendance was handled through a template spreadsheet and manual clock cards.
The true value in an access and time management system is in the securing of the working environment. Besides, the protection of the payroll is quite simple once you have designed effective business processes and systems to ensure that your employees have a safe, controlled workspace. Incidents in mining environments are not only extremely costly, but also tremendously traumatic to the workforce, which can easily result in poor productivity and high levels of absenteeism.
The existing solution was not web-based, so access to it was a problem. It was also not able to do access control, which is a safety risk for the sites.
The solution
"The department that has benefited the most is wages, which falls under HR," says Murray & Roberts's Jaco de Bruin. "Additional benefits are also enjoyed by security and management in general. For safety, the system is also used as a secondary check for clearance before underground blasting.
"The solution has afforded the company the ability to control both the access and flow of employees at site, as well as exercise better control over the time worked and overtime. Parading has also been implemented with continuous development to limit when an employee is allowed to access the site.
"We have some Murray & Roberts sites with just the time and attendance stations, while others included the access control functionality as well. There are currently over 181 Morpho readers installed, mainly OMA520s. There are also more than 40 turnstiles. This all connects back to the BESTime and BESAccess software packages, which are housed at the Murray & Roberts data centre. These web-based applications make use of Stanley's Blueline hardware platform as the backbone through a master and slave configuration to link the sites together. The information is then fed to the payroll system for payment."
The solution is rather technical, so there were some training issues initially, but these were resolved by extensive training sessions for the system administrators. The only minor hiccup was with the bandwidth and these issues were resolved by implementing Quality of Service over the WAN links to guarantee bandwidth.
The client was pleased that with the implementation there would be value added financially, as well as the ability to better comply with Occupational Health and Safety laws to improve the safety of staff.
Continuous project
"We have had to work closely with IT as its infrastructure is the basis of our solution, security and HR obviously played a role as well, and integration was handled by constant involvement with all the players," explains Stanley's Clinton Shanley. "The project was broken into sections and certain parts, such as design, were completed in advance. Specification and implementation are constantly evolving as the project never ends. As the customer moves to a new site or mine, either new equipment is supplied or existing stock is reused from a closed site. The scope of the project is therefore continually changing.
The Murray & Roberts project is still a work in progress, but the company is very close to the end goal of a national access control system with reliable time and attendance functionality.
To summarise the project thus far, the head office software and backbone is in place, however, the project will never be completed because the needs of the customer on existing sites and new sites is constantly changing. Bearing in mind that Murray & Roberts adapts what it is doing on site to what their customers require, Stanley will adapt to accommodate its needs.
"We are also constantly exploring ways to add more value to the system. The current development is to incorporate the manual manning boards into the solution as all the data is already in our software," adds Shanley. "This will be done using 52-inch LCD touch screens with real-time updating on an employee's status. The main function though is to be able to view the gangs and their makeup, and confirm that a shift has its full complement before going underground."

For more information contact Stanley Security Solutions, +27 (0)11 844 3200.
Credit(s)
Further reading:
Control from anywhere
Issue 3 2021 , Access Control & Identity Management
From the flexibility of managing security from any location to the convenience of using a smart phone in place of an access card, Gallagher delivers user-friendly technology, underpinned by the strongest security.
Read more...
---
Facial recognition advances
CCTV Handbook 2021, Suprema, IDEMIA , ZKTeco, Technews Publishing , Access Control & Identity Management
Reliable facial biometrics is still in the domain of access control, but integration with surveillance technologies is fast becoming a reality.
Read more...
---
Blockchain used for strong identity and authentication
Issue 3 2021 , Access Control & Identity Management
1Kosmos BlockID digital identity solution approved as NIST 800-63-3 conformant and FIDO2 certified, powered by advanced biometrics and a private blockchain.
Read more...
---
NeoFace Watch Thermal improves health and safety
Issue 3 2021 , Access Control & Identity Management
NeoFace Watch Thermal protects organisations, their customers and employees through contactless monitoring and management of COVID-19 protocols, providing real-time dashboards and process automation in a cost-effective solution that keeps people safe.
Read more...
---
Linking HR and security
Issue 3 2021, iFacts , Access Control & Identity Management
Employee screening is implemented to ensure the risk of the company is managed and fraudsters do not enter the workplace, but the results of the vetting are not often linked to other areas in the business.
Read more...
---
Smart entrance control technologies
Issue 3 2021 , Access Control & Identity Management
An important part of physical security systems, entrance control has gained even greater prominence on the security agenda in the age of the COVID-19 pandemic.
Read more...
---
Multi-credential flexibility
Issue 3 2021, Suprema , Access Control & Identity Management
Suprema CoreStation is an intelligent door controller which provides biometric-enabled security over a centralised access control system and can store up to 500 000 users with a fingerprint-matching speed of up to 400 000 matches per second.
Read more...
---
Manage multiple sites with Paxton10
Issue 3 2021, Paxton , Access Control & Identity Management
Thomas Faith, the Paxton10 product manager, discusses how installers and end-users can now benefit from Multi-site management functionality release in a recent update from Paxton.
Read more...
---
Thwarting data theft
Issue 3 2021, Astra Fasteners , Access Control & Identity Management
Special care must be taken to secure customer data in computer centres in shared facilities with a high level of data and people traffic, where identification, organisation and control are non-negotiable.
Read more...
---
Axis Camera Station Secure Entry
Issue 3 2021, Axis Communications SA , Access Control & Identity Management
Axis Camera Station now includes access control management, allowing users to visually identify visitors or get automatic alerts in case of incidents; and the same operator can monitor the video and the access control.
Read more...
---