printer friendly version
Locking down Pragma's assets with biometrics
November 2010
Access Control & Identity Management

Secure access delivers additional efficiencies for Pragma.
Pragma is a global organisation that assists its clients to manage their physical assets. With more than 1,2 million assets under management, it is one of the leading players in its field.
In late 2009, the company moved into a new head office building in Bellville, South Africa. Securing access to their new office was a key consideration for the team responsible for planning the move.
Before appointing a service provider, Pragma identified five core requirements for its access control system:
* The system must integrate fully with its intruder alarm and lighting/air conditioning. The organisation had experienced a series of instances where staff failed to activate the alarm in its previous offices. In order to avoid similar occurrences – which could leave it in breach of its insurance obligations in the event of a break in – it was essential that the new access system was able to activate the intruder alarm when the last person left the building at the end of each day. Automatically switching off the lights and air-conditioning would also make a significant contribution to Pragma's energy reduction initiative.
* The need to integrate with the intruder alarm brought a requirement to positively identify staff when they arrived and left the building in order to accurately update the access system's database. As card or PIN-based access systems can be breached when people share access tokens, Pragma was keen to use biometric terminals to manage entry rights.
* Flexible working patterns mean that Pragma's staff do not always stick to conventional working hours. This meant the ability to set varying access rights for different groups of staff and visitors was essential. Some staff needed to be given 24/7 access to all areas, others should be restricted to office hours and only granted rights to public areas.
* Remote management was also a key requirement, enabling administrators to connect to the access control database from outside the physical office environment to change access rights and review reports.
* A final, but nonetheless critical, consideration related to the aesthetics of the system. As striking design was a key feature of the new office environment, it was essential for the access control hardware to fit in with the building's look and feel.
SuperVision appointed
After a comprehensive procurement exercise that included making visits to its shortlisted vendors' client installations, Pragma appointed SuperVision Biometric Systems to implement an access control solution. This combined SuperVision's own SuperAccess access control software, biometric hardware from Morpho and turnstile components from MAT Technologies.
According to Darryl Lampert, ICT manager at Pragma, one of the key factors in appointing SuperVision was the company's ability to script the necessary interface between the access control software and the building management systems responsible for triggering the alarm system and turning off the lights and air conditioning.
"The alarm integration was the most important aspect of the project. We even changed our monitoring company as the incumbent would not allow an interface with a third-party system", said Lampert. "As SuperAccess is a local product, SuperVision was able to customise the software and test it on site during the deployment – this was particularly comforting given that we were working to very tight timeframes and were adamant that the system should be fully functional before staff moved into the new building."
In order for the alarm integration to work effectively, the integrity of the access database had to be maintained with staff scanning a fingerprint each time they entered or left the building.
To remove the likelihood of people forgetting to scan and to prevent tailgating, where staff follow each other through an open door, waist high turnstiles were installed at the main perimeter access points.
In keeping with the building's look and feel, a glass and stainless steel turnstile was installed inside the front door, with a smaller stainless steel unit installed at the rear exit. These were fitted with Morpho MA500 biometric terminals. Coupled to SuperSign's anti-passback and zoning features, these forced staff to make sequential clockings, thus ensuring the access database had real-time information on the identity and number of people in the building.
When the last person scans out, a buzzer sounds and a bright LED glows. This provides the employee with notice that the intruder alarm will be activated in 60 seconds and that lights and air conditioning will shortly be switched off.
Training was critical
Lampert and his management team identified that the access solution was one of the most complex aspects of their office move. It affected everyone in the company – and if just one individual failed to scan, it would prevent the alarm activating.
"With SuperVision's assistance we developed a training methodology with appropriate materials to ensure everyone understood how the system worked. As with all change processes, it took a while for staff to adapt and get into the mindset of making the correct sequence of clockings, but the training worked and we have had very few instances where the alarm monitoring company has had to ring us to say the alarm has not been set by the defined activation time.
"When this does happen, we are able to dial into the software remotely to see who has skipped a turnstile and reset their access zone which allows the alarm to activate. Naturally, the offender is reprimanded the following day," concluded Lampert.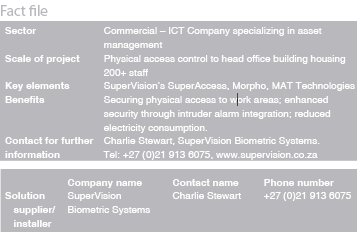 For more information contact SuperVision Biometric Systems, +27 (0)21 913 6075, www.supervision.co.za
Further reading:
Enhanced biometric technology for mines
September 2019, ZKTeco , Mining (Industry), Access Control & Identity Management
Biometric identification and authentication are currently used at various mines in South Africa and in the SADC region.
Read more...
---
Improving access in mines
October 2019, Astra Fasteners , Mining (Industry), Access Control & Identity Management, Products
The VP1 controller provides full access control and remote monitoring of intelligent locks without having to wire into a network or install, manage and maintain software.
Read more...
---
Invixium and Pyro-Tech partner in South Africa
October 2019 , News, Access Control & Identity Management
Invixium, a manufacturer of IP-based biometric solutions and Pyro-Tech Security Suppliers have announced a new distribution partnership.
Read more...
---
Suprema receives FBI PIV/FAP30 certification
October 2019, Suprema , News, Access Control & Identity Management
Suprema has announced that the company's BioMini Slim 3 has received FBI PIV (Personal Identity Verification) and Mobile ID FAP30 certification.
Read more...
---
Frictionless access with a wave
October 2019, IDEMIA , Access Control & Identity Management, Residential Estate (Industry)
IDEMIA was the Platinum Sponsor for the Residential Estate Security Conference 2019 and set up its MorphoWave Compact frictionless fingerprint biometric scanner at the entrance to the conference.
Read more...
---
Streamlined access and reporting
October 2019, Comb Communications , Access Control & Identity Management, Residential Estate (Industry)
The main focus of the Comb stand was its practical demonstration of the MK II Lite intercom system with third-party integrated products.
Read more...
---
Customised and integrated solutions
October 2019, Suprema , Access Control & Identity Management, Residential Estate (Industry)
iVisit offers both high-end and low-end residential complexes a cost-effective visitor management solution that is fully integrated into Suprema's offerings.
Read more...
---
Access solutions for every estate
October 2019, Impro Technologies , Access Control & Identity Management, Residential Estate (Industry)
Impro's flagship Access Portal solution comprises one of the most user-friendly software solutions on the market.
Read more...
---
Managing staff effectively
September 2019, dormakaba South Africa, iPulse Systems , Integrated Solutions, Access Control & Identity Management
Workforce management solutions allow organisations to track the relationship between productivity and the cost of employment, incorporating issues such as health and safety, T&A, rostering and more.
Read more...
---
Hennie Lategan joins Centurion as head of exports
September 2019, Centurion Systems , News, Access Control & Identity Management
Centurion Systems has announced the appointment of Hennie Lategan as the head of the company's exports department.
Read more...
---