printer friendly version
Web-based technology offers access for all
Access & Identity Management Handbook 2011
Access Control & Identity Management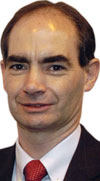 Jeremy Kimber, channel marketing leader EMEA, Honeywell Systems Group, explains the benefits of Web-based access control.
Access control has long been a pillar of the security industry, but it was historically considered a higher-end solution for larger organisations, and not viable for small to medium enterprises (SMEs). The reality is that while this was perhaps once the case, it is no longer so.
Today there are access control solutions to suit every need and budget, which not only provide a highly effective physical security barrier against intruders, but also ensure the safety of staff on the premises and protect against the theft of intellectual property. The latest solutions can be easily tailored to any organisational size, from local sites with a handful of entry points, through to large facilities spread across multiple geographical locations, with several hundred doors requiring protection.
However, with an estimated 75% of all access control installations now being under 20 doors, there is clearly growing demand for access control amongst smaller businesses that recognise the value it can offer, either as a standalone security system, or as part of a larger integrated solution.
Breaking down the old barriers
A number of factors have fuelled this shift amongst SMEs, but one of the most significant is the emergence of Web-based access control solutions. First popularised in North America, this new technology has revolutionised the lower-end access control market by driving down costs, as well as removing some of the technological and psychological barriers to use which have historically had an impact on uptake in the SME sector.
For instance, prior to the emergence of Web-based solutions, end users cited the need for a dedicated PC hub as a major barrier to choosing an access control security solution. Systems requiring dedicated PCs and software were deemed to be over complex for requirements of small organisations, with many problems stemming from counter-intuitive, technical software that non-specialist staff had to be regularly trained on in order to operate effectively. This investment in training was then quickly rendered redundant if or when those members of staff changed roles or left the organisation.
A second historical barrier to adoption was the perceived lack of system reliability, stemming from the reliance on potentially temperamental IT software and hardware. This resulted in organisations fearing that computer issues or just simple incompatibility with operating system updates could leave sites vulnerable during downtime and cause problems for staff on the premises at the time.
Web-based technology has taken great steps towards removing these barriers, making access control a viable security option for many small businesses for the first time. First and foremost, a Web-based system offers a far more efficient use of resources for both the installer and end user by allowing off-site engineers to configure the system, conduct maintenance and install updates from anywhere in the world, through the Web. This greatly reduces the number of physical site visits required after the initial installation in order to carry out routine tasks, significantly cutting maintenance costs. In addition, remote servicing rapidly improves engineer response times to system issues, reducing system downtime.
Web-based solutions also remove the need for organisations to extensively train staff in system use. How so?
First and foremost, they are designed to be simple and intuitive to operate, featuring navigational systems based on typical Web usability. This reduces the overall learning curve for first time users.
Secondly, because the software can be accessed through the Internet instead of running on an on-site hub PC, many software/hardware issues traditionally associated with locally run access control are eliminated. This makes the solution ideal for end users who wish to manage their own system, but avoid complex and laborious tasks such as maintaining operating systems and upgrading software. In practice, once the access panel has been set up via a simple Web browser, the panel can be left to operate in standalone mode. Only when the end user needs to change or check something do they need to use the Web browser. In this way, Web-based access control combines the advantages of both great functionality and great simplicity.
Remote management possibilities
Should the end user wish to go one step further and outsource the operation and maintenance of the system, there is the option of having all upkeep and support provided remotely by the installer. A remote management solution can be mutually beneficial to both parties, ensuring round the clock expert support for the organisation whilst also offering a recurring revenue stream to installers.
For a small monthly fee, installers can field queries, create new user accounts, solve minor on-site issues and open doors remotely if necessary. This low level of remote management can be performed without installers having to establish a full-scale central monitoring station (CMS) and can provide a valuable source of additional income in what remains a tough economic climate.
Scalable and adaptable to every situation
Web-based systems also provide a fully scalable solution that can evolve along with the changing needs of the end user. For example, Honeywell's NetAXS access control solution can be easily expanded depending on security requirements and funding availability, providing a continuously cost effective and flexible security system. This eliminates the need to replace expensive hardware when expansion occurs. Should security needs eventually grow beyond the capability of the NetAXS Web-based system, the NetAXS access control panels also integrate seamlessly with the proven Honeywell WIN-PAK software solution – enabling the significant increase in functionality and access control management options required for larger networked systems. Furthermore, should end users wish to add additional lines of security to their sites to supplement their access system, NetAXS with WIN-PAK is fully compatible with other security options in the Honeywell portfolio such as Galaxy Dimension Intrusion or Fusion Digital/network video recorders (DVR/NVRs), for an integrated access, video and intruder security solution.
The growth in access control amongst SMEs in recent years can in part be attributed to the emergence of innovation in the security space such as Web-based solutions. These new approaches are playing an important role in dispelling long held concerns about access control as a viable security option for small businesses, resulting in a far more favourable view amongst end users and a greater openness to installer recommendations. Furthermore, Web-based access control also presents valuable revenue opportunities to installers through remote management and monitoring options. So maybe it is time you and your customers thought about access control again?
For more information contact Honeywell Systems Group, +44 1928 754023, nick.honess@honeywell.com, www.honeywell.com
Further reading:
A contact-free hotel experience
Issue 7 2020, Technews Publishing , Access Control & Identity Management
Check-in and go straight to your room without stopping at the reception desk at Hotel Sky in Sandton and Cape Town.
Read more...
---
AI digitises coronavirus management
Issue 7 2020, NEC XON , Access Control & Identity Management
NEC XON is using NeoFace Watch and specialised thermography cameras to measure temperature and identify employees and visitors.
Read more...
---
Combining visual and IR face recognition
Issue 7 2020, Suprema , Access Control & Identity Management
The FaceStation F2 offers face recognition and anti-spoofing performance.
Read more...
---
Anviz unveils FaceDeep5
Issue 7 2020, ANVIZ SA , Access Control & Identity Management
Anviz Global has unveiled its new touchless facial recognition identity management and IoT biometric device.
Read more...
---
Touchless biometric options
Issue 6 2020, Entry Pro , Access Control & Identity Management
When it comes to estate access control management, the foremost topic of conversation at the moment seems to be the importance of touchless biometrics.
Read more...
---
Fast access to Kevro production facilities
Issue 6 2020, Turnstar Systems , Access Control & Identity Management
Employee and visitor access at Kevro's Linbro Park premises in Gauteng is controlled through eight Dynamic Drop Arm Barriers from Turnstar.
Read more...
---
Know your facial recognition temperature scanner
Issue 6 2020, ViRDI Distribution SA , Access Control & Identity Management
Facial recognition with temperature measurement is, for the most part, available in one of two technologies – thermopile and thermography/IRT.
Read more...
---
Suprema integrates with Paxton's Net2 access control
Issue 6 2020, Suprema , Access Control & Identity Management
Suprema has announced it has integrated its devices with Paxton's access control system, Net2.
Read more...
---
Contactless check-in at hotels
Issue 6 2020 , Access Control & Identity Management
Onity has delivered the DirectKey mobile access solution to hotel chains around the globe, which allows for contactless check-in and property access.
Read more...
---
UFace facial recognition now in SA
Issue 6 2020, Trac-Tech , Access Control & Identity Management
Trac-Tech has secured the distribution rights to the UFace range of contactless biometric facial recognition and identity management IoT devices.
Read more...
---