printer friendly version
Sagem Sécurité becomes Morpho
August 2010
News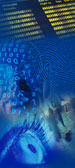 On May 27 2010, Sagem Sécurité changed its name to Morpho. Morpho is a wholly-owned subsidiary of the Safran Group which has rationalised its diverse range of international markets and high technology products and services into three core businesses: aerospace, defence and security.
Morpho develops identification, detection and e-documents solutions, covering both people and goods, for its private and government customers. This business is poised to become a major growth driver for Safran, and within a few years should generate 20% of the Group's consolidated sales.
The new name Morpho reflects the company's dynamic performance and objective of consolidating all security businesses within the Safran group under a single name. As Morpho, the company affirms its continuity with its historic predecessors and takes another step along the growth path that started three years ago. The new name which is symbolic of a shared strategic vision, embodies the company's core values, namely innovation as the basis of trust and technological excellence dedicated to its customers. Today Morpho has over 5600 employees worldwide working through 20 subsidiaries and serving among others, over 450 government agencies worldwide, reflecting a shared sense of professionalism, expertise, quality and service.
Morpho is the world leader in multibiometric technologies for fingerprint, iris and face recognition, a global leader in the smartcard industry and an acknowledged expert in identification and detection systems. Morpho meets emerging demand to ensure the security of people, companies and countries and has established a reputation for its ability to manage largescale security projects, and develop local protection solutions (access to protected zones for example). To maintain this leadership it draws on 35 years of experience in biometrics, plus advanced expertise in shape recognition, secure data processing, smartcards, secure printing, cryptography, tomography, advanced system architecture and mass spectrometry. Morpho is also the leader for ID documents with biometric features, automatic fingerprint identification systems (AFIS) and explosive detection systems (EDS).
In South Africa, Morpho currently has an installed base of 50 000 biometric terminals for access control and continues to be the market leader with a strong network of partners, working through Ideco Biometric Security Solutions. Morpho also works closely with the police and civil agencies of many countries in the southern African region.
The new name marks the start of a new era for Morpho, demonstrating the company's dynamic performance. The new name is symbolic of a shared strategic vision, and with substantial growth and diversification planned in the coming years across a large number of countries, Morpho is expected to become a globally-recognised brand closely identified with trust and technological excellence.
For more information contact Morpho, +27 (0)11 286 5800, andrina.diedericks@morpho.co.za, www.morpho.com
Further reading:
SABRIC annual crime stats 2019
Issue 5 2020 , News
SABRIC, the South African Banking Risk Information Centre, has released its annual crime stats for 2019
Read more...
---
From the editor's desk: We're back!
Issue 5 2020, Technews Publishing , News
Welcome to the fifth issue of 2020. If years were people, 2020 would have been hung, drawn and quartered...
Read more...
---
XtraVision moves to new premises
Issue 5 2020, XtraVision , News
Hot on the heels of the company changing hands, XtraVision, a distributor of electronic security and fire solutions in Africa and South America, has relocated.
Read more...
---
20 years of innovation in security and biometrics
Issue 5 2020, Suprema , News
Founded in 2000, Suprema has built a sales network in over 140 countries and has over 1 billion users.
Read more...
---
Fidelity ADT and Vumacam join forces
Issue 5 2020, Fidelity ADT , News
Fidelity-ADT recently partnered with Vumacam to roll out a surveillance network of cameras across a number of southern suburbs in Johannesburg.
Read more...
---
Dahua launches ECO Partner Programme
Issue 5 2020, Dahua Technology South Africa , News
Dahua Technology has launched its new technology partner programme, the Dahua ECO Partner Programme.
Read more...
---
Suprema unveils Suprema G-SDK
Issue 5 2020, Suprema , News
Suprema's latest software development kit (SDK), Suprema G-SDK, allows Suprema devices to be seamlessly integrated with third-party software.
Read more...
---
New smart alarm solution with video verification
Issue 5 2020 , News
IDS has released the 806, a new 8-zone alarm solution based on 20 years of experience and over 1,5 million IDS805 installations.
Read more...
---
From the editor's desk: Sustaining security and sanity
Residential Estate Security Handbook 2020, Technews Publishing , News
Sustainability is a critical component of almost anything in these days of a tanking economy, boosted by COVID-19, which is given further emphasis by the economy being further hammered by the 'cure' for ...
Read more...
---
Gallagher launches Command Centre v8.30
Issue 5 2020 , News
Gallagher's v8.30 release improves operator efficiency with enhancements to Command Centre Mobile and integrated third-party systems, and further supports health and safety obligations.
Read more...
---