printer friendly version
Another dot bomb or boom?
August 2010
News
In our preparation for the convergence feature in the September issue, we have come across a strange phenomenon, a maturing market. Or at least, that is what I am told it is. It seems there is a mood in the market for consolidation and whispers of eventual stock exchange listings.
The process is eerily familiar to me as I was fortunate to be an IT journalist during the whole dotcom boom and bust a few years ago. In that scenario we saw smaller IT companies merging or being bought and amalgamated into larger enterprises with the revenue and all the good hype to list. It seems there are a few smaller security companies in the process of getting together, or at least talking about getting together with a view to listing in a few years.
Some commentators say it is a sure sign of a maturing market, while others say it is a sign of a few people with money looking to make a fast buck. The former believe it is good for the ultimate stability of the market and to remove some of the cowboys (although I am not sure that will ever happen), while the latter believe it will lead to a few collapsing entities as we saw in the dotcom era, with only a few survivors.
I do not know if we will see a spate of mergers and acquisitions, followed by listings, but there are a number of small companies in this market that do a good job that could certainly be an asset in a larger concern. Although we have already seen a company going that route in this industry, only to fall apart rather horribly in the end.
Well, whatever happens, just remember that I am more than willing to accept shares in lieu of cash bribes as I prepare for a career in South African politics.
Erratum
It appears we make graphical mistakes as well as editorial gaffs. In our June issue we carried a piece on the G2 intercom system from Comb Communications. Our artistic flair overtook us and we inadvertently printed an image of an intercom that wasn't the G2. Our apologies for the error.
And if our embarrassment is not causing enough of a red glow on the horizon, be sure to catch our fire feature in this issue. Our new writer, Allyson Koekhoven is all aflame as she looks at some of the burning issues in the minds of our local fire enthusiasts. It is sure to be a sizzling affair.
As always, any comments, criticisms and opinions are more than welcome. Send me an e-mail on andrew@technews.co.za.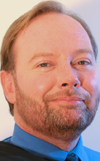 Andrew Seldon
Editor
Credit(s)
Further reading:
Online fleet management system
Issue 1 2020 , News
Fleet Domain's online Fleet Management Information System is reducing operating costs and improving safety for South African logistics firms.
Read more...
---
Digital insurance bundle for assets and devices
Issue 1 2020 , News
My CyberCare is a specialist provider of personal, and SMME online cyber insurance, cyber detection and cyber monitoring solutions for both local and global consumption.
Read more...
---
IDEMIA to supply Morocco's national electronic ID cards
Issue 1 2020, IDEMIA , News
IDEMIA will supply Morocco with national electronic ID cards and introduce a secured digital identity online services platform.
Read more...
---
Rockwell Automation to acquire Avnet
Issue 1 2020, Rockwell Automation , News
Rockwell Automation announced it has signed an agreement to acquire privately held Avnet Data Security, an Israeli-based cybersecurity provider with over 20 years' experience providing cybersecurity services.
Read more...
---
Do we really want simplicity?
Issue 1 2020, Technews Publishing , News
Everything today has to be simple, easy and fast. Even access to your bank account has to fit these adjectives and banks spend significant time and money trying to ensure their web and mobile interfaces ...
Read more...
---
Longse Distribution to become LD Africa
Issue 1 2020, LD Africa , News
Brendon Whelan, sales manager for Longse Distribution, announced that the company officially changed its name to LD Africa as of 20 January 2020.
Read more...
---
Three expos in one
Issue 1 2020 , News
Looking ahead to 2020 Vision: combined Securex South Africa, A-OSH EXPO and Facilities Management Expo 2020 promises to be even bigger and better.
Read more...
---
Security events you can't miss in 2020
Issue 1 2020, Technews Publishing , News
Hi-Tech Security Solutions will host a number of focused events in 2020 to highlight the latest in security technology and the operational benefits they deliver.
Read more...
---
David Shapiro to chair ESDA
Issue 1 2020, ESDA (Electronic Security Distributors Association , News
The Electronic Security Distributors' Association (ESDA), established in 1989, has elected David Shapiro as its chairperson for 2020.
Read more...
---
Dimension Data debuts fifth business
Issue 1 2020 , News
Dimension Data has launched its fifth business in the MEA region, Dimension Data Security, aimed at helping organisations in the region address the challenges of today's rapidly evolving threat landscape.
Read more...
---