printer friendly version
Head in the sand, or hole in the head?
May 2010
News
One of the great things about my job is that I get to see a few real industry firsts. Not the endless 'firsts' we constantly hear about from marketers and PR people, but real ground-breaking stuff.
Hi-Tech Security Solutions is working on one of these stories at the moment, an installation story so complex we will probably only be able to print it in November. It is supposed to be a case study about a move from analogue to IP surveillance, but the way it is going, it will be more a look at:
* What not to do when moving to IP.
* The dangers of choosing installers that do not have a clue about IP or IT and should be shot if they even say the word 'network' – and there are a lot of them.
* The need to take whatever time is necessary to choose the right partners who are willing to operate transparently.
* The absolutely non-negotiable requirement of having someone on your team that has a clue as to what you are doing and can relate to and check up on installers.
* The need for competitive quotes.
* The need for installers who understand IT and networking and the implications of running security services over IP networks.
On the positive side, the case study will also clearly demonstrate the power and versatility of IP. Moreover it also shows the endless options you have if you get the infrastructure right. Surveillance is only a starting point to an array of additional and complimentary IP security solutions you can build onto an effective infrastructure.
Fortunately, in this instance, the security manager did his homework and convinced the board to cough up what would traditionally have been a ludicrous amount of money for a security network. A year later however and the system is beginning to deliver returns with actual revenue generation add-ons planned for roll out over the next few years.
Sadly, this company had to deal with untrained security installers billing like cellular companies and doing the worst job imaginable – apparently someone was surprised when a gigabit network could not stream video from hundreds of cameras in real-time. Happily it was all sorted and the installation will soon be a showpiece for IP in Africa.
All I can say right now is that it is way overdue that SIA or PSIRA or whoever gets some teeth to slap a few cowboys that give the industry a bad name. Read all about it right here in Hi-Tech Security Solutions in the near future, well, read about the bits we are allowed to print anyway. Coming soon to a magazine near you!
In the meanwhile, enjoy this issue.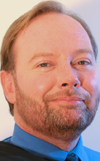 Andrew Seldon
Editor
Credit(s)
Further reading:
Online fleet management system
Issue 1 2020 , News
Fleet Domain's online Fleet Management Information System is reducing operating costs and improving safety for South African logistics firms.
Read more...
---
Digital insurance bundle for assets and devices
Issue 1 2020 , News
My CyberCare is a specialist provider of personal, and SMME online cyber insurance, cyber detection and cyber monitoring solutions for both local and global consumption.
Read more...
---
IDEMIA to supply Morocco's national electronic ID cards
Issue 1 2020, IDEMIA , News
IDEMIA will supply Morocco with national electronic ID cards and introduce a secured digital identity online services platform.
Read more...
---
Rockwell Automation to acquire Avnet
Issue 1 2020, Rockwell Automation , News
Rockwell Automation announced it has signed an agreement to acquire privately held Avnet Data Security, an Israeli-based cybersecurity provider with over 20 years' experience providing cybersecurity services.
Read more...
---
The instruments for investigation
Issue 1 2020, Technews Publishing , Security Services & Risk Management
Regardless of the reason for investigation, the investigation is only as good as the investigators.
Read more...
---
Do we really want simplicity?
Issue 1 2020, Technews Publishing , News
Everything today has to be simple, easy and fast. Even access to your bank account has to fit these adjectives and banks spend significant time and money trying to ensure their web and mobile interfaces ...
Read more...
---
Longse Distribution to become LD Africa
Issue 1 2020, LD Africa , News
Brendon Whelan, sales manager for Longse Distribution, announced that the company officially changed its name to LD Africa as of 20 January 2020.
Read more...
---
Three expos in one
Issue 1 2020 , News
Looking ahead to 2020 Vision: combined Securex South Africa, A-OSH EXPO and Facilities Management Expo 2020 promises to be even bigger and better.
Read more...
---
Security events you can't miss in 2020
Issue 1 2020, Technews Publishing , News
Hi-Tech Security Solutions will host a number of focused events in 2020 to highlight the latest in security technology and the operational benefits they deliver.
Read more...
---
David Shapiro to chair ESDA
Issue 1 2020, ESDA (Electronic Security Distributors Association , News
The Electronic Security Distributors' Association (ESDA), established in 1989, has elected David Shapiro as its chairperson for 2020.
Read more...
---