printer friendly version
Change is so annoying
October 2009
News
Just when you know you know all the answers you find you are no longer a teenager and you are back at square one. Then as you get older the questions get more complicated and you find you cannot quite remember the answers.
The security industry is going through some growing pains at the moment. Never mind the recession, companies that have made good money selling good kit and services are suddenly emerging out of teenage angst to find there are very complicated questions been thrown at them. Questions about technology, asked by IT geeks who know little about security beyond an antivirus program.
Of course I exaggerate. But bumping heads is happening and it is called convergence. There is an inevitable meeting of industries as the boundaries between IT and security blur. And this is not simply about IP cameras and the benefits of using them, but the business processes around security that are becoming reliant on IT processes and vice versa.
We gathered a few industry players around a table this month to talk about convergence. There were three from the security world and three IT players. A brief report on their conversation in this issue conveys a few of the ideas debated. Sadly, a few pages can only convey the briefest outline of the conversation, but that is enough to convey the depth of the convergence the security industry needs to prepare for.
Change is underway and the security industry will soon be facing new competition and forced to work with new partners.
In the past week I heard of one IT systems integrator that has not been a blip on the security radar to date winning a tender for a major CCTV project. The security distributors will supply whoever pays the bills, so what is the security market doing to raise its game?
How are local security integrators going to compete with IT integrators that already have nationwide infrastructures and good relations, sometimes to board level with major customers?
Or am I having a paranoia attack? Will the security industry really face pressure from IT? Are our integrators ready to talk IP and analogue? Are security companies ready to get involved in business process management, risk management and compliance issues? Feel free to let me know on [email protected]. I am keen to hear what is happening in the trenches.
Coversely, to demonstrate the fact that convergence may remain 'unconverged' for longer than some vendors would like you to think, it seems this legacy technology is far from dead. IP camera sales seem to be declining at a faster rate than analogue, which in some logical twist means a larger portion of sales are analogue rather than IP. I guess recessionary budgets are focused on maintenance rather than replacing old equipment.
So that would mean that even change is subject to change. Serves it right.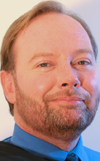 Andrew Seldon
Editor
Credit(s)
Further reading:
Unrecoverable encrypted data
News Cyber Security
Cybersecurity research indicates that 76% of organisations admit to paying ransomware criminals, however, one-third are still unable to recover data.
Read more...
---
Kaspersky invests in development of neuromorphic processors
News IT infrastructure
Neuromorphic processors' field of application is acceleration of the hardware used in the latest generation of artificial intelligence systems, which are based on spiking neural networks (SNN) training, which is more akin to biological interactions.
Read more...
---
Security BIS named AxxonSoft's Distributor of the Year 2021
News CCTV, Surveillance & Remote Monitoring
With its focus on AxxonSoft solutions and technical support, Security BIS secured the title of AxxonSoft Distributor of the Year again for 2021.
Read more...
---
Infinidat enhances channel support
News IT infrastructure
Infinidat drives go-to-market strategy with new global partner portal and expands channel sales with Storage-as-a-Service in ArrowSphere.
Read more...
---
The Handbook of Security's third edition has been published
News
The third edition of the Handbook of Security, edited by Perpetuity Research director Martin Gill, has been published, containing 45 contributions from leading global scholars.
Read more...
---
GJD announces new SMT Machine
News Perimeter Security, Alarms & Intruder Detection
GJD will now be able to complete the manufacture of its products in-house, and thereby significantly decrease the business' carbon footprint while increasing employment opportunities.
Read more...
---
Smart home devices market growing across META
Smart Home Automation News
The Middle East, Turkey, and Africa (META) smart home devices market continues to register significant gains on the back of increasing awareness and improving end user experiences, according to the latest insights from International Data Corporation.
Read more...
---
How to react in an armed robbery or home invasion
Fidelity Services Group Security Services & Risk Management News
How you react when faced with a nervous, gun-toting criminal can save your life, or cost you your life; all family members need to know what to do in such circumstances.
Read more...
---
To be or not to be, is that the objective?
Iris AI Editor's Choice CCTV, Surveillance & Remote Monitoring News
Gerhard Furter joins a discussion on the nature of sentience in artificial intelligence. Do we actually know what sentience is, or are we overestimating our human capabilities?
Read more...
---
From the editor's desk: The last CCTV Handbook
Technews Publishing News
Welcome to the CCTV Handbook 2022, I hope the headline caught your eye. This really is the last CCTV Handbook Hi-Tech Security Solutions will ever produce, but it is not the last handbook about surveillance ...
Read more...
---