printer friendly version
Aberdare Cables unlocks value with access control and SAP integration
May 2009
Access Control & Identity Management
Cable giant turns to Bytes Systems Integration (SI) to provide the glue between systems.
Aberdare Cables, one of the leading cable manufacturers in South Africa, was faced with a fairly complex problem. Having already spent a fair amount of money on a 'fully integrated' access, time and attendance and SAP solution, it was still struggling to integrate the solution, and as a result the system was not delivering on its access security expectations.
The existing systems Aberdare was running combined the technologies of an SACS Access Control system, Sagem Biometrics, Kronos Workforce Management and SAP as its business application, which were originally all expected to integrate into each other.
"Our core problem with these technologies was that many interfaces had been created around the applications used, meaning that each of the applications had its own independent database. In order for the solution to work these databases needed to be fully integrated with each other, allowing us to achieve a single point of entry into SAP as far as all employee master file data was concerned," says Peter Mason, group shared services remuneration and benefits manager at Aberdare Cables.
Aberdare was using Sagem biometric fingerprint readers on all the door access points, turnstiles and vehicle barriers into the premises, but was struggling to deploy the templates to the readers efficiently as well as being able to rely on the transaction histories of the clock-in points being transported into the Kronos system.
These proprietary technologies also demonstrated many points of potential failure within the interfaces that were operating on the system. This resulted in the data that was needed to be available to all of the systems lying in a number of disparate areas, when called upon by another application there was also no traceable method to identify if the data had reached its intended recipient, or if the data was even accurate.
The fact that data was not being shared efficiently by the myriad of applications used by Aberdare, began to cause access issues and meant that people were not able to move around the premises freely. This ultimately resulted in people being heavily inconvenienced by the access control systems inaccurately denying access. In order to solve this problem the data critical to the time and attendance and SAP HR function needed to be available in realtime when needed by management.
The solution
"The ultimate goal for the Aberdare cables project was to attain full integration of all components and achieve the efficiency of seamless integration between all components. We achieved this by proposing a full system upgrade by integrating the many access points into one central SACS database and access point, we transferred all the data across and used one system namely Kronos Connect as the integration engine," says Mike Ellison, technical manager for Kronos unit at Bytes SI.
The existing solution was not meeting Aberdare Cable's expectations and due to a lack of integration the system was hindering access instead of controlling it. After losing some confidence in the solution provided, it was also noted that the technology now in place had not produced the ROI figures that had been envisaged at the start of the project three years back.
Being hesitant about spending more money to achieve its aims, the technology team at Aberdare Cables had to get buy-in from the board to go ahead with the upgrade. To achieve this, a very strong business case was presented to Aberdare as well as the assurance that what needed to be done to the system would in fact deliver the final result that was needed and that was initially envisaged.
Apart from a hesitance in pursuing the upgrade further, some other challenges within the project involved the transition from the old existing system to the new, and the responsibility of data transfer. All of the Sagem fingerprint templates needed to be moved off the existing system together with all of the employee data, which was then copied into the SACS database and redeployed to over 100 Sagem readers across the country. The existing database integration applications needed to be stopped and the new ones deployed, all on a live system without any allowed downtime.
"The proposed solution with the new Data Flow and integration solution made a lot of sense as the numerous integration routines were cut down to one single Data Integration Engine – Kronos Connect – being used to drive the entire flow of data between all four applications," says Mason.
Benefits
The benefits of the solution are multiplied by the fact that with the integration provided the original needs analysis for what its access control solution needed to provide, have now been met.
In short, the new system integrates all the existing systems and ensures that access is monitored and controlled smoothly through one main database and point of entry. The new integrated solution improves the security of all of Aberdare Cable's sites through the biometric access control, eliminating the risk of intrusion and ensuring that staff members who leave are locked out of the systems in real-time.
"With all time and attendance being run through Kronos on a national basis, and the clocked times now transported into the system in an efficient manner, we can now deliver an enterprise time and attendance service to HR and our workforce," says Peter Mason.
Once the integration routines had been fully tested in the Q&A environment, the system was marked to go live, meaning the entire company would switch over to the new system over a five-day period. This was achieved with the least possible disruption.
The streamlining of the interfaces now means that all new employees are enrolled in SAP and then automatically made provision for in the SACS and Kronos systems. The enrolment function of fingerprint templates is seamlessly done in SACS and automatically deployed into the Sagem readers, and now all time and attendance transactions are automatically uploaded on schedule based routines into Kronos.
"We went straight to a company we could trust and had worked with before. They in turn worked very closely with Ideco and Saflec who provided assistance with the final rollout and integration. We are pleased to see the system is now delivering on its potential, and data is being transported efficiently within the applications," concludes Mason.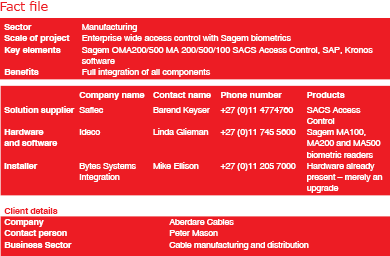 For more information contact Jana Jedrisko, divisional manager, marketing and communications, Bytes Systems Integration, +27 (0)11 205 7000, dana.jedrisko@btgroup.co.za
Further reading:
Enhanced biometric technology for mines
September 2019, ZKTeco , Mining (Industry), Access Control & Identity Management
Biometric identification and authentication are currently used at various mines in South Africa and in the SADC region.
Read more...
---
Improving access in mines
October 2019, Astra Fasteners , Mining (Industry), Access Control & Identity Management, Products
The VP1 controller provides full access control and remote monitoring of intelligent locks without having to wire into a network or install, manage and maintain software.
Read more...
---
Invixium and Pyro-Tech partner in South Africa
October 2019 , News, Access Control & Identity Management
Invixium, a manufacturer of IP-based biometric solutions and Pyro-Tech Security Suppliers have announced a new distribution partnership.
Read more...
---
Suprema receives FBI PIV/FAP30 certification
October 2019, Suprema , News, Access Control & Identity Management
Suprema has announced that the company's BioMini Slim 3 has received FBI PIV (Personal Identity Verification) and Mobile ID FAP30 certification.
Read more...
---
Frictionless access with a wave
October 2019, IDEMIA , Access Control & Identity Management, Residential Estate (Industry)
IDEMIA was the Platinum Sponsor for the Residential Estate Security Conference 2019 and set up its MorphoWave Compact frictionless fingerprint biometric scanner at the entrance to the conference.
Read more...
---
Streamlined access and reporting
October 2019, Comb Communications , Access Control & Identity Management, Residential Estate (Industry)
The main focus of the Comb stand was its practical demonstration of the MK II Lite intercom system with third-party integrated products.
Read more...
---
Customised and integrated solutions
October 2019, Suprema , Access Control & Identity Management, Residential Estate (Industry)
iVisit offers both high-end and low-end residential complexes a cost-effective visitor management solution that is fully integrated into Suprema's offerings.
Read more...
---
Access solutions for every estate
October 2019, Impro Technologies , Access Control & Identity Management, Residential Estate (Industry)
Impro's flagship Access Portal solution comprises one of the most user-friendly software solutions on the market.
Read more...
---
Managing staff effectively
September 2019, dormakaba South Africa, iPulse Systems , Integrated Solutions, Access Control & Identity Management
Workforce management solutions allow organisations to track the relationship between productivity and the cost of employment, incorporating issues such as health and safety, T&A, rostering and more.
Read more...
---
Hennie Lategan joins Centurion as head of exports
September 2019, Centurion Systems , News, Access Control & Identity Management
Centurion Systems has announced the appointment of Hennie Lategan as the head of the company's exports department.
Read more...
---