printer friendly version
Steeling time no longer
May 2009
Access Control & Identity Management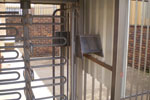 Biometrics softens steel employees.
JBM Steel, suppliers of raw steel, stainless steel and aluminium for construction, industrial and domestic purposes was founded in 1987 and is now located in Pietersburg.
It is crucial for a company such as JBM Steel, which has numerous workers in its employ, to be able to accurately manage its workers' time and day-to-day attendance. It is for this reason that the company felt it was necessary to install some sort of solution to enable it to better monitor the comings and goings of its employees.
"For many years we employed the services of an old clock card machine, but this could be easily cheated by employees getting their friends to clock them in on time and clock them out at the end of a shift without even coming to work," a JBM Steel spokesperson says. Furthermore, come end of the month, someone would have to sit down and work out each employee's hours and pay him or her accordingly.
After much deliberation, an access control solution was motivated and installed by CI Polokwane.
Apart from merely keeping a tighter control on work hours, the new access solution needed to interoperate with the existing human resources operations set up. It also needed to address the issue of security.
Once the new access solution was installed, JBM Steel wanted to reap benefits in the form of a better working relationship between human resources and the employees. The end result of this needed to be better productivity and a lot of time saving.
After a close inspection of JBM Steel, CI Polokwane devised a solution consisting of Sagem fingerprint readers and Turnstar turnstiles. The fingerprint readers would automatically relay the time that the employee scanned his or her finger and at the same time grant the worker access to the factory, thus addressing both security and time management at the same time.
Selling improvement to management
As with any new project that requires investment, the upper management of JBM Steel needed some convincing as to why the solution would be beneficial to the company. However, with strong cases on better time management and security being brought forward, the project was given the go-ahead in a timely manner. Once management was convinced, no other hurdles were experienced during the implementation of the project.
Switching over to this new system was fairly seamless. According to the company, it took around two weeks for everyone to get used to the Sagem MA100 and 500 fingerprint readers, but after that, everything ran like clockwork.
With the installation installed and working, JBM Steel is able to generate far more accurate time sheets than with the standard clock card method. It is also able to get more productivity out of its workers as they could no longer cheat the system. It also saves numerous hours at the end of each month as time management is now automatically controlled and monitored. In addition, they achieved a system that protects them in that only enrolled workers gain access to the facilities. Employees that have left or have been dismissed merely have to be removed from the system on order to revoke physical access.
Once JBM Steel had realised how beneficial this type of solution was to its business it did stress that other companies looking to implement a similar solution should go with a tried and tested installer with a solid list of references.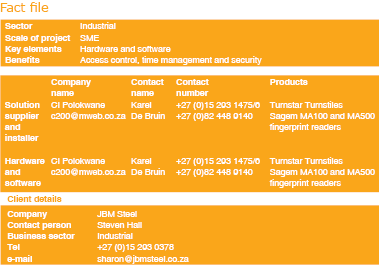 For more information contact Karel de Bruin, CI Polokwane, +27 (0)15 293 1475/6, c200@mweb.co.za
Further reading:
Enhanced biometric technology for mines
September 2019, ZKTeco , Mining (Industry), Access Control & Identity Management
Biometric identification and authentication are currently used at various mines in South Africa and in the SADC region.
Read more...
---
Improving access in mines
October 2019, Astra Fasteners , Mining (Industry), Access Control & Identity Management, Products
The VP1 controller provides full access control and remote monitoring of intelligent locks without having to wire into a network or install, manage and maintain software.
Read more...
---
Invixium and Pyro-Tech partner in South Africa
October 2019 , News, Access Control & Identity Management
Invixium, a manufacturer of IP-based biometric solutions and Pyro-Tech Security Suppliers have announced a new distribution partnership.
Read more...
---
Suprema receives FBI PIV/FAP30 certification
October 2019, Suprema , News, Access Control & Identity Management
Suprema has announced that the company's BioMini Slim 3 has received FBI PIV (Personal Identity Verification) and Mobile ID FAP30 certification.
Read more...
---
Frictionless access with a wave
October 2019, IDEMIA , Access Control & Identity Management, Residential Estate (Industry)
IDEMIA was the Platinum Sponsor for the Residential Estate Security Conference 2019 and set up its MorphoWave Compact frictionless fingerprint biometric scanner at the entrance to the conference.
Read more...
---
Streamlined access and reporting
October 2019, Comb Communications , Access Control & Identity Management, Residential Estate (Industry)
The main focus of the Comb stand was its practical demonstration of the MK II Lite intercom system with third-party integrated products.
Read more...
---
Customised and integrated solutions
October 2019, Suprema , Access Control & Identity Management, Residential Estate (Industry)
iVisit offers both high-end and low-end residential complexes a cost-effective visitor management solution that is fully integrated into Suprema's offerings.
Read more...
---
Access solutions for every estate
October 2019, Impro Technologies , Access Control & Identity Management, Residential Estate (Industry)
Impro's flagship Access Portal solution comprises one of the most user-friendly software solutions on the market.
Read more...
---
Managing staff effectively
September 2019, dormakaba South Africa, iPulse Systems , Integrated Solutions, Access Control & Identity Management
Workforce management solutions allow organisations to track the relationship between productivity and the cost of employment, incorporating issues such as health and safety, T&A, rostering and more.
Read more...
---
Hennie Lategan joins Centurion as head of exports
September 2019, Centurion Systems , News, Access Control & Identity Management
Centurion Systems has announced the appointment of Hennie Lategan as the head of the company's exports department.
Read more...
---