printer friendly version
Human capital management
Access & Identity Management Handbook 2009
Access Control & Identity Management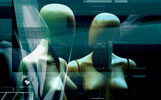 Integrating systems is crucial for efficient and cost-effective management, but do not forget your people are the most important aspect of your business.
In a recent briefing we were informed that the access control system would handle the integration of most applications including CCTV, intercoms, fire and safety, as well as other systems. This is a very bold statement and really does not address the key issues of redundancy, system independence and the importance of not having all your eggs in one basket.
By this we mean that systems that work within the same spheres should be operating together and those systems that can provide additional information such as fire and safety, CCTV, building management, should be interlinked through a separate software platform. The key to this is that each system remains completely standalone in their own rights and if, for whatever reason, one system fails, the other systems are not affected and continue working for your company.
Open any publication and read through the articles to see the number of companies and products offering open architecture integration; ie, that they can integrate to any product available on the open market. What do they really mean and are they just using this as a means of plugging their own products in the hope that you will remove your older legacy systems to make way for their amazing new all in one offering.
When considering your safety and security needs, it is normally built from a requirement for cameras to catch or protect; a fire system because the law may require it and then to check on your personnel. People are more than likely your most important asset; they will be the first to let you down, the first to abuse your intellectual property and probably the first to cry off sick when times get tough. Employee management has adopted HCM (human capital management) or HRM (human resource management) abbreviations that are used with enterprise level software such as SAP, Oracle, JD Edwards etc, which provide for the relevant resource management for the day-to-day effective running of your company. Used properly this becomes a readymade database of key information on every person within the company, yet how many access control systems integrate fully into this database to allow a complete and accurate profile of people movement within the company?
Access control problems arise when there are offices in different parts of the country and there are different access control systems that have been installed by security without consideration or consultation with HR, IT or even an operations officer, with the technical knowledge to provide relevant opinion. An example of this is the banking industry where you will find as many as 10 different access control systems across their branches and major offices. However, herein lies a basic problem, the function and nature of each access control system should provide for the ability to link into the database of the enterprise solution as they both involve the same personnel rather than expecting an additional integration software to provide intelligence. It is only when we look at combining these access control systems with CCTV, fire and safety, intrusion, building management systems, etc, that one realises how important the management information system really becomes.
The management information system and the answer to the above illustrated problems is through an effective integrating software platform that sits above the key separate system solutions. This software must be able to drive multiple systems and provide a source of information from one system to another; and one area to another. In the case above it will need to integrate all of the access control systems plus whatever other systems need integration. It is important to note that the interface to the enterprise database is through the access control system, although reports and information can be linked.
The beauty of running with this complete standalone management integration software is that you can add as many different systems as you require from as many different suppliers. These include legacy products that have been installed in years past; assuming that we can actually talk to them through some interface or existing protocol. Therefore, your well considered and stepped planning means that budgetary constraints are adhered to while upgrading the very old systems or integrating newer technologies within the new green building infrastructure as you require. No longer do you need to stick to a particular supplied brand but you can now choose the brand or product capable of fulfilling the functionality required; we refer to this as best of breed. With this in mind we come back to our starting point, when looking at a system why not ask yourself the following questions:
1. Will each system standalone in its own right so that one does not take down another?
2. Does your access control interface to your HCM/HRM systems?
3. Can you at a single point in time identify everyone who is in your building?
4. If there is a fire in your building can your systems provide a complete print out of everyone who is in the building, including visitors; both company employees assigned for that day and the external visitors?
5. What about knowing those who are off sick or the personnel on leave?
6. Can diverse systems provide triggers that permit CCTV viewing?
7. What about the HVAC and the need to switch off oxygen sustaining fans?
8. What about the emergency signage and evacuation information over the public address system?
9. What about the PA instructions not to use the lifts?
10. Has the fire department been contacted and by whom?
Dealing with the issues of different access control systems and their various abilities, plus CCTV, intrusion, and the other devices installed over time can create a real problem for consolidating the management through one interface. Ideally, choosing the right integrated management platform will allow decisions to be made and a full overview of what is happening or what happened during a complete incident? Your personnel are an important aspect of your business, therefore you need to ensure that the stepping stones are in place to bring each of your system management tools together into the one platform that will give you full management, staff accountability and a complete solution.
For more information contact Niall Beazley, Vision Catcher, +27 (0)11 463 9797, [email protected], www.visioncatcher.co.za
Credit(s)
Further reading:
Revamping Liberty Life's reception area
Turnstar Systems Access Control & Identity Management Commercial (Industry)
Turnstar supplied and installed four Speedgate Express lanes, each 550 mm wide, as well as two Pulse Special Needs Gates for wheelchair access to Liberty Life.
Read more...
---
Hybrid licence plate recognition
ZKTeco Products Access Control & Identity Management Transport (Industry) Logistics (Industry)
The ZKTeco LPRS2000 is a hybrid-recognition vehicle management terminal that combines the latest high-performance UHF reader.
Read more...
---
Suprema joins FiRa Consortium
Suprema News Access Control & Identity Management
Suprema recently became a member of the FiRa Consortium, a consultative body that establishes standards for ultra-wideband (UWB) technology, the next generation of wireless communication.
Read more...
---
Physical security at distribution centre
Turnstar Systems Transport (Industry) Access Control & Identity Management Products Logistics (Industry)
Turnstar's Velocity Raptors create a high-security physical barrier at Massmart's new 75 000 m2 distribution centre in Riversands, Johannesburg .
Read more...
---
Integrated smart parking management
ZKTeco Access Control & Identity Management Transport (Industry) Products Logistics (Industry)
ZKTeco smart parking management provides a solution for both small parking lots and busy multi-story car parks, providing maximum efficiency, transparency and security.
Read more...
---
UHF RFID standalone terminal
ZKTeco Products Access Control & Identity Management Transport (Industry) Logistics (Industry)
The U2000 increases access control functions and supports TCP/IP communication, Wiegand in/out, two relays, third-party electric locks, door sensors and exit buttons.
Read more...
---
PALMKI palm vein recognition technology
Access Control & Identity Management Products
Tactile Technologies has announced the launch of Palmki, a palm vein recognition solution developed and marketed by PerfectID, a Belgian company.
Read more...
---
ATG Digital launches solution for emergencies
Access Control & Identity Management Asset Management, EAS, RFID
ATG Digital has launched a Roll Call feature on its app to assist SHEQ managers and safety officers who cite attendance records in an emergency as one of their biggest challenges.
Read more...
---
UHF and Bluetooth multi-technology reader
Evolving Management Solutions Products Access Control & Identity Management
The SPECTRE nano offers hands-free identification of the vehicle and/or the driver, as well as interoperable and multi-protocol secure identification.
Read more...
---
Identity proofing allows easy virtual ID checks
Access Control & Identity Management Security Services & Risk Management
The identity verification market is expected to grow from $8 billion in 2021 to reach $17,7 billion in 2026 with a CAGR of 17,1%, and identity proofing in particular is gaining popularity.
Read more...
---