printer friendly version
Crime for dummies
May 2009
News
I was insane enough to be at Lanseria Airport to catch a 06:15 flight with Kulula on 7 April. Do these Kulula employees realise their canned jokes and comments while trying to be funny at 05:15 in the morning is more likely to produce a psychotic episode than a laugh? That would test their security preparations.
A couple of other things happened on the way to Technews' Durban branch that brought home to me the stark reality of what absolutely perfect victims we are to criminals. The first incident happened at an ATM.
I have seen videos of criminals engaged in stealing people's ATM cards and copying the details on the magnetic stripe while watching the user enter their PIN code before returning the card and walking off with the necessary details to make their own card and draw money at leisure with the person's PIN. These guys are impressively skilful.
However, the talent in these videos is not needed. On that particular morning, while I waited in line to draw money from an ATM, I was able to clearly see the man in front of me entering his PIN. After completing his transaction, he then slipped the card into his shirt pocket and walked away. Now I know his PIN, if I had a little coordination I could bump into him, steal his card and have a nice dinner on him. He made no effort to protect his card or PIN, while the efforts I made to cover mine up probably made me look like a criminal.
The second incident happened when entering a restricted building. The woman in front of me, who obviously worked there and had never seen me before, gave me a big smile, entered her code and walked in, holding the door open for me. I should have mugged her out of principle.
So now I can come and go as I please with her code – apparently every person with a legitimate reason to be in here has a unique code. I could come back one night and pilfer the stationery cupboard on her account. Alternatively, I could come and steal a couple of Apple computers if they had any value in the real world other than being able to say, "oooh, I have an Apple".
If there was ever a reason for biometrics the carelessness of these people is it. Of course, I realise we are all as careless, all the time. I think I'll have to stand on the street corner handing out copies of our Access Control Handbook to people as my own contribution to social investment.
Access Control Handbook 2009
The subject of biometrics plays a dominant role in the Access Control Handbook 2009, which is included with this month's Hi-Tech Security Solutions. This year we wanted to delve a little deeper into the world of integrated access management and see how business is integrating its once stand-alone access control systems into its business applications and processes.
The good news is many companies are doing the work necessary to integrate all their security technology and processes into their business processes and technical infrastructure. This doesn't always happen without a few issues and turf wars, which is why strong, directive leadership is sometimes required to get the projects going. Sadly, some vendors are still flogging the terminal horse of selling stand-alone proprietary solutions to clients, but I suspect we'll be hearing less and less from them as time goes by.
Nevertheless, the Access Control Handbook 2009 offers a selection of reading to educate, enlighten and compare with whatever is happening in your organisation; from trends and opinions, through to case studies from a range of industries. We even have a brief summary of a round table debate we held on the topic of integrated access control and identity management. Sadly, there is only space to print a snippet of the interesting and sometime controversial discussion.
There is no other publication in South Africa to offer such an in-depth as well as broad overview of integrated access control and identity management. We hope you enjoy it and, as always, comments are welcome.
If someone has already run off with your copy, you can request another by calling Technews Publishing on +27 (0)11 886 3640, or e-mail me at the address below.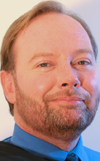 Andrew Seldon
Editor
Credit(s)
Further reading:
Security BIS named AxxonSoft's Distributor of the Year 2021
News CCTV, Surveillance & Remote Monitoring
With its focus on AxxonSoft solutions and technical support, Security BIS secured the title of AxxonSoft Distributor of the Year again for 2021.
Read more...
---
Infinidat enhances channel support
News IT infrastructure
Infinidat drives go-to-market strategy with new global partner portal and expands channel sales with Storage-as-a-Service in ArrowSphere.
Read more...
---
The Handbook of Security's third edition has been published
News
The third edition of the Handbook of Security, edited by Perpetuity Research director Martin Gill, has been published, containing 45 contributions from leading global scholars.
Read more...
---
GJD announces new SMT Machine
News Perimeter Security, Alarms & Intruder Detection
GJD will now be able to complete the manufacture of its products in-house, and thereby significantly decrease the business' carbon footprint while increasing employment opportunities.
Read more...
---
Smart home devices market growing across META
Smart Home Automation News
The Middle East, Turkey, and Africa (META) smart home devices market continues to register significant gains on the back of increasing awareness and improving end user experiences, according to the latest insights from International Data Corporation.
Read more...
---
How to react in an armed robbery or home invasion
Fidelity Services Group Security Services & Risk Management News
How you react when faced with a nervous, gun-toting criminal can save your life, or cost you your life; all family members need to know what to do in such circumstances.
Read more...
---
To be or not to be, is that the objective?
Iris AI Editor's Choice CCTV, Surveillance & Remote Monitoring News
Gerhard Furter joins a discussion on the nature of sentience in artificial intelligence. Do we actually know what sentience is, or are we overestimating our human capabilities?
Read more...
---
From the editor's desk: The last CCTV Handbook
Technews Publishing News
Welcome to the CCTV Handbook 2022, I hope the headline caught your eye. This really is the last CCTV Handbook Hi-Tech Security Solutions will ever produce, but it is not the last handbook about surveillance ...
Read more...
---
From Generation Z to Baby Boomers
News
Lorna Hardie, regional director at VMware SSA discusses the impact of hybrid working across the generations when work is no longer confined to the office.
Read more...
---
Axis to create explosion-protected cameras
Axis Communications SA CCTV, Surveillance & Remote Monitoring News Products
Axis Communications has announced its plans to develop its own explosion-protected surveillance cameras and devices across the Axis product portfolio through a new subsidiary, Axis Ex AB.
Read more...
---