printer friendly version
Crime for dummies
May 2009
News
I was insane enough to be at Lanseria Airport to catch a 06:15 flight with Kulula on 7 April. Do these Kulula employees realise their canned jokes and comments while trying to be funny at 05:15 in the morning is more likely to produce a psychotic episode than a laugh? That would test their security preparations.
A couple of other things happened on the way to Technews' Durban branch that brought home to me the stark reality of what absolutely perfect victims we are to criminals. The first incident happened at an ATM.
I have seen videos of criminals engaged in stealing people's ATM cards and copying the details on the magnetic stripe while watching the user enter their PIN code before returning the card and walking off with the necessary details to make their own card and draw money at leisure with the person's PIN. These guys are impressively skilful.
However, the talent in these videos is not needed. On that particular morning, while I waited in line to draw money from an ATM, I was able to clearly see the man in front of me entering his PIN. After completing his transaction, he then slipped the card into his shirt pocket and walked away. Now I know his PIN, if I had a little coordination I could bump into him, steal his card and have a nice dinner on him. He made no effort to protect his card or PIN, while the efforts I made to cover mine up probably made me look like a criminal.
The second incident happened when entering a restricted building. The woman in front of me, who obviously worked there and had never seen me before, gave me a big smile, entered her code and walked in, holding the door open for me. I should have mugged her out of principle.
So now I can come and go as I please with her code – apparently every person with a legitimate reason to be in here has a unique code. I could come back one night and pilfer the stationery cupboard on her account. Alternatively, I could come and steal a couple of Apple computers if they had any value in the real world other than being able to say, "oooh, I have an Apple".
If there was ever a reason for biometrics the carelessness of these people is it. Of course, I realise we are all as careless, all the time. I think I'll have to stand on the street corner handing out copies of our Access Control Handbook to people as my own contribution to social investment.
Access Control Handbook 2009
The subject of biometrics plays a dominant role in the Access Control Handbook 2009, which is included with this month's Hi-Tech Security Solutions. This year we wanted to delve a little deeper into the world of integrated access management and see how business is integrating its once stand-alone access control systems into its business applications and processes.
The good news is many companies are doing the work necessary to integrate all their security technology and processes into their business processes and technical infrastructure. This doesn't always happen without a few issues and turf wars, which is why strong, directive leadership is sometimes required to get the projects going. Sadly, some vendors are still flogging the terminal horse of selling stand-alone proprietary solutions to clients, but I suspect we'll be hearing less and less from them as time goes by.
Nevertheless, the Access Control Handbook 2009 offers a selection of reading to educate, enlighten and compare with whatever is happening in your organisation; from trends and opinions, through to case studies from a range of industries. We even have a brief summary of a round table debate we held on the topic of integrated access control and identity management. Sadly, there is only space to print a snippet of the interesting and sometime controversial discussion.
There is no other publication in South Africa to offer such an in-depth as well as broad overview of integrated access control and identity management. We hope you enjoy it and, as always, comments are welcome.
If someone has already run off with your copy, you can request another by calling Technews Publishing on +27 (0)11 886 3640, or e-mail me at the address below.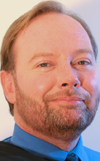 Andrew Seldon
Editor
Credit(s)
Further reading:
Obituary: Steven James Meyer
January 1957 - January 2022
Technews Publishing News
It is with deep sadness and shock that we announce the sudden death of SA Instrumentation & Control Editor, Steven Meyer. Steven joined Technews in October 2007 in the position of Deputy Editor. His ...
Read more...
---
From the editor's desk: In the cyber trenches
Technews Publishing News
Hi-Tech Security Solutions is proud to launch its first Smart Cybersecurity Handbook, a publication aimed at making sense of the complex world of cyber risks.
Read more...
---
Industrial control systems threat medley
News
According to Kaspersky ICS CERT report, almost one in three industrial computers globally was subject to malicious activity in the first half of 2021.
Read more...
---
Social media censorship annual report
News
Africa is the most censorship-intensive region in the world when it comes to social media, with 10 countries shutting down social media this year.
Read more...
---
Turnstar ramps up countermeasures
Turnstar Systems Editor's Choice Access Control & Identity Management News Products
Turnstar has developed and patented an early warning and deterrent system which will alert security, and anyone nearby, of any attempt to place ramps over the raised spikes.
Read more...
---
Offshore cloud video surveillance system
Eagle Eye Networks CCTV, Surveillance & Remote Monitoring News Transport (Industry)
Eagle Eye Networks and TechBinder collaborate on offshore cloud video surveillance system for maritime sector, bringing real-time remote viewing and notifications to enhance vessel performance data and reporting
Read more...
---
Suprema integrates biometric access control with Genetec
Suprema News CCTV, Surveillance & Remote Monitoring Access Control & Identity Management
Suprema has announced the successful integration of its biometric access control products with Genetec Security Center, a unified security platform that connects security systems, sensors and data in a single intuitive interface.
Read more...
---
IDEMIA South Africa achieves level 1 B-BBEE status
IDEMIA News Access Control & Identity Management
As part of the action plan to improve its status to Level 1, IDEMIA now works with over 40 black-owned local suppliers, representing over 30% of IDEMIA's local suppliers.
Read more...
---
Suprema no. 1 in the global biometric market excluding China
Suprema News Access Control & Identity Management
According to the latest report by Omdia, a global market research firm, Suprema ranks first in global market share, excluding China, in the field of biometric readers.
Read more...
---
Dahua and Yeastar PBX-intercom integration
Dahua Technology South Africa News Access Control & Identity Management
Dahua Technology and Yeastar announced their new ECO partnership on PBX-intercom integration to provide a comprehensive and unified communication solution for small- and medium-sized enterprises.
Read more...
---