printer friendly version
Customer unfocused
January 2009
News
A recent trip to HYT in China with Spectrum Communications (mentioned in the news section) was a real revelation for me. On the one hand, there was the cultural and historical education being taken on a tour of Beijing in China made possible, which in itself was amazing; on the other hand there was the company and product education obtained from HYT's personnel at the company's HQ in Shenzhen.
Then there is the third hand, the education one obtains listening to conversations around the dinner table or while the group was waiting for something or other. Of course, many of those conversations cannot be printed for obvious reasons – it costs more to go out for a decent dinner than to hire a hitman in South Africa.
One of the issues that was raised in more than one forum, officially and unofficially, was cost. It seems the idea of paying for quality is still foreign to most South Africa companies, even when it comes to security products. One would think the fact that lives can hang in the balance when purchasing security products would force buyers to consider quality first, but that does not seem to happen.
One comment from a reseller stated as a fact that he would not offer a particular client a range of options, but find the supplier offering the lowest price and go in with one bid. And it was sure that whoever offered the lowest price wins, every time. Then, of course, when the cheap stuff breaks the client has a hernia and complains loud and long, oblivious to the idea that support costs money.
The idea of getting what you pay for does not seem to resonate among some people.
Of course, it could be said that when considering 2-way radios the cheapest does the job as well as the most expensive. True enough, until one considers the average number of times said radio is going to be sat on, dropped, kicked, knocked about and have coffee spilled on it in a month of shifts. Not to mention the R&D – and associated cost – that goes into making radios as foolproof and easy to use as possible.
Perhaps the security industry needs to start calculating the total cost of ownership of the products and services on offer instead of blackmailing suppliers into offering the lowest possible price. The IT industry woke up to this fact a decade or so ago, not that every IT buyer pays attention to the TCO instead of the initial purchase cost, unfortunately. Nobody wants to pay a premium, but nobody wants to see property or life lost or damaged for the sake of a few rand.
Another very impressive aspect of the trip to HYT's HQ in Shenzhen was the fact that the company has over 400 engineers working in its R&D divisions. Are there 400 engineers left in South Africa?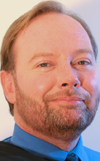 Andrew Seldon
Editor
Credit(s)
Further reading:
Unrecoverable encrypted data
News Cyber Security
Cybersecurity research indicates that 76% of organisations admit to paying ransomware criminals, however, one-third are still unable to recover data.
Read more...
---
Kaspersky invests in development of neuromorphic processors
News IT infrastructure
Neuromorphic processors' field of application is acceleration of the hardware used in the latest generation of artificial intelligence systems, which are based on spiking neural networks (SNN) training, which is more akin to biological interactions.
Read more...
---
Security BIS named AxxonSoft's Distributor of the Year 2021
News CCTV, Surveillance & Remote Monitoring
With its focus on AxxonSoft solutions and technical support, Security BIS secured the title of AxxonSoft Distributor of the Year again for 2021.
Read more...
---
Infinidat enhances channel support
News IT infrastructure
Infinidat drives go-to-market strategy with new global partner portal and expands channel sales with Storage-as-a-Service in ArrowSphere.
Read more...
---
Are you your insider threat?
Technews Publishing Editor's Choice Security Services & Risk Management Commercial (Industry)
Insider threats are a critical aspect of risk management today, but what happens when it is the owner of the company acting fraudulently and making sure none of his staff can catch him?
Read more...
---
The Handbook of Security's third edition has been published
News
The third edition of the Handbook of Security, edited by Perpetuity Research director Martin Gill, has been published, containing 45 contributions from leading global scholars.
Read more...
---
GJD announces new SMT Machine
News Perimeter Security, Alarms & Intruder Detection
GJD will now be able to complete the manufacture of its products in-house, and thereby significantly decrease the business' carbon footprint while increasing employment opportunities.
Read more...
---
Passion, drive and hard work
Technews Publishing Editor's Choice CCTV, Surveillance & Remote Monitoring Security Services & Risk Management
Colleen Glaeser is a leader in the security market, having made her mark in the male-dominated security industry through determination and hard work, along with a vision of making the world a safer place.
Read more...
---
Smart home devices market growing across META
Smart Home Automation News
The Middle East, Turkey, and Africa (META) smart home devices market continues to register significant gains on the back of increasing awareness and improving end user experiences, according to the latest insights from International Data Corporation.
Read more...
---
How to react in an armed robbery or home invasion
Fidelity Services Group Security Services & Risk Management News
How you react when faced with a nervous, gun-toting criminal can save your life, or cost you your life; all family members need to know what to do in such circumstances.
Read more...
---