printer friendly version
Customer unfocused
January 2009
News
A recent trip to HYT in China with Spectrum Communications (mentioned in the news section) was a real revelation for me. On the one hand, there was the cultural and historical education being taken on a tour of Beijing in China made possible, which in itself was amazing; on the other hand there was the company and product education obtained from HYT's personnel at the company's HQ in Shenzhen.
Then there is the third hand, the education one obtains listening to conversations around the dinner table or while the group was waiting for something or other. Of course, many of those conversations cannot be printed for obvious reasons – it costs more to go out for a decent dinner than to hire a hitman in South Africa.
One of the issues that was raised in more than one forum, officially and unofficially, was cost. It seems the idea of paying for quality is still foreign to most South Africa companies, even when it comes to security products. One would think the fact that lives can hang in the balance when purchasing security products would force buyers to consider quality first, but that does not seem to happen.
One comment from a reseller stated as a fact that he would not offer a particular client a range of options, but find the supplier offering the lowest price and go in with one bid. And it was sure that whoever offered the lowest price wins, every time. Then, of course, when the cheap stuff breaks the client has a hernia and complains loud and long, oblivious to the idea that support costs money.
The idea of getting what you pay for does not seem to resonate among some people.
Of course, it could be said that when considering 2-way radios the cheapest does the job as well as the most expensive. True enough, until one considers the average number of times said radio is going to be sat on, dropped, kicked, knocked about and have coffee spilled on it in a month of shifts. Not to mention the R&D – and associated cost – that goes into making radios as foolproof and easy to use as possible.
Perhaps the security industry needs to start calculating the total cost of ownership of the products and services on offer instead of blackmailing suppliers into offering the lowest possible price. The IT industry woke up to this fact a decade or so ago, not that every IT buyer pays attention to the TCO instead of the initial purchase cost, unfortunately. Nobody wants to pay a premium, but nobody wants to see property or life lost or damaged for the sake of a few rand.
Another very impressive aspect of the trip to HYT's HQ in Shenzhen was the fact that the company has over 400 engineers working in its R&D divisions. Are there 400 engineers left in South Africa?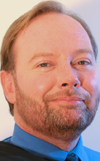 Andrew Seldon
Editor
Credit(s)
Further reading:
The expanding scope of electronic locks
Technews Publishing ASSA ABLOY South Africa Access Control & Identity Management
Electronic locks are a growing market, extending from single doors to fully integrated security solutions, including the ability to manage everything from a mobile app.
Read more...
---
From the editor's desk: A new start
Technews Publishing News
      Welcome to the first issue of the Smart Access & Identity handbook, Smart Access & Identity 2023. While this is the first issue, it's also a continuation of Hi-Tech Security Solutions' long-standing ...
Read more...
---
The state of the biometrics market
neaMetrics Technews Publishing Suprema Hikvision South Africa IDEMIA Access Control & Identity Management Integrated Solutions
Now that the pandemic is over (hopefully), will we see the same confidence in biometrics for access and identification or will the world be reverting to touch-based systems, including cards and fobs (or mobiles).
Read more...
---
Migrating to mobile
Technews Publishing neaMetrics Suprema Editor's Choice
The ability to use mobile phones as access control credentials has been with us for a long time, yet only 32% of companies use them, and many only for specific use cases.
Read more...
---
The future of touchless biometrics
Technews Publishing Fulcrum Biometrics Access Control & Identity Management Integrated Solutions
Facial biometrics is the main talking point today, helped along by COVID, but is it the best touchless solution available? Rob Griggs from Fulcrum Biometrics Southern Africa recommends other touchless alternatives.
Read more...
---
The problem with biometrics
Technews Publishing Editor's Choice Access Control & Identity Management Integrated Solutions
We have come to rely heavily on biometrics for many aspects of access and identity management, especially in identity management where selfie authentication is accepted with confidence. Are we doing it right? Roger Grimes has his own take on the matter.
Read more...
---
AI presents people and companies with benefits and risks
Technews Publishing Editor's Choice
AI has changed and will still change the security landscape dramatically, but defenders and criminals can use its capabilities effectively.
Read more...
---
More than saying hello
Technews Publishing TOA Electronics XtraVision Access Control & Identity Management
Are we seeing an increase in market demand for video intercoms, and more user control through management functionality on mobile apps?
Read more...
---
Spend on cloud to accelerate across Africa in 2023
News
More than two-thirds of companies using cloud computing across major African markets plan to increase their spending on cloud services in 2023.
Read more...
---
ChatGPT's impacts will be social, not technical
News
ChatGPT is truly a remarkable achievement, an artificial intelligence (AI) that you can have a conversation with and ask to do everything from writing essays to coding computer programs.
Read more...
---