printer friendly version
Customer unfocused
January 2009
News & Events
A recent trip to HYT in China with Spectrum Communications (mentioned in the news section) was a real revelation for me. On the one hand, there was the cultural and historical education being taken on a tour of Beijing in China made possible, which in itself was amazing; on the other hand there was the company and product education obtained from HYT's personnel at the company's HQ in Shenzhen.
Then there is the third hand, the education one obtains listening to conversations around the dinner table or while the group was waiting for something or other. Of course, many of those conversations cannot be printed for obvious reasons – it costs more to go out for a decent dinner than to hire a hitman in South Africa.
One of the issues that was raised in more than one forum, officially and unofficially, was cost. It seems the idea of paying for quality is still foreign to most South Africa companies, even when it comes to security products. One would think the fact that lives can hang in the balance when purchasing security products would force buyers to consider quality first, but that does not seem to happen.
One comment from a reseller stated as a fact that he would not offer a particular client a range of options, but find the supplier offering the lowest price and go in with one bid. And it was sure that whoever offered the lowest price wins, every time. Then, of course, when the cheap stuff breaks the client has a hernia and complains loud and long, oblivious to the idea that support costs money.
The idea of getting what you pay for does not seem to resonate among some people.
Of course, it could be said that when considering 2-way radios the cheapest does the job as well as the most expensive. True enough, until one considers the average number of times said radio is going to be sat on, dropped, kicked, knocked about and have coffee spilled on it in a month of shifts. Not to mention the R&D – and associated cost – that goes into making radios as foolproof and easy to use as possible.
Perhaps the security industry needs to start calculating the total cost of ownership of the products and services on offer instead of blackmailing suppliers into offering the lowest possible price. The IT industry woke up to this fact a decade or so ago, not that every IT buyer pays attention to the TCO instead of the initial purchase cost, unfortunately. Nobody wants to pay a premium, but nobody wants to see property or life lost or damaged for the sake of a few rand.
Another very impressive aspect of the trip to HYT's HQ in Shenzhen was the fact that the company has over 400 engineers working in its R&D divisions. Are there 400 engineers left in South Africa?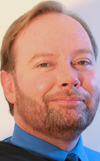 Andrew Seldon
Editor
Credit(s)
Further reading:
Pentagon appointed as Milestone distributor
Elvey Security Technologies News & Events Surveillance
Milestone Systems appointed Pentagon Distribution (an Elvey Group company within the Hudaco Group of Companies) as a distributor. XProtect's open architecture means no lock-in and the ability to customise the connected video solution that will accomplish the job.
Read more...
---
South Africa shows a 1200% increase in deepfake fraud
News & Events Risk Management & Resilience
Sumsub released its third annual Identity Fraud Report of the year, analysing identity fraud across industries and regions based on millions of verification checks across 28 industries and over 2 million fraud cases.
Read more...
---
Projections for 2024's Advanced Threats Landscape
News & Events Information Security
Kaspersky Global Research and Analysis Team (GReAT) experts offer insights and projections for 2024 in the Kaspersky Security Bulletin, with a focus on the evolution of Advanced Persistent Threats (APT).
Read more...
---
Helping South African university students and staff to stay safe
News & Events
Buzzer is a free mobile app that allows users to quickly and easily report incidents of crime, violence, or harassment to campus security and other relevant authorities.
Read more...
---
Tech developments lead hologram growth in 2024
News & Events Security Services & Risk Management
Micro-lenses, micro-mirrors and plasmonics are among the rapidly-emerging optical devices that have evolved on the back of holographic and diffractive technologies, and are seen as part of the natural evolution of optical science by R&D teams.
Read more...
---
Trellix detects collaboration by cybercriminals and nation states
News & Events Information Security
Trellix has released The CyberThreat Report: November 2023 from its Advanced Research Centre, highlighting new programming languages in malware development, adoption of malicious GenAI, and acceleration of geopolitical threat activity.
Read more...
---
People are craving connection
News & Events
As 2023 nears its close, global security manufacturer Gallagher Security is sharing key observations from some of the year's biggest industry events, chief among them the rising importance of community building these events facilitate.
Read more...
---
ePSiRA online system
PSiRA (Private Security Ind. Regulatory Authority) News & Events
[Sponsored] As part of the digitisation of the security industry, the Private Security Industry Regulatory Authority (PSiRA) introduced the ePSiRA online system, which allows clients to transact online.
Read more...
---
New generation of cyber-focused controllers
Gallagher News & Events Access Control & Identity Management Products & Solutions
The C7000 gives users an opportunity to leverage their hardware and firmware to build a platform designed to catapult their organisation into the future, with cybersecurity baked in from inception.
Read more...
---
New T&A terminal features revolutionary AI technology
Suprema News & Events Access Control & Identity Management AI & Data Analytics
Suprema has launched BioStation 2a, the world's first deep learning-based fingerprint recognition solution, providing powerful access control features and an improved ability to extract templates from low-quality fingerprints.
Read more...
---