printer friendly version
International man of mystery
November 2008
News
I have been a Mr J. Bond, a Clark Kent and even a Bruce Wayne. There was a time when I was a HRH E. Windsor. Once I was a certain N. Mandela.
In not one of those occasions did anyone think there was anything unusual or wrong with the person signing these names and offering fake telephone numbers – I do not think Buckingham Palace's telephone number starts with a 011 code. I can understand there may be cultural differences and priorities that would leave some locals ignorant of the fact that Clark Kent is Superman and Bruce Wayne is Batman, and there is after all a resemblance. I would have thought, however, that most South Africans would be able to notice that I am not Nelson Mandela.
The question I have is why bother with guards at the gate when they have as much interest in their jobs as I do in extreme knitting. Would a camera system linked to a central control room not do the job better? At least you would end up with a numberplate and a picture of the person if something does go wrong. When I sign in as James Bond and provide false telephone numbers and even car registration details the company concerned has no way of tracking me if I was bent on stealing something or committing some random act of terrorism.
Some guards, sadly the minority, are on the ball and actually take notice of what is happening. You can ask them about someone or some event and they can provide in-depth and accurate details. Others seem to focus on gnawing their pens down to stubs out of boredom and then get annoyed when someone actually pitches up at the gate and drags them out of their equilibrium.
Of course you cannot lay the blame on the guards. Where is the management? What training did they go through? Do they know the importance of their jobs or are they treated like unwanted orphans that have to be paid a minimum wage? Or is it a case of upping a company's equity numbers?
The efficient ones are generally those from companies whose core business is security and who take the time and effort to train their staff properly and offer them some sort of career path. In South Africa especially, security is a long-term commitment and staff should be able to climb the ladder.
Sadly, if companies are not taking their guards seriously, they obviously do not consider the security of their customers and employees to be of any importance. If they do, why are they not handling security as they do any other business process? If security has a purpose and a goal, it must be planned and carried out by people with the appropriate training and a full understanding of what their job is. They should be judged on performance and have a career path.
Perhaps this is a reflection on the state of the security industry as a whole? A few companies are out there setting the standard offering best practices and delivering on their promises while the rest coast along making a quick buck? Security, after all, is an easy sell, especially if you keep your prices low. The customer will learn too late that low prices have their own cost, sometimes far more severe than merely money.
Is that too cynical? Then why is it such a hassle to get more companies to align themselves to an industry body like SIA? Too many vested interests? Too many corners to cut? If standards are set, the fly-by-nights will easily be exposed and will have to make an effort to meet them or admit they are unable to offer a decent service. The steel recycling industry has a central association that speaks for the industry, but the multibillion rand security industry still has no central voice.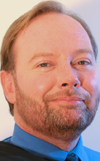 Andrew Seldon
Editor
Credit(s)
Further reading:
Unrecoverable encrypted data
News Cyber Security
Cybersecurity research indicates that 76% of organisations admit to paying ransomware criminals, however, one-third are still unable to recover data.
Read more...
---
Kaspersky invests in development of neuromorphic processors
News IT infrastructure
Neuromorphic processors' field of application is acceleration of the hardware used in the latest generation of artificial intelligence systems, which are based on spiking neural networks (SNN) training, which is more akin to biological interactions.
Read more...
---
Security BIS named AxxonSoft's Distributor of the Year 2021
News CCTV, Surveillance & Remote Monitoring
With its focus on AxxonSoft solutions and technical support, Security BIS secured the title of AxxonSoft Distributor of the Year again for 2021.
Read more...
---
Infinidat enhances channel support
News IT infrastructure
Infinidat drives go-to-market strategy with new global partner portal and expands channel sales with Storage-as-a-Service in ArrowSphere.
Read more...
---
Are you your insider threat?
Technews Publishing Editor's Choice Security Services & Risk Management Commercial (Industry)
Insider threats are a critical aspect of risk management today, but what happens when it is the owner of the company acting fraudulently and making sure none of his staff can catch him?
Read more...
---
The Handbook of Security's third edition has been published
News
The third edition of the Handbook of Security, edited by Perpetuity Research director Martin Gill, has been published, containing 45 contributions from leading global scholars.
Read more...
---
GJD announces new SMT Machine
News Perimeter Security, Alarms & Intruder Detection
GJD will now be able to complete the manufacture of its products in-house, and thereby significantly decrease the business' carbon footprint while increasing employment opportunities.
Read more...
---
Passion, drive and hard work
Technews Publishing Editor's Choice CCTV, Surveillance & Remote Monitoring Security Services & Risk Management
Colleen Glaeser is a leader in the security market, having made her mark in the male-dominated security industry through determination and hard work, along with a vision of making the world a safer place.
Read more...
---
Smart home devices market growing across META
Smart Home Automation News
The Middle East, Turkey, and Africa (META) smart home devices market continues to register significant gains on the back of increasing awareness and improving end user experiences, according to the latest insights from International Data Corporation.
Read more...
---
How to react in an armed robbery or home invasion
Fidelity Services Group Security Services & Risk Management News
How you react when faced with a nervous, gun-toting criminal can save your life, or cost you your life; all family members need to know what to do in such circumstances.
Read more...
---