printer friendly version
The weakest link
September 2008
News
The saying goes that a chain is only as strong as its weakest link and this is especially true in the world of security. No matter how sophisticated a system or how well trained its personnel, if one aspect of the system is ignored or badly designed the whole solution fails.
While the industry grapples with issues such as the integration of people and technology in the development of security systems, the creation of an holistic process is often ignored in favour of point solutions due to time and cost considerations. A business may want CCTV surveillance for specific benefits it can deliver, not realising what else is required to make surveillance effective enough to deliver the returns desired and what other benefits there are to be derived in the process.
This is where the security industry has a responsibility to act as advisors and consultants to clients, guiding them in the implementation of an effective solution that meets their business or personal goals. Unfortunately, this does not always happen. Some security providers are there to make a buck and then vanish, tarnishing the industry's reputation in the process. On the other side of the coin, some people consider security a grudge purchase as well as a simple job anyone with a screwdriver can do. Both result in unhappy customers and ineffective solutions.
In this month's Surveillance/CCTV section, we run an article from Bruce Schneier highlighting some of the failures of CCTV. In particular, he asks if the thousands of surveillance cameras being deployed in cities worldwide are really having an impact on the crime rate. It is a great article that raises some pertinent questions.
It is too late to find out after the installation that your cameras lack functionality or the required resolution. It is also pointless having cameras if you do not have the people who are trained in their use. It is even more pointless having cameras, trained operators but nobody to follow up once the right images are obtained and alarms raised.
I am reminded of a garage owner in Johannesburg whose business was robbed at gunpoint some time ago. The company had CCTV cameras installed and got perfect images of the criminals. Sadly, not even the police were interested in the pictures. Even worse, the criminals knew this and made no effort to hide their faces – why bother when you know there will be no comebacks.
Fortunately this is not always the case as the case studies in the same section prove. A carefully designed system integrating all aspects of the security landscape delivers an effective solution. This only works when an end-to-end solution is employed, highlighting the importance of every person or department in the process and ensuring they all know the role they have to play – and making sure they are equipped to play it.
Getting the buy-in required is a tough job, but it means keeping people and assets safe with the minimum inconvenience or overt intrusion. And that is a win-win situation for everyone.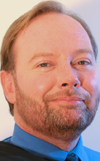 Andrew Seldon
Editor
Credit(s)
Further reading:
Unrecoverable encrypted data
News Cyber Security
Cybersecurity research indicates that 76% of organisations admit to paying ransomware criminals, however, one-third are still unable to recover data.
Read more...
---
Kaspersky invests in development of neuromorphic processors
News IT infrastructure
Neuromorphic processors' field of application is acceleration of the hardware used in the latest generation of artificial intelligence systems, which are based on spiking neural networks (SNN) training, which is more akin to biological interactions.
Read more...
---
Security BIS named AxxonSoft's Distributor of the Year 2021
News CCTV, Surveillance & Remote Monitoring
With its focus on AxxonSoft solutions and technical support, Security BIS secured the title of AxxonSoft Distributor of the Year again for 2021.
Read more...
---
Infinidat enhances channel support
News IT infrastructure
Infinidat drives go-to-market strategy with new global partner portal and expands channel sales with Storage-as-a-Service in ArrowSphere.
Read more...
---
Are you your insider threat?
Technews Publishing Editor's Choice Security Services & Risk Management Commercial (Industry)
Insider threats are a critical aspect of risk management today, but what happens when it is the owner of the company acting fraudulently and making sure none of his staff can catch him?
Read more...
---
The Handbook of Security's third edition has been published
News
The third edition of the Handbook of Security, edited by Perpetuity Research director Martin Gill, has been published, containing 45 contributions from leading global scholars.
Read more...
---
GJD announces new SMT Machine
News Perimeter Security, Alarms & Intruder Detection
GJD will now be able to complete the manufacture of its products in-house, and thereby significantly decrease the business' carbon footprint while increasing employment opportunities.
Read more...
---
Passion, drive and hard work
Technews Publishing Editor's Choice CCTV, Surveillance & Remote Monitoring Security Services & Risk Management
Colleen Glaeser is a leader in the security market, having made her mark in the male-dominated security industry through determination and hard work, along with a vision of making the world a safer place.
Read more...
---
Smart home devices market growing across META
Smart Home Automation News
The Middle East, Turkey, and Africa (META) smart home devices market continues to register significant gains on the back of increasing awareness and improving end user experiences, according to the latest insights from International Data Corporation.
Read more...
---
How to react in an armed robbery or home invasion
Fidelity Services Group Security Services & Risk Management News
How you react when faced with a nervous, gun-toting criminal can save your life, or cost you your life; all family members need to know what to do in such circumstances.
Read more...
---