printer friendly version
Branevision brings ISS to SA
July 2008
News & Events
After returning from the Middle East where he contracted in the field of computer security, and computer-based security products, Eugene Kayat launched Branevision as a provider of customisable solutions to the field of surveillance and intelligent management systems.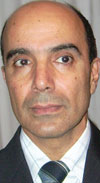 Eugene Kayat
While on contract overseas, Eugene Kayat was exposed to various major role players in the electronic security industry, including Intelligent Security Systems. Impressed with the company's offering, he decided to bring these technologies back to South Africa.
Branevision was initially launched as an IT business, specialising in applications design for businesses, with emphasis placed in the shutdown of vulnerable systems, utilising both hardware and software-based technologies.
"With an ongoing interest in the ever evolving field of compression technologies, we moved into the field of CCTV, with our emphasis being placed on the PC-based systems, which we felt offered greater development opportunities, and customisable possibilities than other systems," says Kayat. "The fine line of distinction in the development of lossy and lossless compression technologies and the partial amalgamation of the two, has led to major breakthroughs in the field of compression technologies."
IP-based systems are rapidly changing the way CCTV is viewed, with leading players opting for the utilisation of existing network infrastructures, as a means of video transmission. Branevision provides both analogue and IP systems, as well as the amalgamation of the two in certain situations. Emphasis is also placed on the use of existing cameras where possible and new systems are structured in such a way as to deliver excellent return on investment, culminating in a well structured and designed system that provides great value at an affordable total cost of ownership.
Focus on ISS
Branevision's core business is to supply Intelligent Security Systems' (ISS) products to systems integrators and to provide comprehensive training and backup.
ISS was founded in 1997 in Moscow, Russia. Today, worldwide operations are centred at the company headquarters in Woodbridge, New Jersey. Research and development is conducted simultaneously in New Jersey and at the world renowned Baumann's Institute in Moscow. Sales offices and partners are located throughout the United States and Europe, and now in southern Africa, covering the Sub-Saharan regions.
Dr. Roman Jarkoi, founder of ISS, began developing revolutionary multichannel video systems as early as 1993. The system, which automatically tracked the displacement of objects, had the means of vocal notification of events and controlled the video recording of tape recorder. In three more years, he developed a completely digital system, capable of writing video directly to the hard disks and reflecting live and multiplexed video on the digital monitor. Jarkoi is currently the chairman and chief technology officer of ISS.
"Branevision prides itself in providing advanced intelligent systems which have been proven in mission critical environments in over 50 countries," adds Kayat. "We are in the process of appointing integrators in the various cities of South Africa, with whom we can form a long and trusting relationship."
The company has recently established contacts in Africa to complement its established partners in the Middle East. However, Kayat says the company's short-term goal is to recognise integrators that are professional in their attitude and business ethics to appoint as partners. We work ethically, honestly and professionally, providing real solutions to customers.
For more information contact Branevision, +27 (0)83 330 8767, eugene@branevision.com, www.branevision.com
Further reading:
Pentagon appointed as Milestone distributor
Elvey Security Technologies News & Events Surveillance
Milestone Systems appointed Pentagon Distribution (an Elvey Group company within the Hudaco Group of Companies) as a distributor. XProtect's open architecture means no lock-in and the ability to customise the connected video solution that will accomplish the job.
Read more...
---
From the editor's desk: A sad but exciting goodbye
Technews Publishing News & Events
      Welcome to the final monthly issue of SMART Security Solutions. This is the last issue of the year and the last monthly issue we will print. We are witnessing digitisation across all industries, and ...
Read more...
---
Regal celebrates successful golf day
Regal Distributors SA News & Events
Regal Distributors held its first official Regal Golf Day on 18 October at the Glendower Golf Course in Johannesburg. SMART Security Solutions was there on a hot summer's day to meet many players and sponsors around the course.
Read more...
---
Gallagher Security releases Command Centre v9
Gallagher News & Events Access Control & Identity Management Integrated Solutions
Richer features, greater integrations, with the release of Gallagher Security's Command Centre v9 security site management software designed to integrate seamlessly with various systems and hardware.
Read more...
---
Regal launches direct-to-branch WhatsApp communication
Regal Distributors SA News & Events
With a quick scan of a QR code and a few taps on your phone, installers, integrators, technicians or even end-users can chat directly with the team at their preferred Regal branch via WhatsApp
Read more...
---
FM Expo highlights industry trends and challenges
Securex South Africa News & Events Facilities & Building Management
Keeping tabs on what is happening within the building/facilities management arena can be frustrating, however, a quick way to find out what current trends, challenges, and solutions are available can be found at the Facilities Management Expo.
Read more...
---
South Africa shows a 1200% increase in deepfake fraud
News & Events Risk Management & Resilience
Sumsub released its third annual Identity Fraud Report of the year, analysing identity fraud across industries and regions based on millions of verification checks across 28 industries and over 2 million fraud cases.
Read more...
---
Projections for 2024's Advanced Threats Landscape
News & Events Information Security
Kaspersky Global Research and Analysis Team (GReAT) experts offer insights and projections for 2024 in the Kaspersky Security Bulletin, with a focus on the evolution of Advanced Persistent Threats (APT).
Read more...
---
Helping South African university students and staff to stay safe
News & Events
Buzzer is a free mobile app that allows users to quickly and easily report incidents of crime, violence, or harassment to campus security and other relevant authorities.
Read more...
---
Tech developments lead hologram growth in 2024
News & Events Security Services & Risk Management
Micro-lenses, micro-mirrors and plasmonics are among the rapidly-emerging optical devices that have evolved on the back of holographic and diffractive technologies, and are seen as part of the natural evolution of optical science by R&D teams.
Read more...
---