printer friendly version
FSK into the future
February 2008
News
Since its founding in 1991, FSK has strived to provide the security industry with leading edge technology in providing products of superior quality in radio frequency transmission.
FSK has both a vision and mission to continuously develop new and improved products through extensive research and development to maintain market leadership in electronic solutions for the security industry.
In the past 12 months FSK has launched five new security products into the marketplace and will continue with the expansion programme envisaged. "We are looking to partner with companies who hold a similar vision, who are willing to work together to develop products jointly and enable compatibility and testing, bringing new field-tested products to the market quickly and more timeously. If we can convince the other players to work together we will be able to deliver products the industry needs, and in so doing contribute to better efficiency for our clients to make their customers (the consumers) safer. Ultimately we all want a safer South Africa," says managing director Keith Vieira.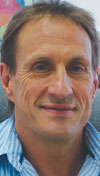 Keith Vieira, sales and technical
FSK is also looking to buy companies that will 'fit' and expand its reach into the security market, through its already large footprint. As part of a listed public company this would give customers peace of mind.
SABRE radio networks is the largest privately owned security radio frequency network in South Africa and the company is continuously adding to its base, and offers the opportunity for clients to set up their own networks, fast, efficiently and without the hassle of maintenance.
Linking GPRS and radio frequency signals
Over the years - and to the present day - the security industry has become reliant on radio transmitters as an efficient means of communication through signals. FSK's breakthrough in refining GPRS signals, enables two methods of communication. The FSK team has escalated products to bridge the gap between radio and GSM, by blending them together to give customers the best of both worlds. The company has developed a range of products that incorporate both radio and GSM technology with interactive fail-safes, enabling the user to use the technology separately or simultaneously. These products have created intelligent interaction between GSM and radio to ensure that virtually no signals are lost. The radio GSM combination allows users to install inexpensive radio transmitters and receive a GPRS signal from this unit anywhere in the world. Other units such as our GSM outstation offer the end-user the facility to monitor their own alarm, pump, outbuilding and the like.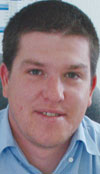 Sergio Batista, marketing and sales
FSK's GSM outstation is similar to its radio transmitter but works on the GSM network. It has seven hardwired 12 V inputs that can be programmed to be active high or active low or negative trip. It has a serial port allowing it to interface directly with leading control panels, as well as having a contact ID port that allows one to link to any control panel and do full contact ID reporting. The GSM outstation also has two relays on board that the user can control remotely via an SMS or via a hardwired input. These relays can be configured to be pulsed, latched or timed. The GSM outstations communicate on the GSM network, which are able to converse via GPRS to a control centre anywhere in the world. To function optimally all the control centre requires is either an ADSL line or an FSK GSM base station. GPRS signalling can report via SMS to eight cellphones where one may configure which signals are sent via SMS and which are sent via GPRS. In SMS and GPRS mode it is able to report all the contact ID and serial interface signals to a cellphone, a control centre or both. Other features such as low battery monitoring, auto testing and the like are also available.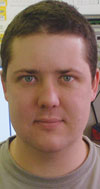 Riaan Claase, research and development
Over the past year, FSK has mastered the routing of GPRS signals to a control centre enabling the centre to receive in excess of 10 signals per second. The company's multirouter can operate either as a multichannel radio repeater with GPRS routing, or a multichannel radio decoder with the GPRS receiving and decoding functions. As a repeater this unit is able to route radio signals on multiple frequencies as well as re-routing radio signals via the GPRS network to one or more control centres anywhere in the world. As a base station it is able to receive multiple signals on multiple frequencies, as well as GPRS signals simultaneously while decoding these and feeding it into a computer or printer.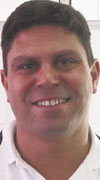 Guy Williamson, research and development
The radio and GPRS technology has now been incorporated into the company's latest guard monitoring unit enabling it to repeat signals, not only on radio frequency, but also on SMS and GPRS. The unit is user programmable, allowing one to decide which signals should be routed via what medium. In the guarding world it is important that certain high priority signals are fed by SMS directly to the security supervisor on duty, as well as other signals such as patrol complete, which can be routed by GPRS or radio to the control centre. This unit is available in various models such as the simple guard monitoring unit, to sophisticated units that measure time taken between points on patrol routes, or times with advanced e-mail facilities and the like.

Technical support team
The TX75 synthesised radio transmitter now offers the user seven hardwired inputs that can be active, high, low or negative trip, as well as a contact ID port for transmitting contact ID data such as full zone reporting, and a serial port that presently interfaces with most leading panels. The TX75X transmitter has a built in 433 MHz receiver that enables the user to transmit a panic or medical signal directly from a handheld remote transmitter.
FSK has successfully integrated GSM and radio technology to give the user the best of both worlds. GSM technology has also allowed us to develop other products that can be used by security companies and reaction officers and in the very near future we will be launching a range of new GSM-based products that will be beneficial in many ways to the security industry.
For more information contact FSK, +27 (0)11 477 2600.
Credit(s)
Further reading:
Dahua upgrades its open application platform
Issue 9 2020 , News
Dahua has upgraded its open application platform by launching the Application Marketplace on its new Dahua Hardware Open Platform (DHOP) website.
Read more...
---
First Distribution to distribute Impro in Africa
Issue 9 2020, Impro Technologies , News
Impro Technologies is one of the latest products to be distributed by First Distribution's Digital Security and IoT division.
Read more...
---
CCTV surveillance skills and body language training
Issue 9 2020, Leaderware , News, Training & Education
Omega Training Academy in conjunction with Dr Craig Donald are holding a CCTV Surveillance Skills and Body Language training course for company sponsored delegates.
Read more...
---
Keeping AI accurate
Issue 9 2020 , News
Fujitsu strengthens cybersecurity with AI technology to protect against deception attacks.
Read more...
---
Hein Kern joins Secutel Technologies
Issue 9 2020, Secutel Technologies , News
Secutel Technologies has welcomed Hein Kern to the company, as the head of sales and marketing.
Read more...
---
DRS announces new appointment
Issue 9 2020 , News
Cybersecurity specialist, DRS, has announced the appointment of Adri Faasen to the position of cybersecurity sales manager.
Read more...
---
Avoid reputational damage
Issue 9 2020 , News
All that are advising, purchasing or using COVID-19 thermal or temperature detection technology must avoid reputational damage, says the International Security Industry Organisation.
Read more...
---
Milestone Community Kickstarter Contest 2021
Issue 9 2020, Milestone Systems , News
Developers are invited to Milestone Systems' Community Kickstarter Contest 2021 where they can inspire, connect ideas and innovate.
Read more...
---
From the editor's desk: The end of the beginning
Issue 9 2020, Technews Publishing , News
I doubt there are many who will be sad to see 2020 vanishing into history. The year seems to have mimicked the world we live in by revelling in chaos and uncertainty. Economies have been plunged into ...
Read more...
---
From the editor's desk: Take identity seriously
Issue 8 2020, Technews Publishing , News
The list of companies subject to data breaches continues to grow, both in Africa and beyond. The dangerous part is that in Africa, including South Africa (at the moment), the companies do not have to ...
Read more...
---