printer friendly version
Growth generates change
Access & Identity Management Handbook 2007
Access Control & Identity Management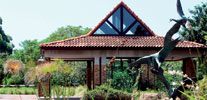 Motivation
Zimbali, one of SA's most prestigious and luxurious residential estates, had simply outgrown its original security implementation.
It was not just a question of an increased flow of people through the estate. Zimbali is being developed in phases and the area over which security had to be maintained had grown dramatically.
Rob Anderson & Associates were asked to provide an upgraded, integrated security solution to provide a secure environment that met the needs of the residents living at Zimbali.
Rewards
A decision was taken to install a stringent access control system that could be tailored to fit specific needs with the ability to expand where required. Reporting functionality and audit trail information had to be available for security management.
Zimbali also wanted resident, visitor and contractor vehicle movements to be monitored at all times. Staff working for contracting companies would only be permitted access to the site via turnstiles monitored by security personnel.
The access control system also had to be able to integrate with other elements of the security system such as the CCTV system.
It was crucial to Zimbali that stringent security and access control were maintained at all times during the upgrade.
Implementation
The access control system had to be upgraded to work over a very large area with control points linked together on a fibre-optic reticulation.
"This was necessary to ensure the stability of the communication system and reduce the possibility of lightning and surge damage to the equipment," explains Alastair McPhail, business development manager, KZN, at Impro Technologies.
Impro's IXP400 controllers currently operate in excess of 35 000 access cards and 140 access devices at Zimbali. "There is however, plenty of spare capacity to meet Zimbali's needs for the foreseeable future," adds McPhail.
The project also entailed the successful installation and implementation of an integrated access control and CCTV system that provided a visual record of persons attempting to gain access for audit purposes. This could only be achieved if the images captured by the CCTV recording system were of high enough quality, for this reason Ganz and Computar CCTV equipment were selected.
East Coast Solutions (ECS) worked with Rob Anderson and Associates to produce a unique visitor application module for Zimbali Estate.
When a resident wants a visitor to have access rights on arrival at a particular gate to the estate, the details, including full name and ID number, are entered into a web-based system. A unique positive identification tag number is generated to maintain visitor identification integrity.
The guardhouses run an ECS application that shows a red tab on the monitor, indicating an unanswered visitor request. The guard selects the tab, which then turns green, and the ID number is forwarded to the ImproNet database for verification.
If the ID number is verified as having no prior record, the guard will place a visitor card on Impro Technologies, enrolment device and the visitor details are attached to the unique tag number of the card. A paper print out is created with the visitor details and this is placed together with the card ready for issue.
On arrival the visitor produces positive identification, signs the paper print out as acceptance of the card as well as acceptance of any rules and regulations that might require acknowledgement. This provides the system operators with a conclusive audit trail and management is now able to view where and when a visitor attempted to gain access via the specific access card.
If the ID number reflects a prior misdemeanor, a flag will appear on the monitor station and no further action is required from the guard. The application automatically sends an SMS to the resident to inform them that the visitor is blacklisted and that alternative arrangements will have to be made if they so desire.
Challenges
With hindsight, Rob Anderson suggests, "In future it would be more efficient to have all the equipment built, tested and commissioned in a workshop environment, so that we would have a complete proof of concept. Impro could have saved a significant amount of time spent on site and Zimbali would have found the switch-over process to be more efficient."
But the largest unforeseen circumstance was the high levels of IT experience and expertise required to implement a project of this scale.
Review
McPhail concludes, "This project started with the intention to replace an obsolete system but developed into a major implementation of an extensive, state-of-the-art access control system."
The access control system at Zimbali is now being used on a daily basis for both residents and contractors and has been a successful solution that will meet Zimbali's requirements for many years.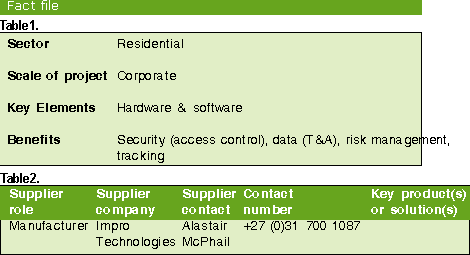 Credit(s)
Further reading:
Facial access control for ministry
Issue 1 2020, ZKTeco , Access Control & Identity Management
The Ministry of Culture in Saudi Arabia has adopted ZKTeco's facial recognition technology and fingerprint biometrics to manage access control into its building.
Read more...
---
New Door Pilot app from dormakaba
Issue 1 2020, dormakaba South Africa , Access Control & Identity Management
With new dormakaba Door Pilot, automated doors can also now be operated on the basis of remote control technologies. The system, comprising the Door Pilot app for smartphones and a Wi-Fi interface for ...
Read more...
---
Giles Calenborne takes the helm at Impro Technologies
Issue 1 2020, Impro Technologies , News
Impro Technologies has welcomed a new managing director, Giles Calenborne, to the fold with the goal of unlocking the existing networks and building new opportunities.
Read more...
---
Identity lifestyle
Issue 1 2020, Suprema , Access Control & Identity Management
Once the technology of the future, biometrics has quietly snuck into our daily lives through smartphones and access controls into our places of work.
Read more...
---
Securing BP's new head office
Issue 1 2020, ISF SFP , Access Control & Identity Management
ISF SFP was awarded the contract to secure the first development phase for Oxford Parks, the new head office for BP South Africa.
Read more...
---
Combining aesthetics and access control
Issue 1 2020, Turnstar Systems , Access Control & Identity Management
Prestigious law firm Bowman Gilfillan recently upgraded its physical security with the addition of four Turnstar Speedgate Express access control lanes.
Read more...
---
Video doorbells from Ring
Issue 1 2020 , Access Control & Identity Management
Ring has a number of video doorbells available in South Africa that run off batteries or power and enable users to answer their doors from anywhere.
Read more...
---
Centurion to unveil new product
Issue 1 2020, Centurion Systems , Access Control & Identity Management
Centurion Systems will be hosting its third Access Automation Expo this year, with dates confirmed for Durban, Johannesburg and Cape Town.
Read more...
---
Looking ahead with mobile access technologies
Access & Identity Management Handbook 2020, Technews Publishing, HID Global, dormakaba South Africa, Salto Systems Africa, Suprema, Gallagher , Access Control & Identity Management, Integrated Solutions
Given the broad use of smartphones around the world and the numerous technologies packed into these devices, it was only a matter of time before the access control industry developed technology that would ...
Read more...
---
Mobile access is more secure than card systems
Access & Identity Management Handbook 2020 , Access Control & Identity Management
The ability to use mobile phones as access credentials is one of the biggest trends in a market that historically has been slow in adopting new technology.
Read more...
---