printer friendly version
Securing the production line
November 2007
Access Control & Identity Management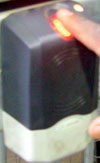 Motivation
Jonsson Workwear International (JW International) is a major workwear clothing manufacturer that supplies customers in southern Africa, the USA and Europe. The head office and distribution centre in Durban runs a very large and complex system that controls activities in seven manufacturing plants: one in KwaZulu-Natal and six in the Kingdom of Lesotho.
These facilities produce over 15 000 garments each day and a stock level of over 350 000 garments is required to ensure constant availability for orders that are picked, packed and delivered to customers' premises.
Pierre Kriek, operational manager of the Lesotho factories explains, "Jonsson's rapid expansion from two to five factories in three years was causing us problems. We needed to monitor our staff working hours much more closely. Rising staff numbers (currently at 1500) added to the scale of the problem.
"We had a tag system in place but found there was a lot of fraud taking place. The cost of the cards and intensive administration effort were also an issue."
JW International already had a complex Impro network installed. All factories are wireless linked to the main administrative factory and each factory has an internal wireless network. All factories are also linked to JW International's Durban head office.
Dani Tabak, systems developer at Timewatch, comments, "We were familiar with the network as it was installed by us three years ago. One of our partners, Control Concepts, handles support for Clockwatch remotely via the Internet."

Rewards
JW International head office took the decision to implement a full-scale Time and Attendance solution to resolve these issues. It also wanted to establish a more complete access control solution to better control access to specific areas for different types of personnel.
Proposals were called for from a variety of companies. Three companies submitted quotes and Timewatch was awarded the contract to implement the new solution. Timewatch assisted with the design of the system.
Kriek comments, "Fraud prevention was our main criteria. The system is a combination of T&A and access control but we wanted the new solution to improve security as well."

Implementation
JW International decided to adopt Sagem fingerprint biometrics as the foundation of the new system. 32 Sagem readers were installed. A mix of MA100s and MA300s were used.
"Clockwatch decided to keep the Impro system to control the turnstiles. The time readers were also left on the turnstiles where MA100s were used, to allow the staff to see the time. These readers were also used during the phasing in of the fingerprint-based system. Unused card readers were then used to improve access control on office doors," explains Tabak.
There were some initial challenges, according to Kriek, in: "Enrolling everybody's fingerprints and getting all the people familiar with the turnstiles' operation. They all had to get through quickly so that they were registered for the full shift hours."
Tabak adds, "As JW International still used the Impro tag system for AC, the time readers were left in place so that the staff could see the time. This also allowed us to use these readers until all fingerprints had been enrolled so we changed to fingerprint biometric system gradually. As staff were enrolled on the new fingerprint solution, their access control cards were disabled."
Additional access control doors were added at the offices for improved security.
Challenges
Tabak adds: "Because of the rapid rise in staff numbers, it was a slow process getting everybody enrolled and there were initial difficulties assigning each staff member to the correct factory. Staff also needed time to adjust to the new and unfamiliar idea of using their fingerprint to clock in for their shifts, but after some time they got used to the idea so a sustainable operational speed has now been achieved."
Some customisation was required to integrate the data from the fingerprint readers into the Impro IXP400 controller that passes the data into the ClockWatch T&A software.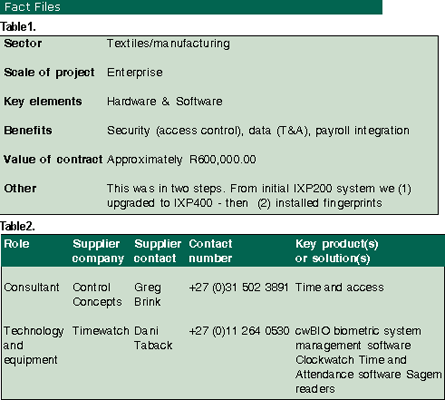 Further reading:
How to specify the right turnstile finish
September 2019, Turnstar Systems , Access Control & Identity Management
Purchasing a turnstile gives you a large amount of flexibility when it comes to choosing the right finish.
Read more...
---
Enhanced biometric technology for mines
September 2019, ZKTeco , Mining (Industry), Access Control & Identity Management
Biometric identification and authentication are currently used at various mines in South Africa and in the SADC region.
Read more...
---
Improving access in mines
October 2019, Astra Fasteners , Mining (Industry), Access Control & Identity Management, Products
The VP1 controller provides full access control and remote monitoring of intelligent locks without having to wire into a network or install, manage and maintain software.
Read more...
---
Invixium and Pyro-Tech partner in South Africa
October 2019 , News, Access Control & Identity Management
Invixium, a manufacturer of IP-based biometric solutions and Pyro-Tech Security Suppliers have announced a new distribution partnership.
Read more...
---
Suprema receives FBI PIV/FAP30 certification
October 2019, Suprema , News, Access Control & Identity Management
Suprema has announced that the company's BioMini Slim 3 has received FBI PIV (Personal Identity Verification) and Mobile ID FAP30 certification.
Read more...
---
Frictionless access with a wave
October 2019, IDEMIA , Access Control & Identity Management, Residential Estate (Industry)
IDEMIA was the Platinum Sponsor for the Residential Estate Security Conference 2019 and set up its MorphoWave Compact frictionless fingerprint biometric scanner at the entrance to the conference.
Read more...
---
Streamlined access and reporting
October 2019, Comb Communications , Access Control & Identity Management, Residential Estate (Industry)
The main focus of the Comb stand was its practical demonstration of the MK II Lite intercom system with third-party integrated products.
Read more...
---
Customised and integrated solutions
October 2019, Suprema , Access Control & Identity Management, Residential Estate (Industry)
iVisit offers both high-end and low-end residential complexes a cost-effective visitor management solution that is fully integrated into Suprema's offerings.
Read more...
---
Access solutions for every estate
October 2019, Impro Technologies , Access Control & Identity Management, Residential Estate (Industry)
Impro's flagship Access Portal solution comprises one of the most user-friendly software solutions on the market.
Read more...
---
Managing staff effectively
September 2019, dormakaba South Africa, iPulse Systems , Integrated Solutions, Access Control & Identity Management
Workforce management solutions allow organisations to track the relationship between productivity and the cost of employment, incorporating issues such as health and safety, T&A, rostering and more.
Read more...
---