printer friendly version
Securing the production line
Access & Identity Management Handbook 2007
Access Control & Identity Management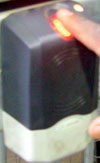 Motivation
Jonsson Workwear International (JW International) is a major workwear clothing manufacturer that supplies customers in southern Africa, the USA and Europe. The head office and distribution centre in Durban runs a very large and complex system that controls activities in seven manufacturing plants: one in KwaZulu-Natal and six in the Kingdom of Lesotho.
These facilities produce over 15 000 garments each day and a stock level of over 350 000 garments is required to ensure constant availability for orders that are picked, packed and delivered to customers' premises.
Pierre Kriek, operational manager of the Lesotho factories explains, "Jonsson's rapid expansion from two to five factories in three years was causing us problems. We needed to monitor our staff working hours much more closely. Rising staff numbers (currently at 1500) added to the scale of the problem.
"We had a tag system in place but found there was a lot of fraud taking place. The cost of the cards and intensive administration effort were also an issue."
JW International already had a complex Impro network installed. All factories are wireless linked to the main administrative factory and each factory has an internal wireless network. All factories are also linked to JW International's Durban head office.
Dani Tabak, systems developer at Timewatch, comments, "We were familiar with the network as it was installed by us three years ago. One of our partners, Control Concepts, handles support for Clockwatch remotely via the Internet."

Rewards
JW International head office took the decision to implement a full-scale Time and Attendance solution to resolve these issues. It also wanted to establish a more complete access control solution to better control access to specific areas for different types of personnel.
Proposals were called for from a variety of companies. Three companies submitted quotes and Timewatch was awarded the contract to implement the new solution. Timewatch assisted with the design of the system.
Kriek comments, "Fraud prevention was our main criteria. The system is a combination of T&A and access control but we wanted the new solution to improve security as well."

Implementation
JW International decided to adopt Sagem fingerprint biometrics as the foundation of the new system. 32 Sagem readers were installed. A mix of MA100s and MA300s were used.
"Clockwatch decided to keep the Impro system to control the turnstiles. The time readers were also left on the turnstiles where MA100s were used, to allow the staff to see the time. These readers were also used during the phasing in of the fingerprint-based system. Unused card readers were then used to improve access control on office doors," explains Tabak.
There were some initial challenges, according to Kriek, in: "Enrolling everybody's fingerprints and getting all the people familiar with the turnstiles' operation. They all had to get through quickly so that they were registered for the full shift hours."
Tabak adds, "As JW International still used the Impro tag system for AC, the time readers were left in place so that the staff could see the time. This also allowed us to use these readers until all fingerprints had been enrolled so we changed to fingerprint biometric system gradually. As staff were enrolled on the new fingerprint solution, their access control cards were disabled."
Additional access control doors were added at the offices for improved security.
Challenges
Tabak adds: "Because of the rapid rise in staff numbers, it was a slow process getting everybody enrolled and there were initial difficulties assigning each staff member to the correct factory. Staff also needed time to adjust to the new and unfamiliar idea of using their fingerprint to clock in for their shifts, but after some time they got used to the idea so a sustainable operational speed has now been achieved."
Some customisation was required to integrate the data from the fingerprint readers into the Impro IXP400 controller that passes the data into the ClockWatch T&A software.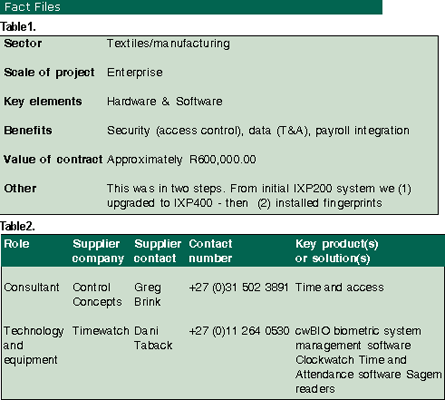 Further reading:
Facial access control for ministry
Issue 1 2020, ZKTeco , Access Control & Identity Management
The Ministry of Culture in Saudi Arabia has adopted ZKTeco's facial recognition technology and fingerprint biometrics to manage access control into its building.
Read more...
---
New Door Pilot app from dormakaba
Issue 1 2020, dormakaba South Africa , Access Control & Identity Management
With new dormakaba Door Pilot, automated doors can also now be operated on the basis of remote control technologies. The system, comprising the Door Pilot app for smartphones and a Wi-Fi interface for ...
Read more...
---
Identity lifestyle
Issue 1 2020, Suprema , Access Control & Identity Management
Once the technology of the future, biometrics has quietly snuck into our daily lives through smartphones and access controls into our places of work.
Read more...
---
Securing BP's new head office
Issue 1 2020, ISF SFP , Access Control & Identity Management
ISF SFP was awarded the contract to secure the first development phase for Oxford Parks, the new head office for BP South Africa.
Read more...
---
Combining aesthetics and access control
Issue 1 2020, Turnstar Systems , Access Control & Identity Management
Prestigious law firm Bowman Gilfillan recently upgraded its physical security with the addition of four Turnstar Speedgate Express access control lanes.
Read more...
---
Video doorbells from Ring
Issue 1 2020 , Access Control & Identity Management
Ring has a number of video doorbells available in South Africa that run off batteries or power and enable users to answer their doors from anywhere.
Read more...
---
Centurion to unveil new product
Issue 1 2020, Centurion Systems , Access Control & Identity Management
Centurion Systems will be hosting its third Access Automation Expo this year, with dates confirmed for Durban, Johannesburg and Cape Town.
Read more...
---
Looking ahead with mobile access technologies
Access & Identity Management Handbook 2020, Technews Publishing, HID Global, dormakaba South Africa, Salto Systems Africa, Suprema, Gallagher , Access Control & Identity Management, Integrated Solutions
Given the broad use of smartphones around the world and the numerous technologies packed into these devices, it was only a matter of time before the access control industry developed technology that would ...
Read more...
---
Mobile access is more secure than card systems
Access & Identity Management Handbook 2020 , Access Control & Identity Management
The ability to use mobile phones as access credentials is one of the biggest trends in a market that historically has been slow in adopting new technology.
Read more...
---
This is the future. This is what we do.
Access & Identity Management Handbook 2020, ZKTeco , Access Control & Identity Management
ZKTeco has created a unique range of visible light facial recognition products combined with a flexible Android platform.
Read more...
---