printer friendly version
Relax - heaven is running smoothly
Access & Identity Management Handbook 2007
Access Control & Identity Management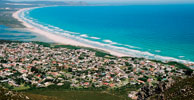 Motivation
The names of Hermanus, Gansbaai, Kleinmond and Stanford conjure up images of beautiful beaches, whale watching, chilled wine and excellent food. Look a little closer though, and you will find that this heavenly area of the Western Cape is one of the best-run local authorities in the country.
Overstrand Municipality is responsible for managing an area of 2125 square kilometres, covering some 200 km of coastline stretching from Rooiels in the west to Quin Point in the east.
The municipality has a proud administrative track record, culminating in winning the sought-after Vuna Award for the best B category local authority in the country in 2006. The backbone that supports this shining beacon of municipal excellence is provided by some of the most advanced technology systems in the country.
Rian Rust, HR manager at Overstrand, comments, "We were one of the first government organisations to embrace biometrics when, back in 2004, we appointed SuperVision Biometric Systems to install a fingerprint access control system at our administrative offices in Hermanus."
The system replaced a card-based system that restricted access to secure areas ranging from the Mayor's office to the municipal cash payment halls. In total around 20 fingerprint biometric readers were used by 200 head office staff.
Overstrand, having experienced the benefits of enhanced security - and losing the admin burden and costs associated with card-based systems - began to look at other ways of using fingerprint authentication to improve service delivery.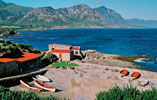 Rewards
Time and attendance (T&A) was an obvious choice and, following consultations with its management team and unions, the municipality released a tender specification in February 2007 calling for the implementation of a biometric T&A system to record the hours worked by its 1000 employees.
The system was required to replace manual registers, which Overstrand acknowledged were failing to accurately capture T&A data. This lack of information presented management with a challenge when interpreting data and, when necessary, instituting disciplinary hearings against abusers. The unions also identified that poor data made it hard for them to ascertain whether members who sought their assistance in fighting disciplinary action had a valid case or not.
The primary challenge faced by all the tender respondents was finding a cost-effective solution to deploying a biometric system across all the municipality's work sites. Whilst a number of sites have 50+ workers and were suited to standalone biometric technology, the majority of the 37 sites had fewer than 10 employees.
Implementation
Fourier-e, the black economic empowerment arm of SuperVision Biometric Systems, was awarded the tender on the basis of its response, which was based on leveraging SuperVision's cost-effective online scan application.
All sites with 10 or more staff were provided with Sagem MA200 terminals, while smaller sites used an MSO1300 fingerprint reader installed on the Municipality's existing PCs.
The biometric scan application is opened across the municipality's network to enable employees to access the application and scan their fingerprints. The biometric template is extracted locally and sent across the network in encrypted form. The template is then authenticated against the stored templates on the server. If a match is made, the employee's details are revealed on the PC monitor.
The MA200 solution runs in offline mode with authentication taking place on the terminal itself. Terminals update the central server at defined intervals using SuperVision's replication tool.
In addition to the fixed location terminals, four mobile devices were supplied to be installed in vehicles. These are used to record the time worked by crews who are sent out to remote sites and don't have the opportunity to clock at the municipal offices.
The mobile terminals can also be used by the municipality's emergency crews who are often collected from and dropped off at home when making after-hours call-outs to fix burst water mains and other unscheduled events.
Challenges
According to Thabang Motsohi of Fourier-e, successful implementation and swift user-acceptance of the new system was achieved because, "Our technical team enrolled every municipal employee. We then spent time demystifying the technology and addressing concerns - which ranged from the security of holding fingerprint templates in a database to hygiene factors related to scanning. A series of workshops were held for all municipal managers where they received a detailed briefing on how to manage the new system."
Review
Rust concludes, "SuperVision's solution has solved Overstrand's T&A challenges in an innovative way. It is popular with both employees and managers. The comprehensive change management process was key to ensuring the system's successful implementation."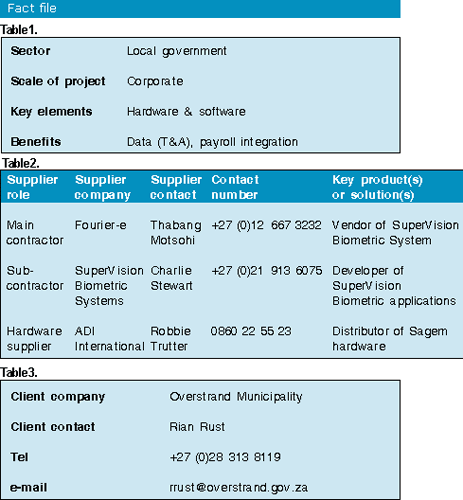 Credit(s)
Further reading:
Biometrics: the game changer in access control
November 2019, IDEMIA , Access Control & Identity Management
For security managers, the question is no longer, should I use biometrics, but rather, which biometrics should I use.
Read more...
---
ViRDI UBio Tab 5
November 2019 , Access Control & Identity Management
ViRDI Distribution SA (ViRDI Africa) has announced the release of its long-awaited UBio Tablet to the South African market.
Read more...
---
Cloud-based access control
November 2019, Elvey Security Technologies , Access Control & Identity Management
Hattrix is a flexible and scalable security platform that marks a shift toward outsourcing security, similar to other services such as IT, HR, and legal services.
Read more...
---
Transforming secure access for SMEs
November 2019, dormakaba South Africa , Access Control & Identity Management
The dormakaba Matrix One access solution is an off-the-shelf access offering that is easy to use, completely secure and browser-based, making it accessible from anywhere in the world.
Read more...
---
Manage remote transmitters via GSM
November 2019, ET Nice , Access Control & Identity Management
ET Nice has released a new solution to set up and manage remote transmitters online and monitor access equipment via GSM.
Read more...
---
Secure hands-free access
November 2019, Suprema , Access Control & Identity Management
Suprema's facial biometric terminals bring no-touch access into secure residential estates, high-rise apartments and luxury homes providing fast, easy and intuitive user authentication with the added benefit of hygiene.
Read more...
---
There's an app for gate configuration
November 2019, CAME BPT South Africa , Access Control & Identity Management
CAME KEY is a new generation of working tool for gate automation, allowing setup and configuration from a mobile app.
Read more...
---
Enhanced biometric technology for mines
September 2019, ZKTeco , Mining (Industry), Access Control & Identity Management
Biometric identification and authentication are currently used at various mines in South Africa and in the SADC region.
Read more...
---
Improving access in mines
October 2019, Astra Fasteners , Mining (Industry), Access Control & Identity Management, Products
The VP1 controller provides full access control and remote monitoring of intelligent locks without having to wire into a network or install, manage and maintain software.
Read more...
---
Invixium and Pyro-Tech partner in South Africa
October 2019 , News, Access Control & Identity Management
Invixium, a manufacturer of IP-based biometric solutions and Pyro-Tech Security Suppliers have announced a new distribution partnership.
Read more...
---