printer friendly version
Enhanced roster and effective access point control
November 2007
Access Control & Identity Management

Background and challenge
Macau is a themed venue that includes casinos, a shopping mall, hotel and other entertainment facilities. It is now the world's largest casino venue, exceeding Las Vegas in square metre casino area.
At the various casinos, the client had implemented traditional punch card systems for staff time attendance. Because the casinos operate 24 hours a day, seven days a week, it was difficult to keep track of the many employee shifts and staff entering and leaving the different access points.
Personnel entered and left the premises using different points, complicating time-and-attendance management. Monitoring staff movements proved to be a challenge for the HR department.
The client needed a system to provide secure access control and reliable time- and-attendance information, which would also suit the casino's modern infrastructure. Naturally within a casino environment, security and product reliability were key concerns.
Macau management also needed to be comfortable that the equipment was working successfully at other similar high-security installations.
Total solution
Macau investigated the market and chose RCG's S903 biometric fingerprint access control solution. The decision was based on RCG's successful implementations worldwide.
At a second casino, RCG deployed an RFID card access control system that connects 11 key access points to their time-and-attendance system, monitoring staff access in realtime.
The change was proposed and then strategically planned for a period out of peak season. The system was implemented within the time frames and became operational without any hitches.
In terms of the hardware, RCG's S903 system stores up to 3 000 fingerprint images. It has helped Macau reduce the time and cost of manually preparing roster and attendance reports.
It has also provided flexibility in controlling staff access and assisting HR in better monitoring staff time and attendance.
Benefits
The solution now enables staff to access entry points using fingerprint recognition. Because the S903 units are networked off a central server, it enables staff to only register their fingerprint once. Thereafter they are able to enter and leave at any access point.
The integration to the existing network has also provided considerable cost savings, based on a more efficient system and well as automating processes and providing management reporting.
Employees are now able to enter and leave the casinos at multiple points as though they were using a single time-and-attendance system. The integration provides a consolidated HR database eliminating duplication and producing reports easily and quickly.
The system was implemented in a straightforward manner, no challenges were experienced and no customisation was needed.
The software now helps provide a more comprehensive roster by managing shift times.
The S903 hardware comes with four types of alarm conditions, tamper, circuit break, invalid access and overtime door closing.
For added security, there are three verification modes - fingerprint only, fingerprint or password, and fingerprint and password.
This means that the customer is able to select one or more security modes, for example using a fingerprint and an access code.
With the solution now working so effectively, in hindsight would anything be done differently? No, say Macau management.
The initial targets set out to implement a secure, integrated, multiple access time-and-attendance system were achieved.
The solution has fully met the client's needs, providing a secure and easy-to-use access and time-and-attendance system.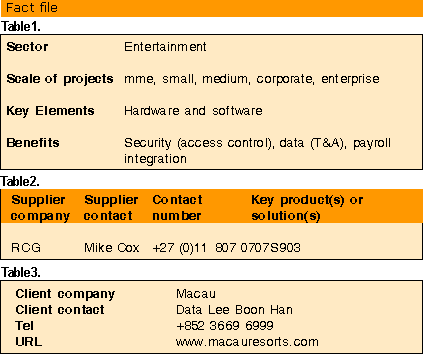 Further reading:
Enhanced biometric technology for mines
September 2019, ZKTeco , Mining (Industry), Access Control & Identity Management
Biometric identification and authentication are currently used at various mines in South Africa and in the SADC region.
Read more...
---
Improving access in mines
October 2019, Astra Fasteners , Mining (Industry), Access Control & Identity Management, Products
The VP1 controller provides full access control and remote monitoring of intelligent locks without having to wire into a network or install, manage and maintain software.
Read more...
---
Invixium and Pyro-Tech partner in South Africa
October 2019 , News, Access Control & Identity Management
Invixium, a manufacturer of IP-based biometric solutions and Pyro-Tech Security Suppliers have announced a new distribution partnership.
Read more...
---
Suprema receives FBI PIV/FAP30 certification
October 2019, Suprema , News, Access Control & Identity Management
Suprema has announced that the company's BioMini Slim 3 has received FBI PIV (Personal Identity Verification) and Mobile ID FAP30 certification.
Read more...
---
Frictionless access with a wave
October 2019, IDEMIA , Access Control & Identity Management, Residential Estate (Industry)
IDEMIA was the Platinum Sponsor for the Residential Estate Security Conference 2019 and set up its MorphoWave Compact frictionless fingerprint biometric scanner at the entrance to the conference.
Read more...
---
Streamlined access and reporting
October 2019, Comb Communications , Access Control & Identity Management, Residential Estate (Industry)
The main focus of the Comb stand was its practical demonstration of the MK II Lite intercom system with third-party integrated products.
Read more...
---
Customised and integrated solutions
October 2019, Suprema , Access Control & Identity Management, Residential Estate (Industry)
iVisit offers both high-end and low-end residential complexes a cost-effective visitor management solution that is fully integrated into Suprema's offerings.
Read more...
---
Access solutions for every estate
October 2019, Impro Technologies , Access Control & Identity Management, Residential Estate (Industry)
Impro's flagship Access Portal solution comprises one of the most user-friendly software solutions on the market.
Read more...
---
Managing staff effectively
September 2019, dormakaba South Africa, iPulse Systems , Integrated Solutions, Access Control & Identity Management
Workforce management solutions allow organisations to track the relationship between productivity and the cost of employment, incorporating issues such as health and safety, T&A, rostering and more.
Read more...
---
Hennie Lategan joins Centurion as head of exports
September 2019, Centurion Systems , News, Access Control & Identity Management
Centurion Systems has announced the appointment of Hennie Lategan as the head of the company's exports department.
Read more...
---