printer friendly version
A perfect fit across the board
Access & Identity Management Handbook 2007
Access Control & Identity Management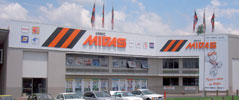 Motivation
Midas Group, distributor of branded automotive parts, services and accessories in southern Africa, has its head office in Meadowdale, Johannesburg and regional distribution centres in Durban and Port Elizabeth. Through its four national franchise brands it has a network of 320 retail outlets, workshops and fitment centres across the region.
The company decided to review its time and attendance (T&A) and access control systems throughout the organisation primarily because it wanted a central database that could feed its T&A and access control data directly into the centrally-run payroll package, Accsys.
In some outlets, T&A data was captured through manual registers and then captured into spreadsheets, which were sent through to head office for approval. A mix of punch card and proximity card systems were in operation at other sites.
Ross Dyer, national operations manager at Midas comments, "Delays in collating this variety of data meant that the company had no accurate and up-to-date numbers for normal and overtime staff hours. Overtime data often arrived long after costs had been incurred, so we had no ability to take action before the event.
"The potential for card abuse in our access control systems using proximity readers was also identified as an unacceptable risk where millions of rands worth of branded automotive components were passing through the system every day."
Rewards
Midas' main requirement was to enhance access control procedures and ensure T&A data was electronically captured in a single format and sent through to head office regularly.
An internal project team was formed to define requirements. Ross Dyer led the team that included personnel from HR, operations and security.
Although biometric technology seemed an obvious choice, the diversity of Midas' operations ranging from distribution centres employing hundreds of staff to stores with fewer than 10 employees, raised questions as to the cost-effectiveness of this technology.
Another major concern was, according to Dyer, "Finding a process-driven solutions provider capable of providing a national installation service that conformed to a defined methodology."
After an initial specification document was drawn up, SuperVision Biometric Systems was asked to advise on the practicalities of Midas' solution and to create a deployment plan.
The SuperVision team, under the guidance of director James Redelinghuys, was able to demonstrate to Midas similar solutions it had provided to other retail sector clients.
Implementation
After further consultation, Midas accepted SuperVision's proposal to implement a fingerprint biometric solution using Sagem terminals to record T&A data for over 1000 members of staff working at 19 distribution centres and wholly-owned retail outlets in South Africa.
Redelinghuys explains that: "SuperVision proposed that the most cost-effective solution for Midas would be to add a variety of Sagem fingerprint biometric terminals into its existing T&A and access control systems."
Pure access control areas, including the server room and staff turnstiles at Midas' Meadowdale headquarters, were fitted with MA100 biometric readers. MA200 biometric terminals were installed at T&A points in the distribution centres and larger retail outlets.
In the smaller stores, where it was difficult to justify the expense of installing standalone biometric terminals, MSO1300 USB biometric readers were connected to existing PCs. These make use of SuperVision's web-authentication software.
"This solution allows staff to scan locally. The biometric template is then sent across the WAN to a central server where an authentication is made. A clocking log is centrally created and feedback is sent back down the WAN to the PC where the user scanned," explains Redelinghuys.
Challenges
The first stage of the implementation centred on communicating news of the project to staff. Dyer comments, "Change management is a critical part of any process and, if mishandled, often provides the greatest obstacle to the successful implementation of technology. SuperVision assisted Midas in communication with unions whose representatives were concerned about the security of providing fingerprint templates to company management."
During the planning phase it was agreed that the implementation should be staggered - starting with head office and then moving out to the remaining distribution centres and stores. This had the dual benefit of allowing the system to be tested in a controlled environment while sending a clear message to the decentralised stores that head office was taking the project seriously and expected them to do likewise.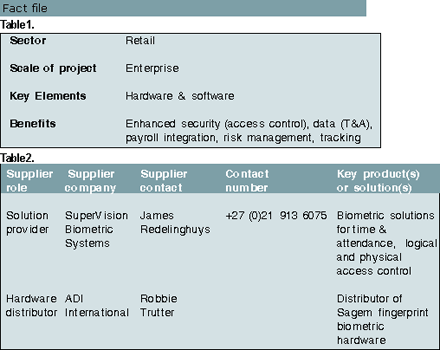 Credit(s)
Further reading:
Facial access control for ministry
Issue 1 2020, ZKTeco , Access Control & Identity Management
The Ministry of Culture in Saudi Arabia has adopted ZKTeco's facial recognition technology and fingerprint biometrics to manage access control into its building.
Read more...
---
New Door Pilot app from dormakaba
Issue 1 2020, dormakaba South Africa , Access Control & Identity Management
With new dormakaba Door Pilot, automated doors can also now be operated on the basis of remote control technologies. The system, comprising the Door Pilot app for smartphones and a Wi-Fi interface for ...
Read more...
---
Identity lifestyle
Issue 1 2020, Suprema , Access Control & Identity Management
Once the technology of the future, biometrics has quietly snuck into our daily lives through smartphones and access controls into our places of work.
Read more...
---
Securing BP's new head office
Issue 1 2020, ISF SFP , Access Control & Identity Management
ISF SFP was awarded the contract to secure the first development phase for Oxford Parks, the new head office for BP South Africa.
Read more...
---
Combining aesthetics and access control
Issue 1 2020, Turnstar Systems , Access Control & Identity Management
Prestigious law firm Bowman Gilfillan recently upgraded its physical security with the addition of four Turnstar Speedgate Express access control lanes.
Read more...
---
Video doorbells from Ring
Issue 1 2020 , Access Control & Identity Management
Ring has a number of video doorbells available in South Africa that run off batteries or power and enable users to answer their doors from anywhere.
Read more...
---
Centurion to unveil new product
Issue 1 2020, Centurion Systems , Access Control & Identity Management
Centurion Systems will be hosting its third Access Automation Expo this year, with dates confirmed for Durban, Johannesburg and Cape Town.
Read more...
---
Looking ahead with mobile access technologies
Access & Identity Management Handbook 2020, Technews Publishing, HID Global, dormakaba South Africa, Salto Systems Africa, Suprema, Gallagher , Access Control & Identity Management, Integrated Solutions
Given the broad use of smartphones around the world and the numerous technologies packed into these devices, it was only a matter of time before the access control industry developed technology that would ...
Read more...
---
Mobile access is more secure than card systems
Access & Identity Management Handbook 2020 , Access Control & Identity Management
The ability to use mobile phones as access credentials is one of the biggest trends in a market that historically has been slow in adopting new technology.
Read more...
---
This is the future. This is what we do.
Access & Identity Management Handbook 2020, ZKTeco , Access Control & Identity Management
ZKTeco has created a unique range of visible light facial recognition products combined with a flexible Android platform.
Read more...
---