printer friendly version
Safety first? Yebo gogo
November 2007
Access Control & Identity Management

Motivation
Vodacom Group, which provides and maintains cellular telecommunications network including infrastructure and services throughout South Africa, considers its own employees, employees of its business partners, customers and the public at large as deserving of a safe and healthy workplace.
Towards the end of 2004, the company decided to review its access control system as the company had become aware of potential loopholes in its existing PC-based solution that had to be closed.
The existing system was powerful and had a strong integration capability to resolve most custom scenarios but its weakness was that the data was decentralised and therefore required synchronisation, which opens the door to the possibility of losing data integrity.
Another issue Vodacom wanted to resolve with the existing access control solution was the use of network-connected PCs to run the application. If a PC crashed or froze or experienced a power loss - or someone merely switched the PC off - the access control system would be inoperative at that location and this was an unacceptable level of risk for Vodacom.
Vodacom therefore began the strategic planning required to implement a new access control solution that would overcome these challenges.
Rewards
George van der Merwe, national systems manager at G4S Security Services comments, "Vodacom were clear regarding their requirements: they needed a non-PC-based access control solution where the data would be stored on a single, centralised database that would utilise Vodacom's national IT network to communicate directly with access control equipment installed at all of Vodacom's buildings."
G4S Security Services managed the design, specification and implementation plan through its technical division.
The system also had to provide for completely centralised reporting, control, change management and data storage.
Implementation
After due deliberation, the company awarded the contract to G4S Security Services, the company's usual security solutions provider.
G4S Security Services solution utilised Saflec's access control software (SACS), Vodacom's national IT network, and AC door controllers and proximity readers at the remote locations.
A pilot project was run to allow both parties to satisfy themselves that the SACS system could handle the data volumes. Subsequent to this successful trial, implementation has continued throughout Vodacom's premises.
Hatfield, Pretoria has been completed as has Vodacom's four Midrand buildings (each with approximately 130 doors). Kimberley and Bloemfontein were tackled next and Van der Merwe is confident that G4S Security Services will complete the Eastern and Western Cape and KwaZulu-Natal installations within the next 18 months.
Challenges
"There were a number of technical challenges to overcome," comments Van der Merwe. He adds, "Vodacom's IT division had concerns about the security of the network infrastructure when the newly-installed access control doors had to be connected to the SACS software operating on the central network server."
There were also initial concerns regarding the data volumes that were addressed by testing and consultation with Vodacom's IT division during the pilot project. The AC devices also had to be slightly modified to work properly at remote locations.
"Switching over to the new system was definitely a process - not an event," explains van der Merwe. He explains: "Because we could not disrupt normal access control operations throughout an entire building, we had to install and implement the new system in a single section of the building whilst maintaining working operations on the old system in all the other sections of the building.
This implementation required meticulous attention to detail but as G4S Security Services had taken this into account at the design stage, a 'plug-and-play' model was chosen to alleviate difficulties with this aspect of the implementation.
Review
Van der Merwe concludes, "The scale of this project has turned this into one of our longest-running implementations - we began about three years ago - but we are committed to completing the national programme. It is a bit like running a marathon though - you just have to put your head down and keep focused on reaching the tape.
"Vodacom is delighted with the buildings that have been completed so that is our motivation - keeping our customers satisfied is an important aspect of G4S Security Services' mission."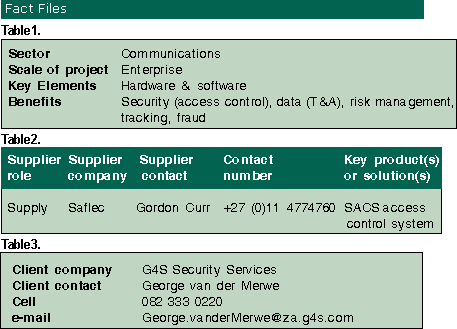 Further reading:
HID addresses identification challenges at ID4Africa
August 2019 , News, Access Control & Identity Management, Government and Parastatal (Industry)
Being able to verify people's identities is critical for a nation's growth and prosperity and yet HID says nearly half of all African citizens can't prove who they are to vote, travel freely and receive government benefits and services.
Read more...
---
Came acquires Turkish company Özak
August 2019, CAME BPT South Africa , News, Access Control & Identity Management
Came broadens its market horizons and signals growth and consolidation in the Middle East.
Read more...
---
The benefits of electronic visitor management
August 2019, Powell Tronics , Access Control & Identity Management, Residential Estate (Industry)
Access control is a critical aspect of estate security as it represents the controls put in place to restrict entry (and possibly exit) along the outer boundary of the location.
Read more...
---
Addressing risks by means of access control layout and design
August 2019 , Access Control & Identity Management, Security Services & Risk Management
In order to develop a suitable, practical and appropriate security system for any organisation, it is essential to first develop a master security and life safety plan strategy.
Read more...
---
Secure hands-free access
August 2019, Suprema , Access Control & Identity Management, Residential Estate (Industry)
Suprema's facial biometric terminals bring no-touch access into secure residential estates, high-rise apartments and luxury homes providing fast, easy and intuitive user authentication with the added benefit of hygiene.
Read more...
---
MorphoAccess Sigma Extreme
August 2019, IDEMIA , Products, Access Control & Identity Management
MorphoAccess Sigma Extreme from IDEMIA is a touchscreen device with multiple recognition device interfaces (NFC chip reader, PIN and BioPIN codes, contactless card readers).
Read more...
---
Outdoor access terminals
August 2019, Suprema , Access Control & Identity Management, Residential Estate (Industry), Products
Rugged, dust- and weather-proof access control solutions that provide exceptional durability in extreme conditions is a strong requirement for many residential estates.
Read more...
---
MorphoWave Compact
August 2019, IDEMIA , Products, Access Control & Identity Management
The MorphoWave Compact captures and matches four fingerprints on either the right or left hand in any direction. It is robust to environmental factors such as extreme light or dust.
Read more...
---
MorphoAccess Sigma Lite
August 2019, IDEMIA , Products, Access Control & Identity Management
IDEMIA's MorphoAccess Sigma Lite and Lite + are fingerprint access control terminals, offering time and attendance in and out function keys.
Read more...
---
Eliminating forced gate opening scenarios
August 2019, ET Nice , Home Security, Access Control & Identity Management
When activated by the gate forced open alarm feature, the transmitter transmits a wireless alarm signal up to 750 metres in any direction.
Read more...
---