printer friendly version
Safety first? Yebo gogo
Access & Identity Management Handbook 2007
Access Control & Identity Management

Motivation
Vodacom Group, which provides and maintains cellular telecommunications network including infrastructure and services throughout South Africa, considers its own employees, employees of its business partners, customers and the public at large as deserving of a safe and healthy workplace.
Towards the end of 2004, the company decided to review its access control system as the company had become aware of potential loopholes in its existing PC-based solution that had to be closed.
The existing system was powerful and had a strong integration capability to resolve most custom scenarios but its weakness was that the data was decentralised and therefore required synchronisation, which opens the door to the possibility of losing data integrity.
Another issue Vodacom wanted to resolve with the existing access control solution was the use of network-connected PCs to run the application. If a PC crashed or froze or experienced a power loss - or someone merely switched the PC off - the access control system would be inoperative at that location and this was an unacceptable level of risk for Vodacom.
Vodacom therefore began the strategic planning required to implement a new access control solution that would overcome these challenges.
Rewards
George van der Merwe, national systems manager at G4S Security Services comments, "Vodacom were clear regarding their requirements: they needed a non-PC-based access control solution where the data would be stored on a single, centralised database that would utilise Vodacom's national IT network to communicate directly with access control equipment installed at all of Vodacom's buildings."
G4S Security Services managed the design, specification and implementation plan through its technical division.
The system also had to provide for completely centralised reporting, control, change management and data storage.
Implementation
After due deliberation, the company awarded the contract to G4S Security Services, the company's usual security solutions provider.
G4S Security Services solution utilised Saflec's access control software (SACS), Vodacom's national IT network, and AC door controllers and proximity readers at the remote locations.
A pilot project was run to allow both parties to satisfy themselves that the SACS system could handle the data volumes. Subsequent to this successful trial, implementation has continued throughout Vodacom's premises.
Hatfield, Pretoria has been completed as has Vodacom's four Midrand buildings (each with approximately 130 doors). Kimberley and Bloemfontein were tackled next and Van der Merwe is confident that G4S Security Services will complete the Eastern and Western Cape and KwaZulu-Natal installations within the next 18 months.
Challenges
"There were a number of technical challenges to overcome," comments Van der Merwe. He adds, "Vodacom's IT division had concerns about the security of the network infrastructure when the newly-installed access control doors had to be connected to the SACS software operating on the central network server."
There were also initial concerns regarding the data volumes that were addressed by testing and consultation with Vodacom's IT division during the pilot project. The AC devices also had to be slightly modified to work properly at remote locations.
"Switching over to the new system was definitely a process - not an event," explains van der Merwe. He explains: "Because we could not disrupt normal access control operations throughout an entire building, we had to install and implement the new system in a single section of the building whilst maintaining working operations on the old system in all the other sections of the building.
This implementation required meticulous attention to detail but as G4S Security Services had taken this into account at the design stage, a 'plug-and-play' model was chosen to alleviate difficulties with this aspect of the implementation.
Review
Van der Merwe concludes, "The scale of this project has turned this into one of our longest-running implementations - we began about three years ago - but we are committed to completing the national programme. It is a bit like running a marathon though - you just have to put your head down and keep focused on reaching the tape.
"Vodacom is delighted with the buildings that have been completed so that is our motivation - keeping our customers satisfied is an important aspect of G4S Security Services' mission."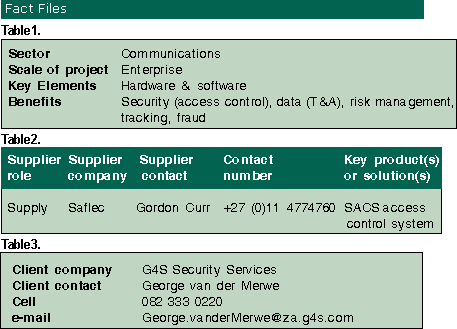 Further reading:
Facial access control for ministry
Issue 1 2020, ZKTeco , Access Control & Identity Management
The Ministry of Culture in Saudi Arabia has adopted ZKTeco's facial recognition technology and fingerprint biometrics to manage access control into its building.
Read more...
---
New Door Pilot app from dormakaba
Issue 1 2020, dormakaba South Africa , Access Control & Identity Management
With new dormakaba Door Pilot, automated doors can also now be operated on the basis of remote control technologies. The system, comprising the Door Pilot app for smartphones and a Wi-Fi interface for ...
Read more...
---
Identity lifestyle
Issue 1 2020, Suprema , Access Control & Identity Management
Once the technology of the future, biometrics has quietly snuck into our daily lives through smartphones and access controls into our places of work.
Read more...
---
Securing BP's new head office
Issue 1 2020, ISF SFP , Access Control & Identity Management
ISF SFP was awarded the contract to secure the first development phase for Oxford Parks, the new head office for BP South Africa.
Read more...
---
Combining aesthetics and access control
Issue 1 2020, Turnstar Systems , Access Control & Identity Management
Prestigious law firm Bowman Gilfillan recently upgraded its physical security with the addition of four Turnstar Speedgate Express access control lanes.
Read more...
---
Video doorbells from Ring
Issue 1 2020 , Access Control & Identity Management
Ring has a number of video doorbells available in South Africa that run off batteries or power and enable users to answer their doors from anywhere.
Read more...
---
Centurion to unveil new product
Issue 1 2020, Centurion Systems , Access Control & Identity Management
Centurion Systems will be hosting its third Access Automation Expo this year, with dates confirmed for Durban, Johannesburg and Cape Town.
Read more...
---
Looking ahead with mobile access technologies
Access & Identity Management Handbook 2020, Technews Publishing, HID Global, dormakaba South Africa, Salto Systems Africa, Suprema, Gallagher , Access Control & Identity Management, Integrated Solutions
Given the broad use of smartphones around the world and the numerous technologies packed into these devices, it was only a matter of time before the access control industry developed technology that would ...
Read more...
---
Mobile access is more secure than card systems
Access & Identity Management Handbook 2020 , Access Control & Identity Management
The ability to use mobile phones as access credentials is one of the biggest trends in a market that historically has been slow in adopting new technology.
Read more...
---
This is the future. This is what we do.
Access & Identity Management Handbook 2020, ZKTeco , Access Control & Identity Management
ZKTeco has created a unique range of visible light facial recognition products combined with a flexible Android platform.
Read more...
---