printer friendly version
Security, right from the start
November 2006
Access Control & Identity Management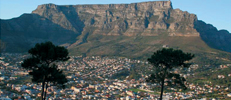 IT companies have a greater need for security than most, so when a Cape Town-based company specialising in e-commerce and Internet solutions for a global client base, decided to build a new three-storey­building in the Century City Precinct, it was an ideal opportunity to review and upgrade its security.
The old building was monitored by outdated systems that had been accumulated over a period of time, and the company needed an integrated solution utilising modern technology to fulfil all its security requirements.
One of the company's major goals was to provide a safer, more secure environment for the more than 700 staff members working in the building. The communication centre operates around the clock so it also had to consider the needs of staff members working shifts.
The project
The new solution was planned long in advance of implementation as the proposed new structure was still to be built. The company put together a substantial project team to develop the methodologies and business processes required to ensure that all the company's requirements had been thoroughly analysed.
Jeff Greeff, sales executive at Blick SA explains: "We were in constant contact with the company at this stage, making recommendations about the technology that was available and which systems we felt would best meet its requirements. The company was well prepared by the time it appointed a consultancy firm for the tender specifications to be drawn up and finalised."
Blick provided a turnkey solution, featuring biometric and conventional access control (AC), CCTV monitoring and recording, public address and voice evacuation, fire detection, and parking control systems. The systems and hardware were all integrated via an ImproX AC system, utilising a graphic user interface (GUI).
The GUI was then used to populate the site map for any alarms that were generated from the fire doors, the fire detection system or AC points.
The CCTV system was then used to monitor these alarms. In the event of a fire alarm being generated, the PA/voice evacuation system would automatically begin the fire alarm alert routine.
Sagem biometric fingerprint readers were used to provide enhanced levels of AC for high-risk areas such as the server room.
Smith adds: "We also greatly improved pedestrian traffic flow through the strategic control of key entry and exits points throughout the building.
"The networking capabilities of the ImproX system were also a factor in the choice of the system. It was important to the company that managers could have security information available at their fingertips."
The control room, which housed three 40" LCD monitors and four 32" LCD monitors which are recorded by four Sanyo 16 channel 200FPS DVRs with built-in multiplexers, was another area where increased security was provided. This has allowed for the compartmentalisation of different departments so that they can protect their intellectual property rights to the various Internet-based solutions that they design for clients.
The company did put the project out to tender, but in the end decided to stick with Blick, with whom it had an excellent relationship, built up over a number of years.
"Being a part of the specifying process helped, in that Blick had already surmounted all the obstacles in terms of equipment required. Our proposal already met the company's requirements," comments Greeff.
The company, following standard policy, awarded the oversight contract to BFBA Consultants, who implement the final scope of work, bill of quantities and all legal contractual requirements.
There was some frustration due to delays in the building process, but these were overcome in time. Blick's long-term relationship with their many suppliers was very useful in assisting the company to overcome the challenges.
Design, specification and implementation were handled as separate phases in the development of the project. "The project was very capably controlled by one of our project managers. Goals were set and achieved, when and where we could, without allowing the construction delays to get in our way. Weekly and often daily meetings where held with all relevant parties who influenced our forecast timelines," explains Greeff.
"The post-implementation snag-list could perhaps have been sorted out sooner if we had we been more involved in assisting the client with training to overcome their lack of familiarity with operational procedures."
The implementation of this R1,2 million project was successfully completed to the client's satisfaction.
The success of the implementation was largely due, in Greef's opinion, to "well thought-out and properly-practised business processes and the commitment of a thorough project management team."
Blick is currently working on a future expansion programme for the company.
Greef concludes: "The company achieved the successful integration of all systems involved. The project was complex and required many hours of careful planning but the effort paid off and they got the solution they wanted."
Fact file
Blick SA, Jeff Greeff, +27 (0) 21 511 3322, jeffg@blick.co.za
Ideco, biometrics, Gary Jones, +27 (0) 11 745 5600, ggj@ideco.co.za
Impro, access control, Barry East, +27 (0) 31 700 1087, barrye@impro.net
Elvey, CCTV, Steve Smethurst, +27 (0) 21 448 6390
Pentagon Distribution, control room, Anton Hochleutner, +27 (0) 21 555 0258
Ziton, fire panel and peripherals, Terence Ewers, +27 (0) 021 506 6000
Wild and Marr, voice evacuation, Raymond Ricks, +27 (0) 21 762 8615
Credit(s)
Further reading:
HID addresses identification challenges at ID4Africa
August 2019 , News, Access Control & Identity Management, Government and Parastatal (Industry)
Being able to verify people's identities is critical for a nation's growth and prosperity and yet HID says nearly half of all African citizens can't prove who they are to vote, travel freely and receive government benefits and services.
Read more...
---
Came acquires Turkish company Özak
August 2019, CAME BPT South Africa , News, Access Control & Identity Management
Came broadens its market horizons and signals growth and consolidation in the Middle East.
Read more...
---
The benefits of electronic visitor management
August 2019, Powell Tronics , Access Control & Identity Management, Residential Estate (Industry)
Access control is a critical aspect of estate security as it represents the controls put in place to restrict entry (and possibly exit) along the outer boundary of the location.
Read more...
---
Addressing risks by means of access control layout and design
August 2019 , Access Control & Identity Management, Security Services & Risk Management
In order to develop a suitable, practical and appropriate security system for any organisation, it is essential to first develop a master security and life safety plan strategy.
Read more...
---
Secure hands-free access
August 2019, Suprema , Access Control & Identity Management, Residential Estate (Industry)
Suprema's facial biometric terminals bring no-touch access into secure residential estates, high-rise apartments and luxury homes providing fast, easy and intuitive user authentication with the added benefit of hygiene.
Read more...
---
MorphoAccess Sigma Extreme
August 2019, IDEMIA , Products, Access Control & Identity Management
MorphoAccess Sigma Extreme from IDEMIA is a touchscreen device with multiple recognition device interfaces (NFC chip reader, PIN and BioPIN codes, contactless card readers).
Read more...
---
Outdoor access terminals
August 2019, Suprema , Access Control & Identity Management, Residential Estate (Industry), Products
Rugged, dust- and weather-proof access control solutions that provide exceptional durability in extreme conditions is a strong requirement for many residential estates.
Read more...
---
MorphoWave Compact
August 2019, IDEMIA , Products, Access Control & Identity Management
The MorphoWave Compact captures and matches four fingerprints on either the right or left hand in any direction. It is robust to environmental factors such as extreme light or dust.
Read more...
---
MorphoAccess Sigma Lite
August 2019, IDEMIA , Products, Access Control & Identity Management
IDEMIA's MorphoAccess Sigma Lite and Lite + are fingerprint access control terminals, offering time and attendance in and out function keys.
Read more...
---
Eliminating forced gate opening scenarios
August 2019, ET Nice , Home Security, Access Control & Identity Management
When activated by the gate forced open alarm feature, the transmitter transmits a wireless alarm signal up to 750 metres in any direction.
Read more...
---