printer friendly version
Current trends in fire protection solutions
April 2006
Fire & Safety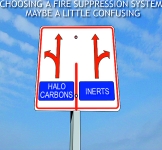 Back in the mid-seventies when Bill Gates was still at university, choosing a fire suppression system was pretty simple.
The fire fighting capabilities of carbon dioxide was based on the very simple method of reducing oxygen in the fire-affected area to a level where a fire could not be sustained. The down side was that no human could survive the effects of being in an area where carbon dioxide had been discharged. One sniff within an area where carbon dioxide was released could result in a fatality!
About 10 years later - in the mid eighties - came another fire suppression gas that turned the whole fire industry on its head. Simple to install, safe for people and a very economical footprint it was called Halon 1301. It virtually changed the industry overnight. Without having to use carbon dioxide and now no longer being exposed to the past threat of carbon dioxide potentially asphyxiating their clients, opportunities for the new fire entrepreneur had dawned.
For Halon 1301 systems the old slide rule was dumped and the desktop PC performed the simple calculations to establish the amount of gas required. Fire engineers became salesmen or they became unemployed. However history will show that the honeymoon with Halon 1301 did not last very long. Despite a decade of denials by the fire protection industry, most readers will be aware that Halon 1301 was eventually forced out of use worldwide under the Montreal Protocol. It was a fact that throughout the eighties the fire industry believed they would be exempted from the ban on Halon 1301.
The fire industry in its disbelief seemed to be caught unawares and there was a period in the early nineties where no accepted substitute fire protection system was available.
So the question is: what does an end-user do to make an informed choice? Is the client really able to obtain an objective assessment of their requirements? In the simplest equation it can be broken down to an option between inert and halo-carbon systems. Inert systems use natural gases such as nitrogen, argon and small amounts of carbon dioxide.
Inert systems work by lowering oxygen levels to thresholds of between 12-16% because at these levels a fire cannot be sustained but human life can. Halo-carbon systems are stored as a liquid and pressurised by nitrogen. Halo-carbons have a very efficient cooling factor which keeps temperatures at levels where fire cannot be sustained.
Trying to keep the selection of a fire protection simple today when we are faced with so many products is a challenge. In these days of niche marketing, it seems everybody has a product that they claim is the best answer to protecting critical facilities and valuable assets. Distribution agreements and protected source of supply and support between contractor and overseas supplier will influence the choice of suppression agent offered to the end user. As an example, many of the major suppliers of inert fire suppression systems, will either discourage or restrict the local agent from offering a competing halo-carbon gas protection system. The inverse applies to suppliers of halo-carbon protection systems. We also have some local companies that are solely invested in one product and will swear that their solution is the only one. However, despite what is often broadcast in the market place, there is not a 'one product fits all' solution.
Making an informed choice
So the question is what does an end-user do to make an informed choice?
Below is a simple comparison chart of the two main types of protection systems.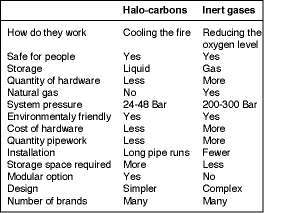 If the clients are well informed then they have the benefit of choice. Many different brands of similar type of systems are sold in South Africa. Obviously economics are important as is the reliability and experience of the contractor. Seek out those who have proved to take pride in their capabilities to design, engineer and maintain the system. Fire and Security Techniques is a specialist supplier of both inert and halo-carbons to its long term client base of system contractors in sub-Saharan Africa... Since 1994 FST provide specialised training programmes on best practice fire suppression system engineering. They also do seminars and presentations to inform end users and specifiers how to go about selecting a fire suppression system. Recently Fire and Security Techniques opened up a new facility in Centurion where they have in house training facilities. In addition they offer further training at their accredited training facility in Cape Town.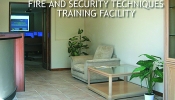 *Just make a note that if you qualify as an essential user then the Halon Bank of South Africa can assist you in obtaining supplies of Halon 1301.
For more information contact Neil Hughes, Fire and Security Techniques, 012 621 9400, www.fireandsecurity.com
Further reading:
SafeQuip introduces lithium fire extinguishers
Fire & Safety Products & Solutions
With the use of Lithium batteries increasing in many types of portable devices and battery storage solutions, SafeQuip, in partnership with AVD Lithex, is introducing a fire extinguisher aimed at suppressing and extinguishing, and also preventing re-ignition of lithium fires.
Read more...
---
Modern warehouses come with added fire risk
Fire & Safety Transport (Industry)
Along with increased investments in modern warehousing in Africa, there is also a need to focus on protecting warehouses from crime, however, fire can arguably be a greater danger to business continuity.
Read more...
---
How to prevent solar inverter short-circuits and fires
Fire & Safety
With many South Africans installing inverters as part of solar power systems to mitigate the impact of load shedding in homes and at businesses, users need to be aware of the potential fire risks.
Read more...
---
Fidelity SecureFire steps into critical fire response space
News & Events Fire & Safety
With the majority of fire stations around the country being crippled by a lack of resources to offer effective responses, Fidelity Fire Solutions has launched its own 'first responder' model, Fidelity SecureFire.
Read more...
---
Long-distance connectivity with Simplex ES Net Life Safety
Johnson Controls Global Products Fire & Safety Products & Solutions
ES Net Network Bridge allows fire alarm system data to be transmitted across distant buildings via a customer's existing network infrastructure, improving system-wide monitoring and control in facilities and campuses where life safety networks are often widely dispersed.
Read more...
---
Elvey Group and Technoswitch part ways
Elvey Security Technologies Fire & Safety News & Events
The Elvey Group (a division of the Hudaco Group of Companies) is relinquishing its distributorship of the Technoswitch brand, following Hudaco's acquisition of Brigit Fire.
Read more...
---
From one month to 10 minutes
Dahua Technology South Africa Fire & Safety
Dahua has integrated technology with the inspection mode of the photovoltaic power station in order to create a robust system that can monitor the fire situation in the power plant and its surrounding areas 24/7.
Read more...
---
Protecting poultry processing plant
Technoswitch Fire Detection & Suppression Fire & Safety
Grain Field Chickens, based in Reitz in the Orange Free State Province, features all the typical fire detection challenges one would expect to encounter in a food processing facility.
Read more...
---
Fire prevention for energy systems
Technoswitch Fire Detection & Suppression Fire & Safety
With the significant push towards renewable energy, such as wind and solar, the demand for battery energy storage systems has grown exponentially, as has the need for fire safety solutions for these environments.
Read more...
---
Fire risks in solar panel installations
Technoswitch Fire Detection & Suppression Fire & Safety
Installed global solar capacity doubled in three years from 2018, and the expectation is that in the next three years, it will more than double. In South Africa, the year-on-year growth from 2021 to 2022 was 24,90%.
Read more...
---