printer friendly version
Safety and control at Samancor Manganese
Access & Identity Management Handbook 2005
Access Control & Identity Management

Project scope
1400 employees/contractors have been registered on the system. Processing currently takes place through 11 Sagem Morpho Identification Stations using MSO 300 Xelios scanners. These identification stations are linked to a central Sagem Morpho Matching Server.
The identification stations are spread across three production units on the site.
Implementation throughout the rest of the Metalloys site is nearly complete. Another 11 stations will then be commissioned.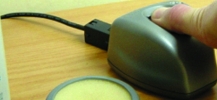 The history
Samancor Manganese is a producer of manganese ores and alloys. The company is jointly owned by BHP Billiton (60%) and Anglo American Corporation of South Africa (40%).
The three electric arc furnaces at Samancor's Metalloys plant in Meyerton are among the largest in the world. The plant, which produces ferromanganese and silicomanganese, supplies the local steel industry and exports manganese alloys to steel producers worldwide.
The metals industry is characterised by highly hazardous production environments and therefore management of safety is a key focus area. Permit-to-work systems are critical in hazardous operations in order to safeguard employees and the environment, thus ensuring responsible and sustainable operations.
"Permits to work, risk assessments and access control form one of the cornerstones of our safety drive. ApplyIT's IntelliPermit offered us a state-of-the-art system to integrate these elements seamlessly," says Philip Hechter, vice president for Samancor Manganese.
Despite their critical nature, many permit-to-work systems suffer from a lack of visibility and management often find it difficult to proactively implement controls to ensure that procedures are consistently followed. Auditing these systems is tedious and often deviations are only discovered after an incident has occurred.
The solution
To address these shortcomings, the company invested in IntelliPermit, a software solution that provides operations management at Metalloys with tools to effectively manage their permit-to-work processes and ensure that safe working procedures are followed when permits are issued for maintenance staff and contractors to perform work on site.
Managing the authorisation/signing of permits is a critical part of this process to ensure that only competent people are allowed to sign and to maintain a reliable audit trail. It was recognised however, that the integrity of the system could be compromised if it was reliant on inputs such as PIN numbers or passwords for identification.
Change management was identified as critical as the project involved changing a well-established permit process used by the large number of operations personnel, maintenance staff and contractors on site. Education and training, as well as simplicity and ease-of-use were critical to the success of the project as was buy-in from all levels within the organisation.
The goal
"Our needs at the plant were specific: we had to fill the gap between procedures and what was happening in practice," says Steynberg van Rensburg, production superintendent at West Plant. "We required a more robust permit-to-work system that enforced the rules of safe work, provided visibility of work in progress across the plant and controlled the authorisation of permits ensuring that only competent people are allowed to perform key transactions in the system."
The benefits
IntelliPermit provided a comprehensive set of tools for managing the preparation, authorisation and issuing of permits. The intelligence built into the system ensures that hazards are correctly identified and adequate safety measures taken to protect workers from these hazards.
Sagem MorphoSmart fingerprint scanners were deployed, and integrated with the IntelliPermit application, to control the authorisation of permits. The use of this leading edge technology has allowed for a completely secure method of electronically signing permits and has streamlined the authorisation process.
The system currently uses 11 identification stations connected at strategic permit-issue points throughout the site. These identification stations are connected to a central biometric database and Identification or Matching server. This system is responsible for handling the various simultaneous requests for identification around the site. The matching speed of this system is less than 2 seconds when searching 6000 fingerprint templates.
This system, now deployed at three separate production units on the facility as well as a number of utilities areas, enables positive identification of workers and contractors at strategic locations within the site, which linked to the IntelliPermit system, greatly improves security and safety on the site.
Through the use of biometrics, the mine has managed to streamline the authorisation of permits; accurately record attendance of workers/contractors; ensure that only authorised personnel can sign permits; overcome problems of issuing people with passwords, users forgetting their passwords, security loopholes; and provide a platform for integration with the existing physical access control system
According to management, in the months following go-live, numerous benefits are already being enjoyed at the plant, including high quality permits-to-work, high visibility of work in progress, improved efficiency of the permit-issue process, comprehensive audit trails and the fact that permits can only be signed by duly authorised people.
Obstacles en route to a final solution
Samancor Metalloys is a very large site with a large complement of employees and contractors. Currently, there are over 1400 registered fingerprints in the biometric database.
This large staff complement, combined with the harsh and hazardous nature of the operations, meant that the probability of encountering poor quality and badly worn fingerprints was extremely high. A system was therefore required that would guarantee the best possible failure to enrol rate. The chosen system also had to perform well in dusty and dirty conditions, and prove to be reliable for future integration into the physical access control system.
Training of the enrolment station operators was crucial. There is a tendency for operators to rush the enrolment process. Proper and thorough enrolment only has to be performed once for any individual and ensures smooth reliable identification of the individual in the long term.
Implementation
ApplyIT did a market survey of potential biometric vendors and approached Ideco based on its excellent response to our enquiries as well as their references.
The integration between IntelliPermit and the biometric devices had to be formally specified. The necessary code was developed in ApplyIT's labs with assistance from Ideco. On-site implementation proved to be easy.
Both the code development as well as on-site implementation was done and measured according to an overall project plan.
The rewards
The solution was piloted at West Plant, the first of three production units at the Meyerton site. The project to implement IntelliPermit took two months and was completed by ApplyIT's team of consultants in November 2004, on time and within budget. From the time the system went live it performed to standard. User acceptance of the system was rapid and on-site support from ApplyIT was required for only two days following go-live.
"IntelliPermit integrates with our SAP Plant Maintenance system and the plant's existing permit process, so that the system fits our business process rather than the other way around," says Van Rensburg. Now, at any one time those operating the plant can see exactly what is happening in every area of the plant, what permits are active and what isolations are in place. A comprehensive audit trail of who has issued/been issued with a permit is maintained and managers have online access to permit information at all times. Managers have the assurance that permits can only be issued by competent personnel.
What would you do differently?
Fact file
Software: ApplyIT, Scott Bredin, 031 275 8080, [email protected]
Sagem Biometric products distributed by Ideco Group, Gary Jones, 011 840 7800, [email protected]
Samancor Manganese - Metalloys Division, Steynberg Van Rensburg, 016 360 2615, [email protected]
Further reading:
Smart parking management platform
Access Control & Identity Management Asset Management, EAS, RFID
Parket builds a seamless bridge between supply and the ever-increasing, but fluid – and often temporary – demand for parking bays.
Read more...
---
Visible-light facial recognition terminal
ZKTeco Access Control & Identity Management Products
The SpeedFace-V5L [P] is a visible-light facial recognition terminal using intelligently engineered facial recognition algorithms and the latest computer vision technology.
Read more...
---
Facial and palm verification
ZKTeco Access Control & Identity Management Products
The ProFace X [P] supports both facial and palm verification, with a large capacity and rapid recognition.
Read more...
---
Glide Master High Security 90° Sliding Gate
BoomGate Systems Access Control & Identity Management Products
Boomgate Systems was asked to make a sliding gate that can turn 90 degrees. The gate had to offer high security and be vandal-proof.
Read more...
---
Informing, entertaining and communicating across your landscape
Evolving Management Solutions Access Control & Identity Management
For the first time, the attraction of large shopping malls with many stores, entertainment and food courts no longer offers enough appeal to attract customers.
Read more...
---
Suprema's new BioStation 3
Suprema Access Control & Identity Management Products
The brand new BioStation 3 is not only Suprema's smallest face recognition device to date, but it also comes packed with the largest variety of features.
Read more...
---
Suprema renews international privacy and security standard certifications
Suprema News Access Control & Identity Management
Suprema has simultaneously renewed two important international standard certifications regarding information security management (ISO/IEC 27001) and privacy information management (ISO/IEC 27701).
Read more...
---
SuperVision biometric access control
Integrated Solutions Access Control & Identity Management Products
SuperVision is a time & attendance (T&A) biometric access control system Fourier IT has been developing and enhancing for 18 years.
Read more...
---
Manage energy usage with Paxton access control
Paxton Access Control & Identity Management Products
Paxton provides access control systems that can integrate with existing infrastructure and manage a building's energy-consuming activities to save energy and costs.
Read more...
---
Why Multi-Factor Authentication, universal ZTNA and Zero Trust matter
Access Control & Identity Management Cyber Security
Malicious cyber actors are experimenting with new attack vectors and increasing the frequency of zero-day and other attacks, according to Fortinet's 1H 2022 FortiGuard Labs Threat Landscape report.
Read more...
---