printer friendly version
When installing card readers: build a pathway to future card-based technologies
October 2005
Access Control & Identity Management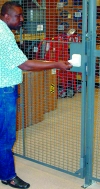 The 125 KHz proximity and Wiegand standards currently constitute the majority of the card-based access control market worldwide. The reluctance among these card issuers to move towards the more advanced smartcard technologies is primarily due to their extensive investments in legacy proximity/RFID/contactless technology. What has been needed is a reader that bridges the gap between the old and the wanted. Transition readers address this large segment of the market and should be considered when planning any type of new or refurbished access control system.
In a new world of standards, this is especially important. Compliance with multiple standards is needed in emerging applications that are being created by the recent homeland security and HIPAA (Health Insurance Portability and Accountability Act) legislations. They necessitate standards-based physical access control measures at a multitude of venues.
The architecture of transition card readers supports today's new physical access control initiative to establish flexible, scalable, non-proprietary platforms that let organisations maintain their current user bases and upgrade their access control systems to meet new security requirements within their own timelines and budget. With multitechnology transition card readers, companies can continue using their existing proximity cards and easily migrate to more secure access control using smartcards when the opportunity arises.
Other considerations for multitechnology cards
If a perimeter or card system is breached, it is really not enough to simply notify the control room. In many cases, there is no one monitoring the facility after hours. Even if monitored remotely, by the time someone can respond, the intruder has come and gone.
Therefore, it is important that multitechnology readers also provide 'intelligent supervision' that monitors the communication between the access control panel and the reader at the door. For instance, intelligent four-state supervision continuously monitors for a cut line, short circuit, closed circuit, and open circuit conditions at door contacts and request to exit (REX) connections. Tri-state LEDs and audible alerts will indicate status, alarm and perimeter-tampering conditions. An internal tamper switch will automatically alert security personnel if the reader is violated. This supervision ensures that security personnel are immediately notified if someone tampers with the reader, a door is breached or a circuit is bypassed, either by cutting or shorting. But, as stated earlier, this is not enough.
Upon an alert, you need the reader to be removed from the system. When breached, the reader needs to become inactive, removing the opportunity for the intruder to enter through this access point.
Make it easy on the user
There are really two goals for an access control system. One is to keep unauthorised people out. The other is to let authorised people in. When the latter is compromised, all too many systems, though installed, are not employed.
Therefore, to assure the system gets used, make sure that the card readers selected also offer expanded hassle-free contactless convenience when entering and exiting secure facilities. There is now a special optimisation technology that automatically adjusts to a wide range of installation environments to provide consistent read range performance no matter where or on what the reader is mounted. It automatically detects and optimises the credential read field, even in challenging environments with metal surfaces. By optimising the card readers to any metallic or non-metallic environment, cardholders experience consistent reader performance, regardless of location or environment.
Further reading:
How to specify the right turnstile finish
September 2019, Turnstar Systems , Access Control & Identity Management
Purchasing a turnstile gives you a large amount of flexibility when it comes to choosing the right finish.
Read more...
---
Enhanced biometric technology for mines
September 2019, ZKTeco , Mining (Industry), Access Control & Identity Management
Biometric identification and authentication are currently used at various mines in South Africa and in the SADC region.
Read more...
---
Improving access in mines
October 2019, Astra Fasteners , Mining (Industry), Access Control & Identity Management, Products
The VP1 controller provides full access control and remote monitoring of intelligent locks without having to wire into a network or install, manage and maintain software.
Read more...
---
Invixium and Pyro-Tech partner in South Africa
October 2019 , News, Access Control & Identity Management
Invixium, a manufacturer of IP-based biometric solutions and Pyro-Tech Security Suppliers have announced a new distribution partnership.
Read more...
---
Suprema receives FBI PIV/FAP30 certification
October 2019, Suprema , News, Access Control & Identity Management
Suprema has announced that the company's BioMini Slim 3 has received FBI PIV (Personal Identity Verification) and Mobile ID FAP30 certification.
Read more...
---
Frictionless access with a wave
October 2019, IDEMIA , Access Control & Identity Management, Residential Estate (Industry)
IDEMIA was the Platinum Sponsor for the Residential Estate Security Conference 2019 and set up its MorphoWave Compact frictionless fingerprint biometric scanner at the entrance to the conference.
Read more...
---
Streamlined access and reporting
October 2019, Comb Communications , Access Control & Identity Management, Residential Estate (Industry)
The main focus of the Comb stand was its practical demonstration of the MK II Lite intercom system with third-party integrated products.
Read more...
---
Customised and integrated solutions
October 2019, Suprema , Access Control & Identity Management, Residential Estate (Industry)
iVisit offers both high-end and low-end residential complexes a cost-effective visitor management solution that is fully integrated into Suprema's offerings.
Read more...
---
Access solutions for every estate
October 2019, Impro Technologies , Access Control & Identity Management, Residential Estate (Industry)
Impro's flagship Access Portal solution comprises one of the most user-friendly software solutions on the market.
Read more...
---
Managing staff effectively
September 2019, dormakaba South Africa, iPulse Systems , Integrated Solutions, Access Control & Identity Management
Workforce management solutions allow organisations to track the relationship between productivity and the cost of employment, incorporating issues such as health and safety, T&A, rostering and more.
Read more...
---