printer friendly version
When installing card readers: build a pathway to future card-based technologies
Access & Identity Management Handbook 2005
Access Control & Identity Management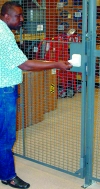 The 125 KHz proximity and Wiegand standards currently constitute the majority of the card-based access control market worldwide. The reluctance among these card issuers to move towards the more advanced smartcard technologies is primarily due to their extensive investments in legacy proximity/RFID/contactless technology. What has been needed is a reader that bridges the gap between the old and the wanted. Transition readers address this large segment of the market and should be considered when planning any type of new or refurbished access control system.
In a new world of standards, this is especially important. Compliance with multiple standards is needed in emerging applications that are being created by the recent homeland security and HIPAA (Health Insurance Portability and Accountability Act) legislations. They necessitate standards-based physical access control measures at a multitude of venues.
The architecture of transition card readers supports today's new physical access control initiative to establish flexible, scalable, non-proprietary platforms that let organisations maintain their current user bases and upgrade their access control systems to meet new security requirements within their own timelines and budget. With multitechnology transition card readers, companies can continue using their existing proximity cards and easily migrate to more secure access control using smartcards when the opportunity arises.
Other considerations for multitechnology cards
If a perimeter or card system is breached, it is really not enough to simply notify the control room. In many cases, there is no one monitoring the facility after hours. Even if monitored remotely, by the time someone can respond, the intruder has come and gone.
Therefore, it is important that multitechnology readers also provide 'intelligent supervision' that monitors the communication between the access control panel and the reader at the door. For instance, intelligent four-state supervision continuously monitors for a cut line, short circuit, closed circuit, and open circuit conditions at door contacts and request to exit (REX) connections. Tri-state LEDs and audible alerts will indicate status, alarm and perimeter-tampering conditions. An internal tamper switch will automatically alert security personnel if the reader is violated. This supervision ensures that security personnel are immediately notified if someone tampers with the reader, a door is breached or a circuit is bypassed, either by cutting or shorting. But, as stated earlier, this is not enough.
Upon an alert, you need the reader to be removed from the system. When breached, the reader needs to become inactive, removing the opportunity for the intruder to enter through this access point.
Make it easy on the user
There are really two goals for an access control system. One is to keep unauthorised people out. The other is to let authorised people in. When the latter is compromised, all too many systems, though installed, are not employed.
Therefore, to assure the system gets used, make sure that the card readers selected also offer expanded hassle-free contactless convenience when entering and exiting secure facilities. There is now a special optimisation technology that automatically adjusts to a wide range of installation environments to provide consistent read range performance no matter where or on what the reader is mounted. It automatically detects and optimises the credential read field, even in challenging environments with metal surfaces. By optimising the card readers to any metallic or non-metallic environment, cardholders experience consistent reader performance, regardless of location or environment.
Further reading:
Smart parking management platform
Access Control & Identity Management Asset Management, EAS, RFID
Parket builds a seamless bridge between supply and the ever-increasing, but fluid – and often temporary – demand for parking bays.
Read more...
---
Visible-light facial recognition terminal
ZKTeco Access Control & Identity Management Products
The SpeedFace-V5L [P] is a visible-light facial recognition terminal using intelligently engineered facial recognition algorithms and the latest computer vision technology.
Read more...
---
Facial and palm verification
ZKTeco Access Control & Identity Management Products
The ProFace X [P] supports both facial and palm verification, with a large capacity and rapid recognition.
Read more...
---
Glide Master High Security 90° Sliding Gate
BoomGate Systems Access Control & Identity Management Products
Boomgate Systems was asked to make a sliding gate that can turn 90 degrees. The gate had to offer high security and be vandal-proof.
Read more...
---
Informing, entertaining and communicating across your landscape
Evolving Management Solutions Access Control & Identity Management
For the first time, the attraction of large shopping malls with many stores, entertainment and food courts no longer offers enough appeal to attract customers.
Read more...
---
Suprema's new BioStation 3
Suprema Access Control & Identity Management Products
The brand new BioStation 3 is not only Suprema's smallest face recognition device to date, but it also comes packed with the largest variety of features.
Read more...
---
Suprema renews international privacy and security standard certifications
Suprema News Access Control & Identity Management
Suprema has simultaneously renewed two important international standard certifications regarding information security management (ISO/IEC 27001) and privacy information management (ISO/IEC 27701).
Read more...
---
SuperVision biometric access control
Integrated Solutions Access Control & Identity Management Products
SuperVision is a time & attendance (T&A) biometric access control system Fourier IT has been developing and enhancing for 18 years.
Read more...
---
Manage energy usage with Paxton access control
Paxton Access Control & Identity Management Products
Paxton provides access control systems that can integrate with existing infrastructure and manage a building's energy-consuming activities to save energy and costs.
Read more...
---
Why Multi-Factor Authentication, universal ZTNA and Zero Trust matter
Access Control & Identity Management Cyber Security
Malicious cyber actors are experimenting with new attack vectors and increasing the frequency of zero-day and other attacks, according to Fortinet's 1H 2022 FortiGuard Labs Threat Landscape report.
Read more...
---