printer friendly version
When installing card readers: build a pathway to future card-based technologies
Access & Identity Management Handbook 2005
Access Control & Identity Management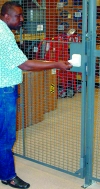 The 125 KHz proximity and Wiegand standards currently constitute the majority of the card-based access control market worldwide. The reluctance among these card issuers to move towards the more advanced smartcard technologies is primarily due to their extensive investments in legacy proximity/RFID/contactless technology. What has been needed is a reader that bridges the gap between the old and the wanted. Transition readers address this large segment of the market and should be considered when planning any type of new or refurbished access control system.
In a new world of standards, this is especially important. Compliance with multiple standards is needed in emerging applications that are being created by the recent homeland security and HIPAA (Health Insurance Portability and Accountability Act) legislations. They necessitate standards-based physical access control measures at a multitude of venues.
The architecture of transition card readers supports today's new physical access control initiative to establish flexible, scalable, non-proprietary platforms that let organisations maintain their current user bases and upgrade their access control systems to meet new security requirements within their own timelines and budget. With multitechnology transition card readers, companies can continue using their existing proximity cards and easily migrate to more secure access control using smartcards when the opportunity arises.
Other considerations for multitechnology cards
If a perimeter or card system is breached, it is really not enough to simply notify the control room. In many cases, there is no one monitoring the facility after hours. Even if monitored remotely, by the time someone can respond, the intruder has come and gone.
Therefore, it is important that multitechnology readers also provide 'intelligent supervision' that monitors the communication between the access control panel and the reader at the door. For instance, intelligent four-state supervision continuously monitors for a cut line, short circuit, closed circuit, and open circuit conditions at door contacts and request to exit (REX) connections. Tri-state LEDs and audible alerts will indicate status, alarm and perimeter-tampering conditions. An internal tamper switch will automatically alert security personnel if the reader is violated. This supervision ensures that security personnel are immediately notified if someone tampers with the reader, a door is breached or a circuit is bypassed, either by cutting or shorting. But, as stated earlier, this is not enough.
Upon an alert, you need the reader to be removed from the system. When breached, the reader needs to become inactive, removing the opportunity for the intruder to enter through this access point.
Make it easy on the user
There are really two goals for an access control system. One is to keep unauthorised people out. The other is to let authorised people in. When the latter is compromised, all too many systems, though installed, are not employed.
Therefore, to assure the system gets used, make sure that the card readers selected also offer expanded hassle-free contactless convenience when entering and exiting secure facilities. There is now a special optimisation technology that automatically adjusts to a wide range of installation environments to provide consistent read range performance no matter where or on what the reader is mounted. It automatically detects and optimises the credential read field, even in challenging environments with metal surfaces. By optimising the card readers to any metallic or non-metallic environment, cardholders experience consistent reader performance, regardless of location or environment.
Further reading:
Facial access control for ministry
Issue 1 2020, ZKTeco , Access Control & Identity Management
The Ministry of Culture in Saudi Arabia has adopted ZKTeco's facial recognition technology and fingerprint biometrics to manage access control into its building.
Read more...
---
New Door Pilot app from dormakaba
Issue 1 2020, dormakaba South Africa , Access Control & Identity Management
With new dormakaba Door Pilot, automated doors can also now be operated on the basis of remote control technologies. The system, comprising the Door Pilot app for smartphones and a Wi-Fi interface for ...
Read more...
---
Identity lifestyle
Issue 1 2020, Suprema , Access Control & Identity Management
Once the technology of the future, biometrics has quietly snuck into our daily lives through smartphones and access controls into our places of work.
Read more...
---
Securing BP's new head office
Issue 1 2020, ISF SFP , Access Control & Identity Management
ISF SFP was awarded the contract to secure the first development phase for Oxford Parks, the new head office for BP South Africa.
Read more...
---
Combining aesthetics and access control
Issue 1 2020, Turnstar Systems , Access Control & Identity Management
Prestigious law firm Bowman Gilfillan recently upgraded its physical security with the addition of four Turnstar Speedgate Express access control lanes.
Read more...
---
Video doorbells from Ring
Issue 1 2020 , Access Control & Identity Management
Ring has a number of video doorbells available in South Africa that run off batteries or power and enable users to answer their doors from anywhere.
Read more...
---
Centurion to unveil new product
Issue 1 2020, Centurion Systems , Access Control & Identity Management
Centurion Systems will be hosting its third Access Automation Expo this year, with dates confirmed for Durban, Johannesburg and Cape Town.
Read more...
---
Looking ahead with mobile access technologies
Access & Identity Management Handbook 2020, Technews Publishing, HID Global, dormakaba South Africa, Salto Systems Africa, Suprema, Gallagher , Access Control & Identity Management, Integrated Solutions
Given the broad use of smartphones around the world and the numerous technologies packed into these devices, it was only a matter of time before the access control industry developed technology that would ...
Read more...
---
Mobile access is more secure than card systems
Access & Identity Management Handbook 2020 , Access Control & Identity Management
The ability to use mobile phones as access credentials is one of the biggest trends in a market that historically has been slow in adopting new technology.
Read more...
---
This is the future. This is what we do.
Access & Identity Management Handbook 2020, ZKTeco , Access Control & Identity Management
ZKTeco has created a unique range of visible light facial recognition products combined with a flexible Android platform.
Read more...
---