printer friendly version
RDC - simply the best!
February 2005
News
Easy to install and operate, the RDC system is proving phenomenally popular with security companies.
A battle can seldom be won without state-of-the-art weapons. In the relentless fight against suburban criminals, it has therefore become vital to make modern security systems more and more sophisticated. Unfortunately, this complexity often means difficult installation, complicated operating procedures and time- consuming maintenance. Radio Data Communications (RDC) has introduced a welcome reversal to this trend. Its latest system, while arguably the most advanced available, is remarkably simple to install and operate, and has thus been in huge demand by security companies.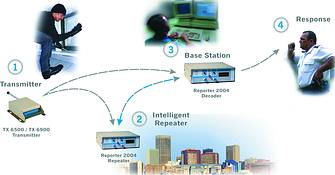 The diagram above shows the basics of the RDC system. Its ease of operation is obvious at a glance:
An RDC transmitter (1) is installed as part of an alarm system.
When a break-in occurs, the alarm is triggered and the transmitter sends a radio signal to the base station (3).
If the base station is far way, the signal travels via repeaters (2) ... and if it is closer, the signal travels directly. The base station automatically alerts the controller.
The controller then calls the client and dispatches a response vehicle (4).
Cutting-edge technology has been developed to optimise every aspect of installation and operation. The TX6500 and TX6900 synthesised transmitters, for example, offer unique features such as the internal pull-up resistors for negative trip and an LED that shows seven different transmitter conditions. The Reporter 8102, on the other hand, can be configured as a base station or a repeater. This simplicity and versatility, coupled with the low cost of the sets themselves, allow a network to be established quickly and cost-effectively, making it extremely popular with security operators of all sizes. All products are programmable in the field, adding to their appeal.
"Our latest products are more user friendly than ever," says Lee-Ann Andreka, RDC's sales and marketing director. "This has undoubtedly led to the phenomenal surge in sales over the past few months. Today's security operators are under enormous pressure to deliver excellent service in the face of mounting crime and increasing competition - the last thing they need is expensive downtime. RDC equipment is not just reliable; it is easy to install and use, and this frees personnel to fight crime."
Another reason for RDC's growing popularity is its many value-added services. These include free frequency usage (RDC operates frequencies for the exclusive use of its clients with no monthly rentals) and the frequency management department that handles ICASA applications and licence administration. A second value-added service is RDC's sophisticated 24-hour technical support line (082 444 7176). This was especially popular over the festive season amongst clients of RDC's competitors who had closed for the holidays! Yet another service that has proved a winner has been RDC's free training courses, especially its transmitter installation courses.
"Our value-added services are designed to simplify the entire security operation, just as our equipment is," says Andreka. "By taking care of unnecessary administration, empowering personnel to install and maintain equipment, and providing maximum backup, we are helping to make security companies do a difficult job better. Our aim, as our promise says, is to be much more than just technology. We are really offering a total security package, and will continue to do so."
RDC. Much more than just technology.
For more information contact Lee-Ann Andreka, RDC, 011 616 7685.
Further reading:
New hires at iPulse
Issue 7 2020, iPulse Systems , News
iPulse has welcomed two new employees into its ranks. Shai Weil has been appointed as operations director, while Corneli Botha is the new customer sales liaison.
Read more...
---
HID Global acquires Access-IS
Issue 7 2020, HID Global , News
HID Global acquires provider of miniaturised reader devices that combine key technologies for mission-critical markets.
Read more...
---
Securing digital transformation
Issue 7 2020 , News
Schneider Electric partners with Fortinet to strengthen ability to secure operations across the business lifecycle and unlock the advantages of a secure IIoT.
Read more...
---
Suprema integrates with Paxton's Net2 access control
Issue 7 2020, Suprema , News
Suprema has announced it has integrated its devices with Paxton's access control system, Net2.
Read more...
---
Free cybersecurity courses
Issue 7 2020 , News
Check Point Software partners with Harvard and MIT-founded edX to deliver free online courses to help close the cybersecurity skills gap.
Read more...
---
Fidelity partners with Auto & General Insurance
Issue 7 2020, Fidelity Security Group , News
Fidelity Services Group in partnership with Auto & General Insurance has launched Fidelity InSure, a comprehensive vehicle, home, and building insurance offering.
Read more...
---
More apps for open camera OS
Issue 7 2020 , News
The App Challenge will result in 21 new apps running on the Security & Safety Things' camera OS, based on the Android Open Source Project.
Read more...
---
Milestone Systems announces Thomas Jensen as new CEO
Issue 7 2020, Milestone Systems , News
Milestone Systems announced that its board of directors has appointed Thomas Jensen as chief executive officer. Jensen will assume the role on October 1, 2020.
Read more...
---
Suprema announces its first virtual event
Issue 7 2020, Suprema , News
Suprema will be hosting its first virtual event, Suprema Connect 2020, which is scheduled to take place over one month from September 15.
Read more...
---
From the editor's desk: Waiting for PoPI
Issue 7 2020, Technews Publishing , News
A while ago we heard of yet another cyber breach, this time from Experian.
Read more...
---