printer friendly version
Bits 'n Bytes
Access & Identity Management Handbook 2004
News
Welcome to this, the first Access Control Handbook.
An idea brought to us at Hi-Tech Security Solutions by industry specialists in access control, this Handbook is designed not so much to highlight access control products specifically, but to educate end-users and security professionals about the principles which underpin successful security solutions. We sincerely hope that you find it of value.
As you might appreciate, it is never easy to get end-users to discuss their security systems and solutions, but I have always maintained that one can do so without compromising security, simply by highlighting the principles of success. What to do, what not to do. And why? In this Handbook we have attempted to do just that, with a focus on case studies and best practices, trends and white papers. A special word of thanks to the contributors to this Access Control Handbook. Without their help we would never have got out of the starting blocks. You know who you are. Thank you.
Access out of control?
Do South African business and security professionals need education in access control? We all do. Whilst the principles of success might not change, the technology and integration trends are ensuring we are all in need of continued learning. A case in point, is that as I write this, there is a Saturday newspaper headline trumpeting the breach of security at Johannesburg International Airport by its reporters in the aftermath of a recently botched heist at the airport.
The journalist 'tested' access control measures at Johannesburg International Airport, and according to police, the journalist, in gaining access to certain restricted areas, committed a criminal offence.
Superintendent Eugene Opperman is quoted as saying that, "The Johannesburg International Airport ... is governed by the National Key Points Act. Members of the public, including journalists, who wilfully and illegally access certain areas without clear authority commit a criminal offence. If found guilty, such a person could be sentenced to a heavy fine or even imprisonment."
Surely the question should rather be 'how on earth did this journalist gain illegal access to a National Key Point'!
After all, that is what access control is all about. Restricting unauthorised people from entering areas out of their jurisdiction. It seems to me that the authorities should rather be taking a much closer look at the security technology, processes and people staffing security at these National Key Points, than threatening the layman with arrest. Any high-risk environment (such as an airport) should constantly evaluate itself for security breaches. These regular checks, much like a quality management system, will allow professionals to actively see how easily their systems can be breached, and where. One has to question whether such audits are taking place as regularly and systematically as they should be.
Have we covered it all?
Have we covered everything we would like to in this Access Control Handbook. No, not at all. We have barely scraped the surface. But there are gems of value in the case studies, opinion pieces, and white papers we have published, and I would encourage you to look beyond the pages of this Handbook. Securitysa.com will archive Standards, Legal Guides, Case Studies and White Papers related to the Access Control Handbook, which will bring you the depth that this 80-page publication cannot.
And if you feel we have missed something, or even missed it all, let me know. We will take your kudos and brickbats to heart.
Sincerely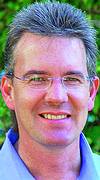 Darren Smith
Further reading:
Paxton opens first experience centre in South Africa
Paxton News Access Control & Identity Management
The new Paxton Experience Centre in Johannesburg is now open and welcoming security installers and end users who want to see Paxton's products in action.
Read more...
---
Paratus signs re-seller agreement with Starlink for Africa
News IT infrastructure
Pan-African telco and network services provider Paratus Group announced it has entered an agreement as a distributor for Starlink's high-speed services across the African continent, available immediately in Mozambique, Kenya, Rwanda and Nigeria.
Read more...
---
4IR is opportunity
News
In South Africa, digitalisation remains 'at a nascent stage' which means significant work still has to be done when it comes to addressing skills development around 4IR in the country.
Read more...
---
Five ways to reduce your cyber insurance premiums
Security Services & Risk Management News
With the global costs of cybercrime expected to soar to $13 trillion within the next five years, cyber insurance is booming as organisations try to mitigate the risk of financial losses.
Read more...
---
Client satisfaction boosted by 85% at Thungela Mine
Thorburn Security Solutions News Security Services & Risk Management Mining (Industry)
Thorburn Security, a division of Tsebo Solutions Group, has announced its recent collaboration with Kwa-Zulu Natal security company, Ithuba Protection Services, as part of its Enterprise Supplier Development (ESD) initiatives across Africa.
Read more...
---
Fidelity SecureFire steps into critical fire response space
News Fire & Safety
With the majority of fire stations around the country being crippled by a lack of resources to offer effective responses, Fidelity Fire Solutions has launched its own 'first responder' model, Fidelity SecureFire.
Read more...
---
The state of edge security report
News IT infrastructure
Edge computing has grown from being a niche use case in a handful of industries to offering a major opportunity for enterprises across industries to spread computing power around the world.
Read more...
---
CHI selects NEC XON as trusted cybersecurity partner
News Cyber Security Industrial (Industry)
CHI Limited, Nigeria's leading market player in fruit juices and dairy products, has engaged in a strategic cybersecurity partnership with NEC XON, a pan-African ICT systems integrator.
Read more...
---
Collaboration delivers integrated and holistic security
Guardian Eye CCTV, Surveillance & Remote Monitoring News Integrated Solutions
Guardian Eye and Lytehouse have partnered to integrate their speciality solutions and provide a holistic security offering that overcomes the fragmentation of security systems and services.
Read more...
---
Kaspersky appoints new GM for Africa
News Cyber Security
Kaspersky has announced the appointment of Andrew Voges as the new General Manager for Africa to boost regional market positioning and enterprise protection.
Read more...
---