printer friendly version
A decade of success for Securex
March/April 2004
Conferences & Events
Securex's 10 year milestone was reached with resounding success as this year's show once again got a thumbs up from visitors and exhibitors alike. From humble beginnings Securex has grown into South Africa's premier Security, Protection & Safety Exhibition which is set to embrace another decade of powerful business.
Held at the world class Sandton Convention Centre, Securex 2004 attracted some 4275 visitors over the three-day period of the show, 129 of whom were foreign visitors hailing from 27 different African and overseas countries, such as Botswana, Namibia, Zimbabwe, Italy, Korea, Switzerland, Australia, UK and China.
"As South Africa's most comprehensive and established security, protection and safety trade exhibition, Securex has placed itself firmly on the international trade exhibition calendar and has become an event not to be missed by local and international business people," says Lynn Kennedy, director of Exhibitions for Africa, the organisers of the show.
Kennedy goes on to say that Securex has also become a strong platform for international exhibitors who are keen to enter the South African market, which offers great potential in this sector.

Continental Security
Exhibitor comments
Jonathan Kahn of Trac-Tech had this to say about Securex 2004, "We had an excellent show and have already booked for next year. This year's show was of a superb quality and it exceeded our expectations. Exhibiting at Securex is important as it offers us a one to one marketing tool. It is a perfect selling opportunity for future business."
Based in the Czech Republic, Antonin Bernard/Beril SA aims to expand its activities into Africa, and Peter Polusny says Securex is the best platform to do so. "Securex is a good, specialised show that is very competitive compared to other international shows."
"We are the largest company to manufacture fire systems in the Middle East, and we heard about Securex via the Internet. Because we are an export business, we know we get leads from exhibitions and we will therefore definitely exhibit again," says Mohamed Nadeem Siddiqui of Naffco.
Gunder Holst of Fermax, a Spanish company, echoes Securex's trading opportunities. "We are trying to expand our business to southern Africa and through Securex we already received enquiries from Kenya and Namibia, and many from South Africa. We attend other international shows in India, Frankfurt and Spain, and Securex is a very good show. It is excellent for the security industry because it is small and focused."
Impro's sales manager, Gerrie Van Tonder, said that although the show appeared to be smaller than previous years it attracted more than 4000 people, and Impro's stand proved to be a very popular stand, with potential new installers, corporate end-users and representatives of a number of government departments present.
Added Van Tonder, "Perhaps the biggest compliment during the show came from one of our competitors, who expressed his appreciation and admiration for where Impro is today. We should not, however, become complacent as the dynamic nature of the access control and building management market dictates that we continue to consider new features and remain vigilant as to what our competitors are offering."
Jacky Chen of 3GNET Technology, a leading manufacturer of high quality CCTV solutions in Taiwan, said that 3GNET had enjoyed a great Securex 2004, with more than 700 customers at its stand. "We had," he said, "a very successful show."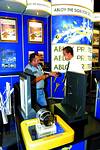 ASSA ABLOY
New product launches
A large number of exhibitors also used Securex as a launch pad for their new products and services. "We developed a new security software application and waited to launch the product at Securex. On our first day of trading we were busy throughout the day and by the second day we simply did not have enough staff to man the stand. We had good, solid leads and big companies such as Anglo and De Beers visited our stand," says Dewald Vorster of Online Intelligence.
New kids on the block
Amongst the list of loyal and long time exhibitors were several new kids on the block. "It was our first time exhibiting and we think the show is amazing. We wanted to be seen where the competition is and we received good leads with high industry interest. The venue is also fantastic," says Geraldine Greene of Roboguard.
"This is the first time Unisto exhibited, however I have exhibited with other companies in the past and I can honestly say this was the best Securex yet. Client feedback, visibility, security and vibe were better than ever before. We had an unbelievable response. The bar has somehow been raised with a better calibre of visitor. The venue, including organisation and parking, was excellent," says Claudia Zellmer of Unisto Seals.
Peter Warburton of Senstar-Stellar comments that "South Africa has a small security market, so this show is a good representation of the market in this country. We came last year from Canada as visitors and decided to exhibit this year."
Stand judging
The visual appeal of the show certainly drew in favourable comments from visitors to Securex and stand judging once again proved a difficult task. All exhibitors were applauded for their efforts but the best stand awards in the various categories went to the following exhibitors:
Best small stand
* Winner - Telkom SA.
* Highly commended - Siemens Building Technology; FSK Electronics; Radio Data Communications.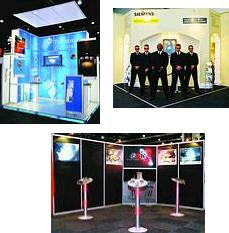 Telkom SA won the Best Small Stand award at Securex 2004, with Siemens Building Technologies, FSK Electronics and Radio Data Communications all Highly Commended
Best medium stand
* Winner - Vision Catcher.
* Highly commended - Impro Technologies; Lockwise; Thales Advanced Engineering.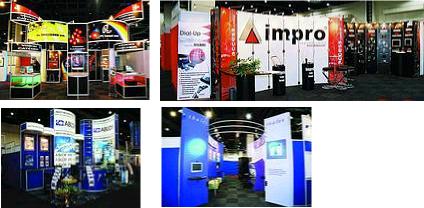 Vision Catcher won the Best Medium Stand award at Securex 2004, with Impro Technologies, Lockwise and Thales Advanced Engineering all Highly Commended
Best large stand
* Winner - Texecom.
* Highly commended - Transaction Control Technologies; Sanyo SA; Panasonic.

Radio Data Communications won Highly Commended in the Best Small Stand category at Securex 2004, with HID winning the Best International Stand
Best International stand
* HID.
When congratulated on Texecom's best large stand award at Securex 2004, Texecom's Audra Joubert replied, "Many thanks, it felt great to achieve the award as I believe we did go the extra mile and it is always good to know you have achieved what you set out to. We felt the show was a great success, we were located in the right spot this year as we were always busy. Receiving the award re-enforces Texecom's commitment to the industry and customer satisfaction. We have now made our mark but will not stop here."
Niall Beazley of Vision Catcher, one of the stand winners says, "We realise the value of marketing, which is why we have dynamic stands every year."
Vision Catcher continues to fly
Vision Catcher introduced a myriad of variations with its range of digital solutions demonstrated at Securex 2004, a great stand and a bustling presence culminating in its winning the Best Medium Stand Award.
Says Niall Beazley of Vision Catcher, "Chateau was introduced as a medium to low-end card and software solution that had many people commenting on the excellent prices offered, nearly R2000 cheaper than its major rival products. Vision Catcher has, in agreement with the importers, embarked upon offering proper support to the Chateau range with options for card and software or complete build purchases. We thank Steven Hsu (MD) and Braam Combrink for their support at Securex."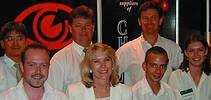 The Vision Catcher team with Steven Hsu and Braam Combrink
Adds Beazley, "Pro is our latest model from the Novex range. This has replaced the VC2000 although current software upgrades are still available on VC2000. Pro has superb picture quality with variable codecs offering you a choice of compression according to your requirements. At Securex we ran the Pro in conjunction with facial recognition, number plate recognition and fingerprint readers. What impressed most people was our ability to use recorded material and create an 80% to 90% success rate on facial matches. This was further enhanced with reference to the more exact other biometric links.
"Novex software is now totally remotely controlled through html and java script providing a wide range of integration options. A simple interface with the playback module allows a switch to the biometrics interface giving users prompt analysis and confirmation of the relevant person involved. We have also integrated this solution to a number of management information systems which are working to great effect," concludes Beazley.
For more information contact Niall Beazley, Vision Catcher, 011 463 9797, info@visioncatcher.co.za, www.visioncatcher.co.za
ProSys Security System garners interest and praise
The staff of Sesco Security were tired but exhilarated following a very successful Securex 2004. Rishi Raghubar, Sesco's national technical consultant was particularly upbeat and had this to say about the show, "It was phenomenal, one of the best exhibitions ever!
"Not only did a good number of our clients visit the show, the quality of the clients was good with many of the 'big guys' in the industry showing a great deal of interest in our stand. We were extremely busy over all three days and the main focus of interest was definitely the Professional Series of digital video recorders (DVRs) with many customers expressing their satisfaction with the capabilities of these products."
The other centre of attention was the ProSys Security System which offers a cost-effective integrated system with access control for small and medium-size businesses. Recognising that the future of the security industry lies in integrated networks, Rokonet, the designers and manufacturers of ProSys added this option to its line of systems. Says Sesco's Robin Albany, "Most customers expressed approval with the system's unique scalability which allows it to grow together with the customer - a small business can begin with two-door access and expand to 16 over time, at its own pace, saving the expense of a new system."
Adds Albany, "Over the past few years Sesco has expanded its range of control panels and can more than satisfy the market with its comprehensive range of panels - this means that the smallest domestic application right through to the most complex industrial installation can be catered for."
For more information contact Robin Albany, Sesco Security, 011 792 2203, md@jhb.sesco.co.za, www.sesco.co.za
Computer User Technology Solutions (CUTS) officially becomes GeoVision South Africa
The name of Computer User Technology Solutions (CUTS), the sole authorised distributor of the GeoVision product range for Africa, has officially been changed to GeoVision South Africa. Timeously, GeoVision SA hosted the GeoVision marketing manager for Africa and the Middle East, Max Yu, from Taipei (Taiwan), during the recent Securex 2004 exhibition.
Says GeoVision's Philip de Beer, "Max spent most of his time visiting GeoVision installations, spending time with both installers and large end-users around the Gauteng and North West provinces. He also spent three days in Cape Town to familiarise himself with the challenges faced in that part of South Africa."
Added de Beer, "GeoVision SA also introduced Max to the locally developed Surveillance Manager System that was demonstrated at Securex 2004. He shared the local view that this system can enhance the quality of surveillance at any large installation. The system is specifically geared towards large complex installations such as casinos, large shopping centres and high security mining solutions.
"Apart form all the hard work, Max also unveiled the new offices that GeoVision South Africa has moved into. Staying in the same complex, the new offices more than doubles the previous space and incorporates a state of the art demo room that is made available by prior booking, to all our registered installers to use for product demonstrations," concluded de Beer.
For more information contact GeoVision SA, 012 664 0411, cuts@cuts.co.za, www.geovisionsa.co.za
Further reading:
How to choose which webinars to attend after lockdown
Issue 5 2020, Regal Distributors SA , Conferences & Events
The Regal Learning Academy has decided to provide training via live webinar streaming.
Read more...
---
Paxton expands free education offerings
Issue 4 2020, Paxton Access , Conferences & Events
In response to the recent global pandemic, Paxton has expanded its online installer training platform and launched a series of informative webinars.
Read more...
---
Open Source Intelligence post COVID-19
Issue 3 2020 , Conferences & Events
ASIS South Africa hosts Craig Pedersen in a webinar focused on open-source intelligence (OSINT).
Read more...
---
Making estate security work in the real world
Issue 2 2020, Technews Publishing , Conferences & Events
Hi-Tech Security Solutions is proud to have the CEO of Cotswold Downs, Shantelle Walters, presenting at the Residential Security Conference on the topic of 'Invisible Efficiency and Security.'
Read more...
---
The blessing and curse of communications
Issue 2 2020, Technews Publishing , Conferences & Events
In the Residential Security Conference 2020, Craig Rosewarne will delve into the murky world of cybercrime, while Rudi Potgieter will discuss the possibilities and benefits of a unified network.
Read more...
---
Technology at work to optimise security
Issue 2 2020, Technews Publishing , Conferences & Events
Artificial intelligence (AI) and drones are the latest additions to the security options for residential estates which will be discussed in the Residential Estate Security Conference 2020.
Read more...
---
Efficient and cost-effective risk management for estates
Issue 2 2020, Technews Publishing , Conferences & Events
Identifying your estate's vulnerabilities is key to being able to manage and maintain them effectively.
Read more...
---
Surveillance augmented by technology and people
November 2019, Technews Publishing , CCTV, Surveillance & Remote Monitoring, Conferences & Events
iLegal 2019 examined how the surveillance industry is being enhanced through the intelligent integration of the latest technology and the best people have to offer.
Read more...
---
Residential Estate Security Conference 2019
October 2019, Technews Publishing , Editor's Choice, Residential Estate (Industry), Conferences & Events
Hi-Tech Security Solutions hosted the Residential Estate Security Conference in August, focusing on the people, technology and processes involved in an effective security solution for estates.
Read more...
---
Securex West Africa returns in 2020
October 2019 , Conferences & Events, News
See more than 100 exhibitors over two days and join over 2500 professionals from more than 20 countries.
Read more...
---