printer friendly version
Bits 'n Bytes - The Millenium issue
Dec '99
News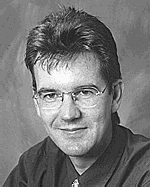 For the second year running, Hi-Tech Security Systems has been recognised by its peers in the publishing industry as a journal of quality. After winning the General Engineering category in 1998, Hi-Tech Security Systems this year ­received a Highly Commended Certificate in the same category, which was won by sister Technews publication, SA Instrumentation and Control.
Judged on editorial excellence, magazine design and print quality, Hi-Tech Security Systems and SA Instrumentation and Control were the only winners in this highly competitive and sought after category. As Managing Editor of Hi-Tech Security Systems I'd like to once again extend my sincere thanks to every-one involved in making it the respected publication that it is today. You've done us proud.
The challenges ahead
Without getting too wrapped up in all the hype surrounding the turn of the Century, it is perhaps instructive to look ahead at what the challenges of the next century will bring to us all. As business strategist Tony Manning asserts, "The good news is, we know more about it than we imagine."
Here then are some key issues that, according to Manning, will impact on almost every business in one way or another – if they're not doing so already:
Increasingly hostile competition
If you thought things were tough so far, fasten your seat belt! The business environment is about to heat up faster than ever for two reasons: First, the global economy is far from settled. For all the soothing sounds there are serious dangers ahead. At the moment the US economy is keeping everyone else happy, but just about every economist warns that sooner or later – and probably sooner – the bubble will burst. When it does, a lot of countries will be hurt.
There is huge over-capacity in most industries. Frantic mergers and acquisitions are taking some of it out, but meanwhile, price wars are hurting almost everyone. And in their anxiety to attract customers, many firms are emphasising their low prices – thus commoditising their own products!
Price deflation is here to stay. It will get much worse as shoppers use the Internet to scout the world for bargains. At the same time, quality and service are being driven up in an effort to stand out from the crowd.
Surgical shoppers
This new breed is both price and quality conscious. They demand the best for the least. There was a time when companies held sway, when they could bully customers – yes, and even take them for a ride – and get away with it. But no more. Today's customers know their rights. They have easy access to the media. So the 'tyranny of the minority' that Peter Drucker warned about is now reality.
It takes lots of customers to keep most companies alive. But it takes just one unhappy customer to kill its prospects in the market. Word-of-mouth is the most potent form of promotion. It's also the most damaging weapon in the hands of irritated customers!
Post-Y2K technology spending spree
For some time, companies have been concerned with fixing Y2K bugs. But chances are the hassle will be out of the system by about March 2000, after which technology ­budgets will be applied to opportunities rather than problems.
Starting about now, expect to see rapid changes in the way companies operate. Leaner value chains, more disintermediation, fewer full-time resident staff, more tele-workers, etc. Expect, too, to see firms accelerate their ­efforts to go the e-commerce route. There will be a rash of new business models, and company/product life cycles will shrink dramatically.
New business models
Everywhere you look today, companies are slashing costs in a frantic attempt to preserve their margins. And as prices continue to dive, the pressures will grow. In many cases, aggressive cost cuts are vital just to get an organisation into reasonable health. But this is almost always just a first step. Cutting costs has limits. Top-line growth is the next challenge. Without it, no manager can claim success, no firm will last for long and of course, shareholders will head for the hills.
The only way to simultaneously cut costs and add value – the only path to lasting profitable growth – is by changing the business model. There simply is no alternative.
By now, it's clear that yesterday's business models are either past their 'sell by' date or getting there fast. Yet executives are slow to see this – and slower still to act on the facts. Reality will ensure that business model design becomes the number 1 obsession of managers in the new century. So what are you waiting for?
Brain drain = black hole in most firms
Worldwide, there is a race for knowledge workers. Skills are at a premium. And their value will rise rapidly as smart companies embrace new technologies and use information more creatively. The problem is made worse by the fact that many of today's smartest youngsters aren't interested in corporate jobs: they see vast wealth being created all around them – and they want instant gratification too. There's just no reason to wait for the Porsche, the Rolex, or the sexiest Bose stereo system.
Already, South Africa is lagging in the brain stakes. The education system is in crisis and will take time to fix. Bright people are emigrating.
Most companies spend far too little on developing their most important asset – their people. Already, there is a ­serious skills gap in most organisations. In too many meetings, it's evident that a few capable people at the top are underpinned by weakness. In too many cases, even senior people are in over their heads. They just don't know how to think about the issues that face them; nor do they know how to turn ideas into action.
Have a restorative festive season
On behalf of my colleagues, thank you for your support in 1999. I wish you all a peaceful and restorative festive ­season. May you be well placed to take advantage of the promising business opportunities in the New Year, and well equipped to face up to the challenges we all face in the new millennium.
Regards
Further reading:
Gallagher to resell Invixium
Issue 3 2021 , News
Gallagher and Invixium recently announce a global agreement in which Gallagher will distribute Invixium products for access control.
Read more...
---
Innovation drives secure eSignature solutions for Africa
Issue 3 2021 , News
Impression Signatures and Striata recognised the need for secure, efficient and easily manageable eSignature solutions and have partnered to ensure easy access to safe, efficient eSignature solutions.
Read more...
---
Roy Alves appointed as national sales manager for J2
Issue 3 2021, J2 Software , News
As part of its global expansion strategy, cybersecurity firm J2 has appointed Roy Alves as its national sales manager to enable African businesses to identify and address their cyber capacity needs.
Read more...
---
Video security primer released
Issue 3 2021 , News
The right video management system can make an organisation smarter and more efficient, as well as more secure according to Eagle Eye Networks' new guide on evaluating cloud video surveillance systems.
Read more...
---
ACDC expands in Longmeadow
Issue 3 2021 , News
ACDC Dynamics and ACDC Express are hosting a customer day in Longmeadow, Edenvale on 28 and 29 May 2021.
Read more...
---
Urban branches bring the human connection back into the suburbs
Issue 3 2021, Fidelity Services Group , News
Advances in technology and evolving crime patterns have changed the face of the security industry, introducing a highly systems-driven approach to provide communities with the necessary support and technology innovation.
Read more...
---
Integrated video telematics solution
Issue 3 2021 , News
Webfleet Solutions, part of Bridgestone, launched Webfleet Video into the market. With Webfleet Solutions and Lytx integrated on one platform, users can access and manage both their vehicles and their ...
Read more...
---
From the editor's desk: Privacy is your responsibility
Issue 3 2021, Technews Publishing , News
We have a look at the Protection of Personal Information Act (PoPIA) in this issue, which is set to become a reality as of 1 July. We didn't have space for much information, but more on the topic will ...
Read more...
---
iPulse to distribute Hitachi's VeinID products
Issue 3 2021, iPulse Systems , News, Access Control & Identity Management
Hitachi Europe, a pioneer of finger vein biometric technology and iPulse Systems have announced a partnership to allow iPulse to distribute Hitachi's VeinID products and solutions in Africa.
Read more...
---
iPulse expands on all fronts
Issue 3 2021, iPulse Systems , News
iPulse Systems has expanded significantly in the past two months, bringing on board three new employees and moving offices to much larger premises, located in the same office park.
Read more...
---