printer friendly version
Fire protection for substations
June 2012
Fire & Safety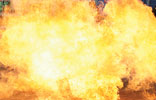 For industry the need to protect critical processes is crucial to minimise risk exposure that might be catastrophic, take lives and cost a company millions in lost production and recapitalisation. Substations are a key component in many critical processes mining, providing power to winders, crushers, conveyors, pump stations, etc. Any damage to a substation could result in severe or crippling losses to a mine, therefore fire protection is seen as a valuable requirement in the construction and mainten-ance of any substation as well as forming a vital thread in the overall fabric of any mining company's health and safety policy.
The principles behind fire protection of an enclosure are to:
* Have an early warning fire detection system.
* Have an effective fire extinguishing system.
* Detect and extinguish any fires.
Limitations of traditional methods
Gaseous extinguishing systems operate in conjunction with a smoke detection and control system. Typically, a smoke detection system will comprise optical and ionisation point smoke detectors located along the ceiling or roof section of a substation. While this will detect smoke, it is less than optimum for fire protection purposes, because it does not adequately meet the need of an early warning smoke detection system in the context of high-tension electrical cabinets inside an enclosure. Testing has shown that should a fire occur inside a pressurised IP55 cabinet, the fire would have to be well into its final stage before there is enough smoke emitted to reach the point smoke detectors.
It gets worse when operators consider the temperature inversion due to the effects of the sun on the corrugated iron roofs. Due to the difference in density levels between the air near the roof and the air below it, it requires a lot of smoke for Brownian motion to penetrate this layer and reach the smoke detectors. Heat detectors are not an option either since they will react at a much later stage.
New technology alternatives
For protecting substations, cutting-edge technology introduced by Alien Systems & Technologies ensures that all the principles of fire protection are met for cabinet fires that occur indoors, and more particularly, inside the electrical control cabinets within substations. The introduction of Pyrogen aerosol generators expands the choice of fire extinguishing mediums and advances the available detection and actuation methods.
The Pyrogen range of fire extinguishing aerosol generators, from 20 gram to 17 kilogram, has major advantages over gaseous extinguishing systems that use point detection systems. One is the ability to be situated internal to the volume to be protected, ranging from engine compartments in vehicles, aircraft, and marine vessels, to electrical and electronic equipment. The various methods of activation, plus the nature and composition of the post activation residue give the Pyrogen unit the advantage inside the cabinet.
Activation of the Pyrogen units includes electrical, thermal cord and self, and is described more fully opposite:
* Electrical, from a conventional fire alarm panel.
* Thermal cord attached to the Pyrogen unit, initiation at a pre-set temperature.
* Self-activation in the event that the two previous methods fail.
* The post-activation residue has a 24 kV insulation property, enabling immediate re-use of electrical equipment following replacement of the components which created the fire.
These design and construction features of Pyrogen enhance the normal 'failure to safety' required in fire extinguishing systems, resulting in fire detection and extinguishing systems employed in electrical equipment being a fail stage autonomous detection and fire extinguishing system. The system can be configured to require no external power or input fire signals, on standby 24 hours per day, for the 10 years installed life of the Pyrogen unit, all with minimum maintenance.
Advantages of fire detection and extinguishing systems fitted inside the cabinet
Electrical equipment, by requirement, is constructed to minimum IP55 protection i.e., gasketed doors, covers and fitments. This precludes the egress of smoke from any fire or electrical fault within any compartment of the switchgear being protected. This is especially true when the substation is ventilated by positive pressure fan systems. The fire would be of major proportions before the smoke detectors in the substation would activate and initiate the release of the fire extinguishing medium. When activated, the substation is flooded with the extinguishing medium having no means of ingress to the switchgear compartment. The result is burn out and destruction of the electrical switchgear panel in which the fire started.
The point smoke detection system, in addition to rigid servicing requirements, is susceptible to extraneous fumes being drawn into the substation by the substation fans resulting in the activation of the gaseous fire extinguishing system. As with a real fire, the system cylinders would have to be dismantled, refilled and re-assembled, during which time the substation is left with no fire extinguishing system.
The in-cabinet Pyrogen system, being impervious to extraneous fumes and smoke, would only activate on an actual fire within the cabinet being protected, thus requiring only one Pyrogen unit replacement, the remainder of the adjacent switchgear being left with full fire protection. Pyrogen aerosol generators localise the fire source and minimise collateral damage.
This article was first printed in SA Instrumentation and Control, www.instrumentation.co.za
For more information contact Alien Systems & Technologies, +27 (0)11 949 1157, sales@astafrica.com, www.astafrica.com
Credit(s)
Further reading:
Fire Beam Xtra covers up to 160 metres
October 2019, Technoswitch , Products, Fire & Safety
The Fire Beam overcomes traditional beam detection challenges where building movement and accessibility made beam detection unreliable and laborious to commission and maintain.
Read more...
---
Emergency voice communication system
October 2019, Technoswitch , Products, Fire & Safety
The Technoswitch Emergency Voice Communication Systems concept offers fire telephone and disabled refuge systems, as well as integrating emergency assist alarm systems in a single solution.
Read more...
---
Fast detection of smoke and flames
October 2019, Bosch Building Technologies , Editor's Choice, CCTV, Surveillance & Remote Monitoring, Fire & Safety
Video-based fire detection AVIOTEC from Bosch has been optimised for tunnels to provide early and reliable detection of smoke and flames in these dark environments.
Read more...
---
Choosing the right fire detection system
August 2019, FDIA (Fire Detection Installers Association) , Fire & Safety
Charles Thiong'o from the FDIA highlights important factors to consider when choosing a fire detection system.
Read more...
---
Local security technology manufacturer
August 2019, Technoswitch , Fire & Safety
Technoswitch, a South-African manufacturer, importer and distributor of fire detection and suppression equipment turned 45 this year.
Read more...
---
Fire detection and suppression for server cabinets
August 2019, Technoswitch , Fire & Safety
The TEC601, designed and manufactured by Technoswitch, is an all-in-one fire and extinguishing rack-mountable control system designed to protect electronic equipment in 19-inch server room cabinets.
Read more...
---
ORYX conventional fire panel range
August 2019, Technoswitch , Fire & Safety
The ORYX range of conventional panels from Technoswitch offers 2, 4 and 8 zone options, including weatherproof versions (with or without DIN rail) specifically suited to industrial applications.
Read more...
---
Next generation BlazeCut T-series
August 2019, Technoswitch , Fire & Safety
Designed to protect small enclosed spaces with greater risk of fire, the BlazeCut T-series system is easy to install.
Read more...
---
Emergency lighting and fire detection combination
August 2019 , Fire & Safety, Products
Hochiki Europe has launched FIREscape+, a system which combines emergency lighting, fire detection and wayfinding technology.
Read more...
---
Introducing Gulf Security Technology
August 2019, UTC Fire & Security SSA , Fire & Safety
Gulf Security Technology manufactures more than 16 million detectors and modules and more than 120 thousand control panels per year, making it one of the largest fire detection manufacturers in the world.
Read more...
---