printer friendly version
Formal security education
June 2012
News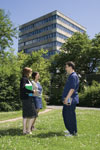 Hi-Tech Security Solutions spoke to UNISA's Prof Anthony Minnaar, head of the Programme Security Management in the Department of Criminology & Security Science, School of Criminal Justice, College of Law, about the security-related courses and career paths available to learners.
UNISA follows a flexible Open Distance Learning (ODL) tuition model, with students being broadly empowered and enabled to 'study wherever you are at your own pace and choice of time and number of modules per year'. The Security Management Programme at UNISA ­currently offers the following tertiary university qualifications:
* A three-year diploma in Security Management;
* The one-year degree (4th year level) Baccalaurius Technologiae (BTech) in Security Risk Management; as well as
* A postgraduate masters programme with the qualification Magister Technologiae (MTech) in Security Management (a full research dissertation).
"Masters graduates can also enter the doctoral (Phd) programme of the department where a full research thesis is the required outcome. Currently, in South Africa, these are the only active SAQA registered and Department of Higher Education and Training (DoHET) approved tertiary qualifications at all NQF university levels (NQF5-10) in Security Management, which are also accredited by the Council for Higher Education," says Minnaar.
Aimed at providing increased levels of professionalism within all sectors of the security industry, a qualification in Security Management and Security Risk Management will empower students to work as an investigating officer, operational officer, security supervisor/inspector, security site supervisor/manager, security operational manager, control room supervisors/managers, security risk managers, protection service managers and loss prevention managers.
Students can also elect to take an additional first level module in the diploma (fire prevention and safety strategies). "This is advantageous since many organisations and companies often delegate safety officer responsibilities to security practitioners," says Minnaar. The business, law, labour and managerial knowledge and skills which the diploma and degree provide, enhances the possible employment of diplomandi and graduates in corporations and organisations, as well as in government departments.
The security management tertiary qualifications currently being offered by the University of South Africa (UNISA) were developed in response to a specific need for accredited tertiary academic qualifications for the private security industry in South Africa with the first three-year diploma qualification accredited and started by the TechnikonSA in 1995.
This process was completed in close consultation with the industry, through an assessments of skills and competencies needed for a professional security officer, specifically at supervisory and management levels.
Five specialist streams were developed as core modules in the qualifications:
* Security practices and principles,
* Security risk management,
* Security risk control measures,
* Security technology and information security, and
* Corporate investigation.
An indication of the success of the programme is that the number of students undertaking the various courses offered has increased by 55,75% since the merger of the TechnikonSA with UNISA in 2004.
"Periodic skills and competency surveys are done with the industry to determine whether the range of skills being offered is suitable for the further professional enhancement of security practitioners. In addition, since 2008, an annual information breakfast is held with invited members from the industry to inform them of new developments; changes to curriculum in compliance with DoHET instructions; and implementation of new qualifications, such as the Advanced Diploma and Postgraduate Diploma in Security Management due for rollout in 2014 and 2015 respectively," says Minnaar.
Industry cooperation extends to the planning and writing of content for new modules, via process workshops. "In this way the content of each security management module's study guide, at the different study levels, is kept up-to-date and relevant for the security practitioner in the field," adds Minnaar.
"UNISA's Security Management Programme is also refined in consultation with the South African Institute for Security (SAIS) and one of our staff members, John Kole, has been elected to the SAIS Board of Governors. Further consultation with the Security Industry Alliance (SIA) and the Private Security Industry Regulatory Authority (PSIRA) provides students with a comprehensive input on their course content."
While acknowledging that the industry provides UNISA with support in terms of information and updating of study guides, Minnaar says there is not much dissemination and encouragement for staff at organisations and security companies to study further with university level qualifications. "For this reason, the Programme Security Management will be launching a Further Studies in Security Awareness Campaign to publicise our qualifications throughout the industry."
Credit(s)
Further reading:
Online fleet management system
Issue 1 2020 , News
Fleet Domain's online Fleet Management Information System is reducing operating costs and improving safety for South African logistics firms.
Read more...
---
Digital insurance bundle for assets and devices
Issue 1 2020 , News
My CyberCare is a specialist provider of personal, and SMME online cyber insurance, cyber detection and cyber monitoring solutions for both local and global consumption.
Read more...
---
IDEMIA to supply Morocco's national electronic ID cards
Issue 1 2020, IDEMIA , News
IDEMIA will supply Morocco with national electronic ID cards and introduce a secured digital identity online services platform.
Read more...
---
Rockwell Automation to acquire Avnet
Issue 1 2020, Rockwell Automation , News
Rockwell Automation announced it has signed an agreement to acquire privately held Avnet Data Security, an Israeli-based cybersecurity provider with over 20 years' experience providing cybersecurity services.
Read more...
---
The instruments for investigation
Issue 1 2020, Technews Publishing , Security Services & Risk Management
Regardless of the reason for investigation, the investigation is only as good as the investigators.
Read more...
---
Do we really want simplicity?
Issue 1 2020, Technews Publishing , News
Everything today has to be simple, easy and fast. Even access to your bank account has to fit these adjectives and banks spend significant time and money trying to ensure their web and mobile interfaces ...
Read more...
---
Longse Distribution to become LD Africa
Issue 1 2020, LD Africa , News
Brendon Whelan, sales manager for Longse Distribution, announced that the company officially changed its name to LD Africa as of 20 January 2020.
Read more...
---
Three expos in one
Issue 1 2020 , News
Looking ahead to 2020 Vision: combined Securex South Africa, A-OSH EXPO and Facilities Management Expo 2020 promises to be even bigger and better.
Read more...
---
Security events you can't miss in 2020
Issue 1 2020, Technews Publishing , News
Hi-Tech Security Solutions will host a number of focused events in 2020 to highlight the latest in security technology and the operational benefits they deliver.
Read more...
---
David Shapiro to chair ESDA
Issue 1 2020, ESDA (Electronic Security Distributors Association , News
The Electronic Security Distributors' Association (ESDA), established in 1989, has elected David Shapiro as its chairperson for 2020.
Read more...
---