printer friendly version
ONVIF hits the spot
September 2011
News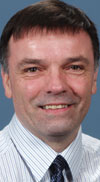 Mark Wilson touts the benefits of ONVIF.
There is simply no question about it. End-users want the increased benefits of digital/IP video. But they (whether end-user or integrator) run into big roadblocks on their journey from analogue to digital. With digital surveillance, it is no longer simple to mix and match analogue cameras and DVR brands. With digital, the basic components of a network video system are often non-standard, including the IP camera, NVR (network video recorder) and video management software (VMS).
Integrators have been tearing their hair out because, seemingly, every digital camera vendor has created a separate camera interface. There are standards in the networked surveillance industry – compression (H.264, MPEG-4) and streaming (RTSP), for example – but control and command interfaces are not standard yet. Thus, software and NVR manufacturers must create camera-specific interfaces to their solutions.
The good old days of analogue plug-and-play are of the past. Now, there is the challenge of interoperability among hardware to hardware and hardware to software implementations. As a result, many integrators are hesitant to promote digital surveillance solutions even though their customers want them.
To help, leading VMS vendors, including Milestone and Video Insight, have integrated hundreds of cameras and encoders into their platforms. Even so, integration between devices is lacking. For instance, the software supports some features on one camera but not on another. Again, it is the integrator that is on the line, having to determine if and how much interoperability there is between the selected software, cameras and recorders.
This is the crux of why ONVIF (Open Network Video Interface Forum) has become so important. If a product carries ONVIF certification, integration is standardised. ONVIF certified products work with other ONVIF certified products. If the integrator and end-user agree on using only ONVIF certified products, we are on our way back to the plug-and-play world of analogue.
Why ONVIF?
ONVIF is real. It provides a standard to address interoperability problems in network video, including such important needs as defining interfaces for device configuration, event handling, PTZ control and similar issues. Most importantly, it has been embraced by the great majority of digital/IP manufacturers, software and hardware. This will be verified by a quick stroll through most of the leading events globally. Booth after booth will tout ONVIF certification.
For more information contact Infinova, [email protected], www.infinova.com
Further reading:
AI Video Analytics
News
Stand a chance to win a share of R50,000 in prizes by testing the effectiveness of DeepAlert's cloud-based AI video analytics on your own surveillance footage or images.
Read more...
---
NEC XON modernises its security operations using MDR
iOCO Software News Cyber Security
The landscape of cyber threats has evolved dramatically, with cybercriminals becoming more interconnected and resourceful. This shift has necessitated the rapid acceleration of MDR services, which serve as a formidable bulwark against the modern adversary and promote business resilience.
Read more...
---
Texecom increases support in the EMEA with key appointments
Editor's Choice Perimeter Security, Alarms & Intruder Detection News
Texecom announced two new appointments to its EMEA sales team: Thomas Vanden Wyngaerdt as Head of EMEA Sales and Tom Wright as EMEA Account Manager.
Read more...
---
Cyber incidents result in a 9% decrease in shareholder value
News Cyber Security
Aon published its 2023 Cyber Resilience Report, revealing that, on average, a significant cyber incident resulted in a 9% decrease in shareholder value – over and above the market – in the year following the event.
Read more...
---
Paxton opens first experience centre in South Africa
Paxton News Access Control & Identity Management
The new Paxton Experience Centre in Johannesburg is now open and welcoming security installers and end users who want to see Paxton's products in action.
Read more...
---
Paratus signs re-seller agreement with Starlink for Africa
News IT infrastructure
Pan-African telco and network services provider Paratus Group announced it has entered an agreement as a distributor for Starlink's high-speed services across the African continent, available immediately in Mozambique, Kenya, Rwanda and Nigeria.
Read more...
---
4IR is opportunity
News
In South Africa, digitalisation remains 'at a nascent stage' which means significant work still has to be done when it comes to addressing skills development around 4IR in the country.
Read more...
---
Five ways to reduce your cyber insurance premiums
Security Services & Risk Management News
With the global costs of cybercrime expected to soar to $13 trillion within the next five years, cyber insurance is booming as organisations try to mitigate the risk of financial losses.
Read more...
---
Client satisfaction boosted by 85% at Thungela Mine
Thorburn Security Solutions News Security Services & Risk Management Mining (Industry)
Thorburn Security, a division of Tsebo Solutions Group, has announced its recent collaboration with Kwa-Zulu Natal security company, Ithuba Protection Services, as part of its Enterprise Supplier Development (ESD) initiatives across Africa.
Read more...
---
Fidelity SecureFire steps into critical fire response space
News Fire & Safety
With the majority of fire stations around the country being crippled by a lack of resources to offer effective responses, Fidelity Fire Solutions has launched its own 'first responder' model, Fidelity SecureFire.
Read more...
---