printer friendly version
ONVIF hits the spot
September 2011
News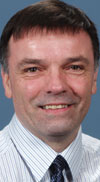 Mark Wilson touts the benefits of ONVIF.
There is simply no question about it. End-users want the increased benefits of digital/IP video. But they (whether end-user or integrator) run into big roadblocks on their journey from analogue to digital. With digital surveillance, it is no longer simple to mix and match analogue cameras and DVR brands. With digital, the basic components of a network video system are often non-standard, including the IP camera, NVR (network video recorder) and video management software (VMS).
Integrators have been tearing their hair out because, seemingly, every digital camera vendor has created a separate camera interface. There are standards in the networked surveillance industry – compression (H.264, MPEG-4) and streaming (RTSP), for example – but control and command interfaces are not standard yet. Thus, software and NVR manufacturers must create camera-specific interfaces to their solutions.
The good old days of analogue plug-and-play are of the past. Now, there is the challenge of interoperability among hardware to hardware and hardware to software implementations. As a result, many integrators are hesitant to promote digital surveillance solutions even though their customers want them.
To help, leading VMS vendors, including Milestone and Video Insight, have integrated hundreds of cameras and encoders into their platforms. Even so, integration between devices is lacking. For instance, the software supports some features on one camera but not on another. Again, it is the integrator that is on the line, having to determine if and how much interoperability there is between the selected software, cameras and recorders.
This is the crux of why ONVIF (Open Network Video Interface Forum) has become so important. If a product carries ONVIF certification, integration is standardised. ONVIF certified products work with other ONVIF certified products. If the integrator and end-user agree on using only ONVIF certified products, we are on our way back to the plug-and-play world of analogue.
Why ONVIF?
ONVIF is real. It provides a standard to address interoperability problems in network video, including such important needs as defining interfaces for device configuration, event handling, PTZ control and similar issues. Most importantly, it has been embraced by the great majority of digital/IP manufacturers, software and hardware. This will be verified by a quick stroll through most of the leading events globally. Booth after booth will tout ONVIF certification.
For more information contact Infinova, [email protected], www.infinova.com
Further reading:
Johnny Aucamp joins iPulse exco
News
Johnny Aucamp has joined iPulse Systems as its chief sales officer (CSO), adding a massive boost to the executive team.
Read more...
---
From the editor's desk: Security and resilience
Technews Publishing News
It's often said that South Africans are a resilient bunch, and history has proven this correct. When it comes to security, both cyber and physical, resilience is key to an effective defensive plan. ...
Read more...
---
Hikvision aims for solutions
Technews Publishing Hikvision South Africa Editor's Choice CCTV, Surveillance & Remote Monitoring News Integrated Solutions Conferences & Events
Hikvision recently held a roadshow titled Industry X, where the company highlighted its latest products and solutions, supported by partners and distributors.
Read more...
---
Olarm launches PRO 4G communicator
Olarm News Perimeter Security, Alarms & Intruder Detection Products
Olarm has announced an additional 4G/LTE version of its Olarm PRO smart communicator. It is aimed at areas suffering from poor connectivity by providing support for 4G, 2G and Wi-Fi networks.
Read more...
---
ADI Expo returns to South Africa
Technews Publishing ADI Global Distribution News
September saw the return of the ADI Expo to South Africa. The Johannesburg event was held at the Focus Rooms and the Durban event, two days later, at the Southern Sun Elangeni & Maharani.
Read more...
---
Technoswitch Awards dinner for 2022
Technews Publishing News Fire & Safety
Technoswitch hosted its fifth awards dinner at Montecasino in September, where customers and suppliers celebrated a year of success.
Read more...
---
Suprema joins FiRa Consortium
Suprema News Access Control & Identity Management
Suprema recently became a member of the FiRa Consortium, a consultative body that establishes standards for ultra-wideband (UWB) technology, the next generation of wireless communication.
Read more...
---
Reliable, low-maintenance video appliances
Technews Publishing Editor's Choice CCTV, Surveillance & Remote Monitoring News IT infrastructure Products
Symetrix, part of the Agera Group, has added the AES range of video recording servers, storage appliances and workstations to its portfolio.
Read more...
---
ZYTEQ Fire Engineering Summit 2022
ZYTEQ Fire Fire & Safety News
Cape Town-based ZYTEQ Fire hosted its inaugural Engineering Summit at the Commodore Hotel in Cape Town and the Leonardo Hotel in Sandton, Johannesburg.
Read more...
---
Nomad launches early adopter programme
Editor's Choice News Integrated Solutions Smart Home Automation
Participants in Nomad's Early Adopter Programme will receive 10% of their volume order to facilitate testing before the commercial launch later this year.
Read more...
---