printer friendly version
Oiling the wheels of industry
August 2011 Access Control & Identity Management, Industrial (Industry)
Smartcards are allowing oil and gas companies to better safeguard staff and sites.
Oil and gas companies continue to innovate in smartcard technology. Facing risks to the security of their assets and operations, these organisations are pioneering new approaches to identity and access management (IAM) and network security by combining physical and logical access onto a single smartcard. This not only improves security and convenience for the staff, but also allows companies to realise the operational efficiencies that convergence delivers.
In the past, many oil and gas companies relied on multiple credentials and access control systems to fulfil different tasks, resulting in the proliferation of single-purpose systems running in parallel. In addition to being resource-intensive, disparate access control and security systems do not scale and can be costly to integrate.
A consolidated strategy is therefore crucial. Today, converged systems are employed to secure a wide range of sensitive oil and gas assets, including off-shore floating production, storage and offloading (FPSO) units; and on-shore production and transportation facilities such as pipelines, ports, and refineries.
Meeting multiple challenges at scale
Aside from hazardous materials and harsh working environments, numerous factors expose oil and gas companies to significant risk. The remoteness of sites, poor quality of local infrastructure, and geopolitical instability make installations susceptible to malicious attack, and a security breach has the potential to endanger staff, the local environment and, at worst, the stability of national energy grid infrastructures. In addition, these factors are magnified by the scale of the operations entailed.
Embracing all of the policies, processes, and procedures there are two major aspects to consider when managing and controlling access to information and resources:
* Physical access to sites – often delivered via hardware and software components including access control readers, which are autonomous devices performing the single purpose of interfacing with credentials.
* Logical access to computer networks – information technology access control procedures that restrict a user's ability to interface with computing and networked resources and data. These procedures include secure authentication, data encryption, single sign-on, and remote access.
Logical credentials are virtual or knowledge-based 'tokens', such as a password or PIN (personal identification number), although for enhanced security, a physical credential might also be employed for another layer of authentication. Physical credentials include security tokens such as key chains and USB devices, but it is smartcards that have become the most widely deployed. According to Global Industry Analysts (GIA), the global market for smartcards is forecast to reach US$26,3 billion by 2015, driven by security and infrastructure projects and the ongoing shift to replace traditional magnetic-stripe cards in banking/financial institutions with the latest chip-and-pin payment technology.
A pipeline of practical solutions
That being said, there is no one-size-fits-all approach to a comprehensive smartcard- and IAM strategy in the oil and gas industry, and a host of factors surround specific vulnerabilities, the level and type of threats faced, and the physical environment.
For example, in many upstream sites, there are environmental challenges such as heat, dust, and risk of explosions. These may preclude the use of biometric readers, and call for IP-rated solutions. In the office environment, the risk of a physical attack or accident may be lower, but the threat to information security is most likely greater, thus a physical credential may be employed. Combining logical and physical access onto a single smartcard results in significant cost savings because the same credential can be used for multiple applications.
However, consolidated strategies entail much more than simply the credential and the control reader. To ensure a balance between convenience and security, access rights should be centrally managed, calling for a holistic approach that integrates operational support systems, network infrastructure and facility management solutions.
Smartcards have become the solution of choice for oil and gas industry applications because they guarantee higher levels of cryptography and security than that offered by legacy 'prox' card solutions, and they drive efficiencies and cost savings by enabling the same credential to be used for many other applications such as cashless vending as well as other mobile applications.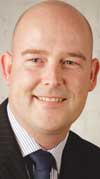 Ian Compton
For more information contact HID Global, +44 1440 714 840, brabasse@hidglobal.com, www.hidglobal.com
Credit(s)
Further reading:
Facial access control for ministry
Issue 1 2020, ZKTeco , Access Control & Identity Management
The Ministry of Culture in Saudi Arabia has adopted ZKTeco's facial recognition technology and fingerprint biometrics to manage access control into its building.
Read more...
---
New Door Pilot app from dormakaba
Issue 1 2020, dormakaba South Africa , Access Control & Identity Management
With new dormakaba Door Pilot, automated doors can also now be operated on the basis of remote control technologies. The system, comprising the Door Pilot app for smartphones and a Wi-Fi interface for ...
Read more...
---
Identity lifestyle
Issue 1 2020, Suprema , Access Control & Identity Management
Once the technology of the future, biometrics has quietly snuck into our daily lives through smartphones and access controls into our places of work.
Read more...
---
Securing BP's new head office
Issue 1 2020, ISF SFP , Access Control & Identity Management
ISF SFP was awarded the contract to secure the first development phase for Oxford Parks, the new head office for BP South Africa.
Read more...
---
Combining aesthetics and access control
Issue 1 2020, Turnstar Systems , Access Control & Identity Management
Prestigious law firm Bowman Gilfillan recently upgraded its physical security with the addition of four Turnstar Speedgate Express access control lanes.
Read more...
---
Video doorbells from Ring
Issue 1 2020 , Access Control & Identity Management
Ring has a number of video doorbells available in South Africa that run off batteries or power and enable users to answer their doors from anywhere.
Read more...
---
Centurion to unveil new product
Issue 1 2020, Centurion Systems , Access Control & Identity Management
Centurion Systems will be hosting its third Access Automation Expo this year, with dates confirmed for Durban, Johannesburg and Cape Town.
Read more...
---
Looking ahead with mobile access technologies
Access & Identity Management Handbook 2020, Technews Publishing, HID Global, dormakaba South Africa, Salto Systems Africa, Suprema, Gallagher , Access Control & Identity Management, Integrated Solutions
Given the broad use of smartphones around the world and the numerous technologies packed into these devices, it was only a matter of time before the access control industry developed technology that would ...
Read more...
---
Mobile access is more secure than card systems
Access & Identity Management Handbook 2020 , Access Control & Identity Management
The ability to use mobile phones as access credentials is one of the biggest trends in a market that historically has been slow in adopting new technology.
Read more...
---
This is the future. This is what we do.
Access & Identity Management Handbook 2020, ZKTeco , Access Control & Identity Management
ZKTeco has created a unique range of visible light facial recognition products combined with a flexible Android platform.
Read more...
---