printer friendly version
The new NSDS III strategy
June 2011
News & Events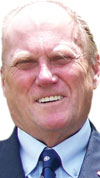 Terry Scallan discusses the new skills development strategy.
I have recently received quite a few questions on what is the new NSDS III strategy. This strategy will, as in other industries, affect the private security industry in South Africa. This will be my first article of two that will hopefully explain this skills development strategy.
NSDS means National Skills Development Strategy and the III is the third of these strategies to be implemented by government and replaces the previous ones. It is also the first strategy to be implemented since the Department of Higher Education which took over Skills Development from the Department of Labour.
The NSDS 111 strategy was implemented as of 1 April 2011 and will be the government's major skills development strategy for the next five years. It will be implemented throughout the 21 Sector Education and Training Authorities (SETAS) and is aimed at introducing a new phase to these SETAS, whereby their scope and mandate is to be investigated, and to assist them in improving their functions and performance.
The strategy is an all-encompassing guide for skills development in South Africa and will provide direction to sector skills planning and the implementation on SETA level. It is aimed at creating a skilled and capable workforce that will be able to contribute to the economic growth of South Africa. It further will strive to increase access to high quality and relevant education, and training, and enable all citizens to participate in the economy, and in society as a whole. The purpose then of the NSDS 111 strategy is as follows:
* To improve the effectiveness and the efficiency of skills development.
* To create an easier path from school to college or university.
* To evaluate and address blockages in the skills development system.
* To increase the number of artisans in the various industries (in the security industry we can relate this to alarm, CCTV, access control and gate automation technicians), and
* To be of assistance to those people who lack basic numeracy and literacy skills as well as technical skills, and to enable such people to acquire these skills.
The strategy goes on to promote partnerships between employers, further education and training colleges, universities, private training providers and SETAS. It will include certain transformational priorities such as race, class, gender, geographical considerations, age differences and HIV/AIDS. In this the SETAS will have to deliver a service that will address employer demands and deliver the necessary results.
Key institutions such as the National Skills Fund and the National Science Foundation will ensure the success of NSDS III in meeting the challenge of skills development in South Africa.
In my next article I will conclude with the goals of the NSDS III strategy as well as the underlying principles.
For more information contact Terry Scallan, +27 (0)72 231 4557.
Further reading:
Pentagon appointed as Milestone distributor
Elvey Security Technologies News & Events Surveillance
Milestone Systems appointed Pentagon Distribution (an Elvey Group company within the Hudaco Group of Companies) as a distributor. XProtect's open architecture means no lock-in and the ability to customise the connected video solution that will accomplish the job.
Read more...
---
Re-introduction of the booking system
PSiRA (Private Security Ind. Regulatory Authority) News & Events
[Sponsored] PSiRA is reintroducing the booking system for branch visits. Effective Monday, 4 December 2023, clients will be required to book a slot to visit any PSiRA branch.
Read more...
---
From the editor's desk: A sad but exciting goodbye
Technews Publishing News & Events
Welcome to the final monthly issue of SMART Security Solutions. This is the last issue of the year and the last monthly issue we will print. The SMART Security Solutions team wishes all our readers and advertisers a relaxing festive season and a peaceful and prosperous 2024.
Read more...
---
Regal celebrates successful golf day
Regal Distributors SA News & Events
Regal Distributors held its first official Regal Golf Day on 18 October at the Glendower Golf Course in Johannesburg. SMART Security Solutions was there on a hot summer's day to meet many players and sponsors around the course.
Read more...
---
Gallagher Security releases Command Centre v9
Gallagher News & Events Access Control & Identity Management Integrated Solutions
Richer features, greater integrations, with the release of Gallagher Security's Command Centre v9 security site management software designed to integrate seamlessly with various systems and hardware.
Read more...
---
Regal launches direct-to-branch WhatsApp communication
Regal Distributors SA News & Events
With a quick scan of a QR code and a few taps on your phone, installers, integrators, technicians or even end-users can chat directly with the team at their preferred Regal branch via WhatsApp
Read more...
---
FM Expo highlights industry trends and challenges
Securex South Africa News & Events Facilities & Building Management
Keeping tabs on what is happening within the building/facilities management arena can be frustrating, however, a quick way to find out what current trends, challenges, and solutions are available can be found at the Facilities Management Expo.
Read more...
---
South Africa shows a 1200% increase in deepfake fraud
News & Events Risk Management & Resilience
Sumsub released its third annual Identity Fraud Report of the year, analysing identity fraud across industries and regions based on millions of verification checks across 28 industries and over 2 million fraud cases.
Read more...
---
Projections for 2024's Advanced Threats Landscape
News & Events Information Security
Kaspersky Global Research and Analysis Team (GReAT) experts offer insights and projections for 2024 in the Kaspersky Security Bulletin, with a focus on the evolution of Advanced Persistent Threats (APT).
Read more...
---
Helping South African university students and staff to stay safe
News & Events
Buzzer is a free mobile app that allows users to quickly and easily report incidents of crime, violence, or harassment to campus security and other relevant authorities.
Read more...
---