printer friendly version
The skills race
May 2011
Access Control & Identity Management
The skill required to keep up with sophisticated security.
It has been a long time coming but the market has now awakened to the fact that training and skills development is imperative to efficient security strategies and service delivery in commerce.
Marius Coetzee, COO of Ideco believes that the security industry has evolved to the point that it is no longer possible to implement basic security solutions and expect that all bases are adequately covered in the light of increased sophistication of cyber threats and methodologies to steal identities and by-pass traditional security mechanisms.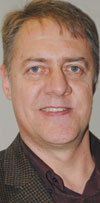 Marius Coetzee
He believes the onus is on decision makers to ensure that not only their network administrators and ICT staff are sufficiently skilled, but that employees at all levels understand the dynamics of basic physical and online security within a company. For example, every employee must know company policy that governs aspects such as e-mail, Internet use and social networking, as well as the use of peripheral devices to store data, to access networks and databases off site, to print documents and more.
"The advent of social networking and continued innovation within the mobile and wireless space means that the business is more accessible and more susceptible to risk. The corporate security strategy has to encompass more than physical access control and technology to combat cyber threats, the issue of fraud and identity theft also need to be taken into consideration," says Coetzee.
Reports from global research houses such as Gartner and PricewaterhouseCoopers indicate a rise in identity fraud within commerce and trade. The research also substantiates the now widely accepted theory that most threats within a business originate internally.
"We have noticed a definite increase in interest and investment in biometric-based technology systems. Part of the reason is due to the advantages that are inherent within this technology, another is because of ease-of-use and practicality. Personnel can be trained and skilled up on application as part of the service delivery," he adds.
From an identity management point of view there is an emphasis on training and skills development in biometric systems and application, as well as a push to understand emerging trends.
In terms of overall industry focus, Coetzee is confident that as the profile and relevance of identity management is raised, the need for skilled and trained practitioners will grow. This represents a major opportunity for service providers and key driver behind lead generation, innovation and integration of technology, and service delivery.
Credit(s)
Further reading:
Manage energy usage with Paxton access control
Paxton Access Control & Identity Management Products
Paxton provides access control systems that can integrate with existing infrastructure and manage a building's energy-consuming activities to save energy and costs.
Read more...
---
Why Multi-Factor Authentication, universal ZTNA and Zero Trust matter
Access Control & Identity Management Cyber Security
Malicious cyber actors are experimenting with new attack vectors and increasing the frequency of zero-day and other attacks, according to Fortinet's 1H 2022 FortiGuard Labs Threat Landscape report.
Read more...
---
GSM intercoms for mobile visitor management
Access Control & Identity Management Products
Controlling who has access to your property is vital, however, who gave that access is also important, if not more so.
Read more...
---
Vehicle entrance control
ZKTeco Access Control & Identity Management Commercial (Industry)
Secure your premises and control who enters with access control systems from ZKTeco. The company offers various types of entrance control terminals for pedestrians and vehicles.
Read more...
---
New R2 billion Pick n Pay super distribution centre
Flow Systems Access Control & Identity Management Products Commercial (Industry)
Flow Systems Manufacturers was selected to be part of the security infrastructure at the new Pick n Pay inland distribution centre, which covers an area of 36 ha.
Read more...
---
Post-pandemic access control features
Paxton Access Control & Identity Management Products Commercial (Industry)
Access control features introduced at the height of the pandemic are still useful as effective, integrated entrance control mechanisms today.
Read more...
---
Biometrics deliver added benefits to residential estates
IDEMIA Residential Estate (Industry) Access Control & Identity Management
For years, South African estates have enjoyed the convenience and security of contact biometric technologies, and now they have evolved to offer contactless options for more than access control.
Read more...
---
Integrated security management platforms with biometrics
ZKTeco Access Control & Identity Management Commercial (Industry)
Biometric solutions have become the focus in many discussions as businesses seek more sophisticated security solutions beyond the traditional identification badge and access control system.
Read more...
---
Complete solutions, delivering complete protection
Gallagher Access Control & Identity Management Integrated Solutions Commercial (Industry)
The recent release by Gallagher of Command Centre v8.80 and Command Centre Web enables all organisations to make security easier, faster and more efficient.
Read more...
---
Redefining access control in the commercial sector
Axis Communications SA Commercial (Industry) Access Control & Identity Management
Technology is key to keeping assets and personnel safe and secure, especially in the face of concern surrounding proposed new trespassing laws.
Read more...
---