printer friendly version
Training the industry for success
May 2011
News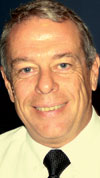 Training makes the difference between a contract and repeat business.
The CCTV industry is characterised by rapid change and innovation, constantly challenging the technical and management skills of manufacturers, distributors, and installers. Recent developments have emphasised the two separate tiers in the industry:
A lower tier based on supplying and installing smaller systems with a relatively simple specification, characterised by:
* Ease of installation of the latest entry-level 'plug-and-play' devices.
* High number of first time users with little experience of CCTV procurement.
* Strong price competition.
Meanwhile the higher tier of the industry is capable of installing and exploiting the top-end complex systems at the leading edge of the industry, and is characterised by:
* Increasing numbers of complex function products, requiring high skill levels to install.
• Sophisticated users with good purchasing practices based on specifications and operational requirements.
• Delivery, service and support requirements (alongside competitive pricing) become major components of the buying decision.
To view the industry in these two tiers is of course a simplification. Some companies do not fit the model – such as specialist companies in niche markets delivering high function systems to inexperienced users.
Any implication that companies in the upper tier are in some way better than those in the lower tier is not intended. Good companies – delivering well designed, well maintained, robust, and cost effective systems – exist across the industry in both tiers and will continue to do so.
When companies used to operating in the lower tier try to move onto upper tier projects without the skills and practices to do so, problems inevitably arise. In making this move, they can literally be crossing the chasm. These installers lack the skills required to efficiently operate more intricate systems. Traditional companies that have failed to update staff skills can be caught out by the specifics of new technology. Sometimes this can result in overspend when setting up the system. Also, badly configured systems may pass a cursory acceptance test, yet fail to operate adequately in the longer term. The solution requires an increase in skill levels across both parties involved in the system, and this means training.
Norbain SA offers three types of product related training to defeat these arising issues:
* Product sales training educates our clients' sales representatives on the unique selling points of the latest product offerings from our suppliers as well as the features and functionality of this advanced technology.
* Our technical training on products centres on the installation, setup and configuration of new products in the industry.
* Operator training courses teach installers the finer details of how to go about operating complex equipment, thus providing them with the educational tools to enable them to train their customers on how to operate this installed equipment.
Employees are the key to the success of any business. The quality of employees and their development through training and education are major factors in determining long-term profitability for a company. Ideally, a company would be able to hire people who already possess the exact skills their business needs. But in today's competitive market, demand for skilled workers far exceeds supply.
Employees generally develop a greater sense of self-worth, dignity and well-being as they become more valuable to their company. Conducting a solid approach to training, a company is sure to guarantee itself a return on investment and ensure employee loyalty.
Research has detailed that benefits such as increased productivity, reduced employee turnover, decreased need for supervision and an increased level of efficiency are some of the positive outcomes a business will receive from offering on-going training to its employees.
With this objective in mind, Norbain provides basic introductory training courses on CCTV and access control. We conduct this training in the first week of every month and it is purely aimed at enhancing your new employee's knowledge right from the start.
Norbain's 4-day training programme is beneficial for security managers, installers and service personnel and will equip them with the skills and tools to perform to the highest standards as qualified CCTV and access control specialists.
In recognising the serious training issues we face, companies across the entire industry (installers, suppliers, and end users) should regularly review the training needs of their staff, draw up training plans, budget for their fulfilment, and then meet those plans. The industry will then take current and future developments in its stride. Most importantly, the users and society in general will get the full benefit of all the exciting and powerful technology on offer now and in the future.
For more information contact Norbain SA, +27 (0)11 887 1546, Kershia@norbain.co.za, www.norbain.co.za
Credit(s)
Further reading:
Vodacom IoT Solutions get people back to business safely
Issue 4 2020 , News
Vodacom has created specific digital solutions to support businesses as they navigate their return to work post-lockdown.
Read more...
---
Post-lockdown employee management
Issue 4 2020 , News
Kenai has adapted its visitor management solution to cater to the COVID-19 regulations governing employees going back to work.
Read more...
---
Global Comms donates R1,6 million of technology
Issue 4 2020, Global Communications (Member of Hudaco Group) , News
SPARK Schools security enhanced with large surveillance technology donation from Global Communications.
Read more...
---
Cyber Security South Africa appoints Simon Perry as CTO
Issue 4 2020 , News
Cyber Security South Africa has appointed Simon Perry as its chief technical officer.
Read more...
---
Securex postponed to June 2021
Issue 3 2020 , News
Following COVID-19 developments, Specialised Exhibitions is postponing the Securex, A-OSH and FM expos to June 1 -3, 2021.
Read more...
---
XtraVision under new management and set for new horizons
Issue 4 2020, XtraVision, Technews Publishing , News
XtraVision, a distributor of electronic security and fire solutions in Africa and South America, has changed hands with founder Anthony Rosenbaum stepping down.
Read more...
---
Mustek expands product portfolio with Molex
Issue 4 2020, Mustek Security Technologies , News
Mustek has announced the expansion of its existing product portfolio with the introduction of the Molex structured cabling brand.
Read more...
---
Fraud detection via voice
Issue 4 2020 , News
SAFPS to collaborate with OneVault to improve fraud detection in call centres without frustrating customers.
Read more...
---
Lianne Mc Hendry joins Bosch
Issue 4 2020, Bosch Building Technologies , News
Bosch Security and Safety Systems appoints new business development manager responsible for the Eastern Cape, Western Cape and KwaZulu-Natal.
Read more...
---
In memoriam: Vivienne Caroline Dorrington
Issue 4 2020, Technews Publishing , Editor's Choice, News
19 June 1958 – 21 April 2020
Read more...
---