printer friendly version
VESDA gets gas detection and environmental monitoring
April 2011
Fire & Safety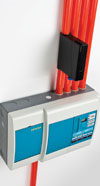 VESDA systems expanded to provide cost-effective protection against other airborne threats.
Xtralis has expanded VESDA, its very early warning smoke detection, to include aspirating smoke detection (ASD) plus gas detection and environmental monitoring.
This newly available solution, VESDA ECO by Xtralis, uses new or existing VESDA pipe networks to detect smoke in addition to hazardous/combustible gases to ensure air quality. It also integrates easily with other building management systems for real-time situational awareness and intelligent emergency response, including the activation of demand-controlled ventilation to control costs and save energy.
Explains Xtralis president and CEO Samir Samhouri: "Because we want to deliver more value to our customers and end users, Xtralis has extended the integrity and high performance of our ASD systems beyond smoke to also include gas detection and environmental monitoring. VESDA customers now can amortise the cost of their existing smoke detection infrastructures to reliably and accurately detect certain gases early enough to prevent damage to staff, assets and uptime."
Customers across a wide array of industries, including data/telecom, manufacturing and transportation, can rely on VESDA ECO for very early warning fire detection, protection against hazardous gas leaks, air quality monitoring to ensure safe working environments, and help to reduce energy consumption and costs.
Invisible hazards can originate from the release of toxic gases, oxygen deficiency, or the presence of combustible gases/vapors. With an ECO detector installed on a VESDA pipe network, air can be conditioned or filtered to remove moisture, dirt and other particulates that can cause traditional gas-detection systems to false alarm or become contaminated. As with fire detection, early warning of gas leaks or build-up enables countermeasures to be taken to protect personnel, property and business operations.
Each VESDA ECO detector can house up to two gas sensors, and additional detectors can be added easily to the pipe network to monitor more gases if required. In its initial release, the solution can be configured to detect ammonia (NH3), carbon monoxide (CO), hydrogen (H2), hydrogen sulphide (H2S), methane (CH4), nitrogen dioxide (NO2), oxygen (O2), propane (C3H8) and sulphur dioxide (SO2).
VESDA ECO provides point, zone or total-area coverage to suit different applications in a wide array of environments, including battery-charging rooms, underground utility tunnels, boiler rooms, manufacturing facilities, parking garages and transportation centres. The systems easily integrate with fire alarm control panels (FACP), programmable logic controllers (PLC), heating ventilation and air conditioning (HVAC) systems, and building management systems (BMS) to provide real-time situational awareness for intelligent emergency response. No construction or electrical conduit is required.
For more information, contact Lauren Sher, Xtralis, +27 (0)82 446 7602, lsher@xtralis.com.
Further reading:
Different types of fires
Fire & Safety
Fire is a powerful force of nature; according to SafeQuip, a distributor of fire-related equipment; understanding the different types of fires and how to combat them is essential for safety and protection.
Read more...
---
SafeQuip introduces lithium fire extinguishers
Fire & Safety Products & Solutions
With the use of Lithium batteries increasing in many types of portable devices and battery storage solutions, SafeQuip, in partnership with AVD Lithex, is introducing a fire extinguisher aimed at suppressing and extinguishing, and also preventing re-ignition of lithium fires.
Read more...
---
Modern warehouses come with added fire risk
Fire & Safety Transport (Industry)
Along with increased investments in modern warehousing in Africa, there is also a need to focus on protecting warehouses from crime, however, fire can arguably be a greater danger to business continuity.
Read more...
---
How to prevent solar inverter short-circuits and fires
Fire & Safety
With many South Africans installing inverters as part of solar power systems to mitigate the impact of load shedding in homes and at businesses, users need to be aware of the potential fire risks.
Read more...
---
Fidelity SecureFire steps into critical fire response space
News & Events Fire & Safety
With the majority of fire stations around the country being crippled by a lack of resources to offer effective responses, Fidelity Fire Solutions has launched its own 'first responder' model, Fidelity SecureFire.
Read more...
---
Long-distance connectivity with Simplex ES Net Life Safety
Johnson Controls Global Products Fire & Safety Products & Solutions
ES Net Network Bridge allows fire alarm system data to be transmitted across distant buildings via a customer's existing network infrastructure, improving system-wide monitoring and control in facilities and campuses where life safety networks are often widely dispersed.
Read more...
---
Elvey Group and Technoswitch part ways
Elvey Security Technologies Fire & Safety News & Events
The Elvey Group (a division of the Hudaco Group of Companies) is relinquishing its distributorship of the Technoswitch brand, following Hudaco's acquisition of Brigit Fire.
Read more...
---
From one month to 10 minutes
Dahua Technology South Africa Fire & Safety
Dahua has integrated technology with the inspection mode of the photovoltaic power station in order to create a robust system that can monitor the fire situation in the power plant and its surrounding areas 24/7.
Read more...
---
Protecting poultry processing plant
Technoswitch Fire Detection & Suppression Fire & Safety
Grain Field Chickens, based in Reitz in the Orange Free State Province, features all the typical fire detection challenges one would expect to encounter in a food processing facility.
Read more...
---
Fire prevention for energy systems
Technoswitch Fire Detection & Suppression Fire & Safety
With the significant push towards renewable energy, such as wind and solar, the demand for battery energy storage systems has grown exponentially, as has the need for fire safety solutions for these environments.
Read more...
---