printer friendly version
Technews to partner Yokogawa SA training initiative
April 2011
News
Over the past 10 years, Technews has become increasingly sensitive to the shortage of skills in the engineering and associated technical fields on which it reports. To help address this, and as a tribute to founder Ray Beaumont, the Ray Beaumont Trust was established to assist aspiring young South African engineers achieve their full potential in a dynamic new economy.
[L to R]: Yokogawa SA managing director Herman van den Berg, Jane van der Spuy, Merone Ramuhashi and Nico Marneweck
About Ray Beaumont
"Ray Beaumont was an inspirational doyen of the technical press in South Africa," says Technews director, Jane van der Spuy. "A true entrepreneur, Ray's vision combined with his unbounded energy and professionalism propelled his journal, Pulse, to the number one title in electronics engineering publishing in the early 1980s.
"In 1985 Ray bought Dataweek from the Communications Group and housed it in his own newly formed Technews organisation. His entrepreneurial qualities shone through again and by the mid 1980s Dataweek had itself become the dominant South African electronics journal. Ray went on to found a number of other award-winning magazines, including SA Instrumentation and Control and Hi-Tech Security Solutions, which, alongside Dataweek, still constitute the core of Technews' publishing stable today."
Ray Beaumont passed away in 2001, but his legacy remains alive through the Ray Beaumont Trust.
About Yokogawa's skills development
Yokogawa training manager, Nico Marneweck, is passionate about his subject and says that the company is determined to make its contribution to skills development in the process automation industry: "To this end we have implemented an internship programme designed to provide students from the Universities of Technology and colleges for further education and training with an opportunity to gain experience and complete the 'Experiential training' part of their studies within the local Yokogawa accredited programme.
"Technews believes that students will always remain a supporter of a company if they have experienced a learnership programme that is professionally implemented and managed correctly. This kind of win-win is good for engineering, business and the economy."
"I have known Nico for years and always been impressed by his enthusiastic professional attitude to training," says van der Spuy. "When Nico approached Technews to discuss a possible partnership between the Ray Beaumont Trust and this new Yokogawa initiative, we listened with interest."
"The synergy was there upfront," explains Marneweck. "When I learned that one of the Trust's objectives was to become involved in training at the 'hands-on' level, I realised the opportunity that was present for both companies to maximise individual contributions if we pooled our resources."
Merone Ramuhashi – the deal is sealed
Merone Ramuhashi has been selected as the first Yokogawa internee to benefit from a Ray Beaumont scholarship. Merone completed the academic part of her engineering diploma at the end of 2010 with a distinction in Process Instrumentation from the Tshwane University of Technology.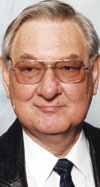 Technews founding member, Ray Beaumont
Marneweck says that her excitement for the subject was obvious during the first interview: "I was impressed by her quiet determination and intelligence and felt sure that she was the right candidate for this initiative."
"She is a lovely person," says van der Spuy. "Working side by side with the professionals at Yokogawa is a valuable experience for any young engineer and I am sure that she is going to fit right in to that environment."
Both agree that the partnership has the potential to grow from strength to strength and that entrepreneur Ray Beaumont would be well pleased with this thoroughly deserving choice of candidate.
Good luck Merone – our organisations support you.
For more information contact Jane van der Spuy, Technews, +27 (0)31 764 0593, [email protected], www.technews.co.za
Credit(s)
Further reading:
IziCash awarded membership by CIT Association of SA
News
IziCash Solutions, a provider of cash logistics and cash management services to the retail and banking sector, has become a member of CITASA, the Cash-In-Transit Association of South Africa.
Read more...
---
22 TB hard drives from WD
News
Western Digital extends HDD technology and areal density leadership across smart video, network attached storage (NAS) and IT/data centre channel segments.
Read more...
---
From the editor's desk: Maybe I'm too old?
Technews Publishing News
There are many companies these days touting their ability to securely authenticate people via mobile devices (or selfies), claiming that it is secure and easy. Some banks are even allowing people to ...
Read more...
---
ADI Expo Limited Edition 2022
ADI Global Distribution News
ADI South Africa, with its leading suppliers from across the video, intrusion and access control industries, is once again hosting its annual ADI Expo in September.
Read more...
---
Hikvision integration with Page Automation
Hikvision South Africa News
Hikvision has announced the integration of its MinMoe Face Recognition terminals and its Hik-ProConnect online device and service management platform with Page Automation's SmarTTime software.
Read more...
---
ESDA's annual charity fundraiser
ESDA (Electronic Security Distributors Association News Conferences & Events Associations
The ESDA Annual Charity Fundraiser, part of the Electronic Security Distributors Association's Golf Day, will take place at Benoni Lake Golf Course on Wednesday, 21 September 2022.
Read more...
---
Gallagher launches Tech Talk
Gallagher News Access Control & Identity Management Perimeter Security, Alarms & Intruder Detection
Gallagher has announced the launch of its new Security in Focus podcast series called Tech Talk, hosted by chief technology officer Steve Bell.
Read more...
---
IDEMIA and Ideco demonstrate their value stacks
Technews Publishing Ideco Biometrics IDEMIA Conferences & Events Access Control & Identity Management News
Ideco and IDEMIA recently hosted a travelling show where attendees were given an update on the companies, as well as the full value stack they offer.
Read more...
---
Sustainability, trust and predictability
Technews Publishing Bosch Building Technologies Conferences & Events CCTV, Surveillance & Remote Monitoring News Integrated Solutions
The future for Bosch Building Solutions is focused on predictive solutions based on sustainability and trust in an AIoT world of cloud services.
Read more...
---
Networked devices increase cyber risks for building systems
Technews Publishing News
Building managers need an integrated approach with IT professionals and clear lines of responsibility to ensure optimal facilities management and cybersecurity.
Read more...
---