printer friendly version
Elvey and Pentagon to lead in the projects market
April 2011
News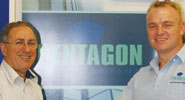 The recent announcement that Elvey Security Technologies acquired Pentagon Distribution may have taken some by surprise. Officially, Pentagon now falls into the security division of Hudaco and will function as a division of Elvey Security Technologies.
Hi-Tech Security Solutions spoke exclusively to Elvey's CEO, Jack Edery and Pentagon's MD, Brendon Hall to find out what is behind this move.
Elvey launched its Projects Division last year to assist integrators in all aspects of large security endeavours, from commissioning and designing solutions, through to integration and training. Pentagon, on the other hand, has been ahead of its competitors for some time and is very active in the projects market. The joining of the two companies will, from one perspective, strengthen the projects division beyond any current offering from competitors.
"Elvey identified the opportunity for growth in the market as being project-based, specifically with respect to the integration of security platforms," says Edery. "Customers today are looking for more than technology, they want a service-based approach that offers solutions to their problems. We therefore saw the need to strengthen the Projects team dramatically, Pentagon offered the vehicle for achieving this."
Incorporating Elvey Projects, Pentagon will now be the go-to-division for project work. Edery says there "is now no project too large or too small". He adds that the acquisition also allows Elvey to meet new customer requirements without compromising on its service levels.
More than a new projects division, the acquisition sees one of South Africa's largest value-added distributors (VAD) specialising in intruder detection, joining a specialist distributor of CCTV equipment. Pentagon adds to its product line-up by delivering value in the design of systems and integration into access control, intruder and fire detection systems. It specialises in integrating IP technology into existing corporate security infrastructures. The result is a South and southern African VAD network covering a larger scope of the security technology market.
According to Hall, other benefits of the deal include:
* Pentagon now has access to the Elvey branch network of 16 offices.
* Pentagon's customers benefit from Elvey's BEE status, which is currently at level 4 and plans are in place to improve it to level 3 in the near future. This will automatically allow Pentagon's customers to take maximum advantage of BEE procurement benefits.
* Pentagon now has the financial muscle to take on larger projects than ever before, while Elvey will be better placed to support customers on smaller projects at branch level.
* Elvey gains access to specialist knowledge of and experience in the projects industry.
Edery adds that the two companies will continue to operate as separate businesses, but will work together at critical points in order to offer the best service to customers. "Together we offer a broader range of product and a broader footprint that will provide customers with the best solution for their applications."
Another benefit for Elvey's customers will be that there will be one person to call should they have a problem. "While the opportunities are tremendous, we are also very aware of the responsibility we will be taking on and are confident that our service offering will meet the high standards our clients expect," notes Hall.
Credit(s)
Further reading:
Crossing the chasm
Editor's Choice News Security Services & Risk Management Training & Education
Industry reports suggest that in the next ten years, millions of jobs could go unfilled because there simply are not enough people to fill them.
Read more...
---
The greatest asset for driving transformation
News
Dell Technologies' research from 40+ countries details how, after two years of accelerated digital transformation, business leaders are more aware than ever of the role employees play in driving successful change
Read more...
---
Top six priorities for business security this festive season
News
At this time of year it is not uncommon to see criminals enter a business posing as a customer or a delivery supplier, and then proceed to hold staff at gunpoint.
Read more...
---
DeltaTrak and Ericsson IoT offer real-time cold chain traceability
News Products Logistics (Industry)
Ericsson's Internet of Things (IoT) business and DeltaTrak announced a collaboration through Deutsche Telekom that will drive cold chain traceability enhancements powered by the Ericsson IoT Accelerator platform.
Read more...
---
No supply chain delays from Germany
Dallmeier Electronic Southern Africa News CCTV, Surveillance & Remote Monitoring Products
Dallmeier announces that its complete Domera single-sensor camera family is available without delivery problems for installers and channel partners.
Read more...
---
Lukas van Emmenis joins Olarm in Gauteng
Olarm News
Lukas van Emmenis has joined Olarm as its regional manager based in Gauteng, where he will make full use of his experience in the electronic security, security distribution and discreet manufacturing fields.
Read more...
---
Successful show for body-worn tech
Elvey Security Technologies Residential Estate (Industry)
Moving beyond products to full cybersecurity service for residential estates.
Read more...
---
From the editor's desk: Social beings
Technews Publishing News
      Welcome to Hi-Tech Security Solutions Issue 7. We have slightly fewer topics in focus in this issue because the bulk of the editorial covers one topic, the Residential Estate Security Conference 2022. ...
Read more...
---
Driving reliable wireless security
Elvey Security Technologies Perimeter Security, Alarms & Intruder Detection Industrial (Industry) Products
Ajax wireless technology provides reliable system to provide uncompromising perimeter intruder detection for security at vehicle manufacturing plant.
Read more...
---
SALTO launches integrated Technology Partner Programme
Salto Systems Africa News Access Control & Identity Management Commercial (Industry)
SALTO Systems has announced it is offering other technology leaders the opportunity to partner with it for an integrated and improved customer offering.
Read more...
---