printer friendly version
Biometrics: hype or hope?
February 2011
Access Control & Identity Management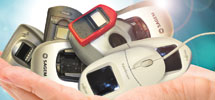 The ongoing adoption of biometrics has been driven by traditional applications such as access control; time and attendance; protecting access to devices, networks and IP; and using authentic identities in various administrative processes as well as ID fraud protection. In most cases, the decision to opt for biometric technology was motivated by the promise of increased security, assurance and accountability.
The continued advancement in technology and new innovations have resulted in end-users being spoilt for choice with products ranging from the well-known and accepted fingerprint readers to multimodal technology that combines fingerprint, iris, facial, palm print or voice biometrics.
Give the finger
Fingerprint biometrics remains the dominant option and is widely used and trusted in civil, criminal and commercial applications. In fact, of all the options available, fingerprint biometrics is one of only three technologies acknowledged by the International Civil Aviation Authority (the other two being face and iris recognition).
Throughout the world, all major criminal systems are based on fingerprint identification. In addition to each person having unique fingerprints, each has a unique array of DNA fragments making up the DNA print. Forensic scientists can also use DNA printing to identify criminals from DNA evidence (blood or small amounts of tissue) left at a crime scene. In the commercial arena however, fingerprint biometrics is the preferred technology.
After months of successfully using fingerprint biometrics at the branch offices of the Department of Home Affairs (DHA) for ID book and passport applications, as well as the successful completion of pilots involving various banks, the DHA last year announced that it was to allow real-time identity verification.
Reputational risk
As with any influential and rapidly deployed technology, biometric technology has many facets and there are a number of dynamics that users ought to bear in mind. Besides the obvious size of the scanner, image resolution, compliancy to FBI and NIST standards (which have to be adhered to without any compromise), size of the database and speed of identification, there are many not-so-technical specifications to consider.
Some of these key pointers in selecting a technology platform are:
* Best in class image processing and minutia filtering.
* Scalability from single scanner to a national deployment.
* Compatibility with AFIS systems.
* Compatibility with all major government systems (Criminal and Hanis).
* Multi-application technology (access control, time and attendance, secure sign on, identity management etc).
* Proven reliability with local support.
On paper these products all may seem fully compliant, but in reality the solution may cost drastically more than initially budgeted for. Not to mention the reputational risk the first time ID fraud occurs and the solution is of little value in the process of solving the crime. So, it is important to scrutinise the credentials, track record, market experience, level of technical skills and overall knowledge before partnering with a service provider.
A phased approach
There are a few pertinent questions that should be asked, including what are the chief objectives or main purpose behind deploying the technology? Is it security, access control, improved data or accountability or to 'Know your Customer'? Or all of the above? In most situations, an organisation can first implement biometrics for the more familiar applications such as access control and time and attendance, and then phase its deployment to a fully integrated identity management solution, for example:
* Introduce basic biometric verification services utilising NCCI.
* Capitalise on various applications to increase ROI.
* Incorporate DHA online fingerprint verification (as soon as available).
* Implement transaction based customer intelligence/'Know your Client'.
* Strategy for private label identity management solutions.
* Retain scalability and compatibility with future identity management solutions.
* Identity certification/fraud prevention.
This is just one area and one example of the way in which biometric technologies have changed the way business will operate and the extent to which service delivery will be enhanced. We anticipate a marked increase in the adoption and application of this technology within both government and commerce.
Any company considering installing a biometric solution should get and understand as much information about the technology, the products and the provider as possible. Following the basic steps outlined in this article will prove that there is hope after the hype.
Credit(s)
Further reading:
Biometrics: the game changer in access control
November 2019, IDEMIA , Access Control & Identity Management
For security managers, the question is no longer, should I use biometrics, but rather, which biometrics should I use.
Read more...
---
ViRDI UBio Tab 5
November 2019 , Access Control & Identity Management
ViRDI Distribution SA (ViRDI Africa) has announced the release of its long-awaited UBio Tablet to the South African market.
Read more...
---
Cloud-based access control
November 2019, Elvey Security Technologies , Access Control & Identity Management
Hattrix is a flexible and scalable security platform that marks a shift toward outsourcing security, similar to other services such as IT, HR, and legal services.
Read more...
---
Transforming secure access for SMEs
November 2019, dormakaba South Africa , Access Control & Identity Management
The dormakaba Matrix One access solution is an off-the-shelf access offering that is easy to use, completely secure and browser-based, making it accessible from anywhere in the world.
Read more...
---
Manage remote transmitters via GSM
November 2019, ET Nice , Access Control & Identity Management
ET Nice has released a new solution to set up and manage remote transmitters online and monitor access equipment via GSM.
Read more...
---
Secure hands-free access
November 2019, Suprema , Access Control & Identity Management
Suprema's facial biometric terminals bring no-touch access into secure residential estates, high-rise apartments and luxury homes providing fast, easy and intuitive user authentication with the added benefit of hygiene.
Read more...
---
There's an app for gate configuration
November 2019, CAME BPT South Africa , Access Control & Identity Management
CAME KEY is a new generation of working tool for gate automation, allowing setup and configuration from a mobile app.
Read more...
---
Enhanced biometric technology for mines
September 2019, ZKTeco , Mining (Industry), Access Control & Identity Management
Biometric identification and authentication are currently used at various mines in South Africa and in the SADC region.
Read more...
---
Improving access in mines
October 2019, Astra Fasteners , Mining (Industry), Access Control & Identity Management, Products
The VP1 controller provides full access control and remote monitoring of intelligent locks without having to wire into a network or install, manage and maintain software.
Read more...
---
Invixium and Pyro-Tech partner in South Africa
October 2019 , News, Access Control & Identity Management
Invixium, a manufacturer of IP-based biometric solutions and Pyro-Tech Security Suppliers have announced a new distribution partnership.
Read more...
---