printer friendly version
Association updates
November 2010
Associations
SASA in vino veritas
The Western Cape branch of SASA held its AGM on 9 September at the Seidelberg Wine Estate in Stellenbosch. The event took the form of a wine tasting and lunch and was reputedly a great success. "We had 47 members and guests there on the day. The AGM was held outdoors on the patio overlooking the beautiful Stellenbosch valley, with Table Mountain in the background. What a stunning setting for the meeting," said Regional Secretary, Dave Waywell.
The AGM saw the election of:
* Koos van Rooyen (chairman).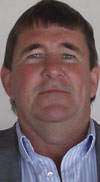 Newly elected chairman of the Western Cape Region, Koos Van Rooyen (Enforce Security)
* Mark Sangster (vice chairman).
* Dave Waywell (secretary/treasurer).
* John Hitchcock (events/golf day).
Leon Kuhnert (SA Management) chats to incoming committee member John Hitchcock (Thorburn Security)
* Kevin Buret (events/golf day).
* Rudi Wolter (membership).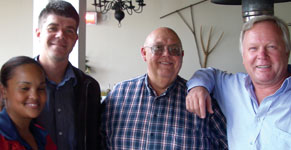 Lynn Hanevil and Niel Rossouw of Byers Security network with Duncan Cloete of DCSS and John Hitchcock of Thorburn
The meeting was followed by a round of wine tasting, where the members were able to sample the fine wines of Seidelberg. "We tasted a number of reds as well as a few whites and by popular consensus, the wines did not disappoint. The tasting enabled everyone to whet their appetite and a fantastic lunch was then served in the estate restaurant, De Leuwen Jagt. Lunch was followed by networking and socialising, where everyone had the opportunity of enjoying a relaxing afternoon," Waywell said.
PSIRA appoints new director
The Private Security Industry Regulatory Authority (PSIRA) has appointed Manabela Chauke as its new director with effect from 1 September 2010.
ESDA AGM produces new committee
At the ESDA AGM held on 7 October in Alberton's Boma conference centre, Andrew Stead was re-elected as chairperson and the majority of the existing committee agreed to stand once again for office for the forthcoming 12-month period.
The committee is: Valerie Bingham (vice chairperson), Shaun Capla, Trish Rohma, Lee-Anne Andreka, Richard Rohman (treasurer), Ray Wilsenach, Des Whittal and Trevor McPherson.
Stead said in his Chairman's Report that the annual golf day was a huge success with substantial funds raised. "We have decided to adopt the SA Guide Dog Association as our 'pet' project and as a result they were the beneficiaries of a sizable donation."
Stead also referred to the success of the recently held IFSEC (Securex) show at which a number of ESDA members exhibited.
Credit(s)
Further reading:
Making the local OSPAs work
Editor's Choice News Associations
Entries to the 2023 South Africa Outstanding Security Performance Awards (OSPAs) will close on the 18th April, so do not delay in preparing your nominations.
Read more...
---
ESDA's annual charity fundraiser
ESDA(Electronic Security Distributors Association) News Conferences & Events Associations
The ESDA Annual Charity Fundraiser, part of the Electronic Security Distributors Association's Golf Day, will take place at Benoni Lake Golf Course on Wednesday, 21 September 2022.
Read more...
---
FFETA Charity Golf Day raises R100 000 for Children of Fire
Fire Fighting Equipment Traders' Association Editor's Choice News Associations
At the recent charity golf day hosted by FFETA (Fire Fighting Equipment Traders' Association), an amount of R75 000 was raised for Children of Fire. FFETA rounded this up to R100 000, which went directly to the charity.
Read more...
---
ASIS International appoints first president from South Africa
Technews Publishing Editor's Choice News Associations Training & Education
Malcolm C. Smith has been appointed as the 2022 president of ASIS International, the first president of the organisation from Africa as well as South Africa.
Read more...
---
SAQCC Fire and the need to ensure compliance
SAQCC (Fire) Fire & Safety News Associations
One of the fundamental objectives of SAQCC Fire is to establish the necessary procedures for the education, training and registration of all appropriate personnel actively involved in the fire industry.
Read more...
---
Tips for women to build a career in cybersecurity
Associations
Representation of women in the cybersecurity industry has grown over the past years and while this is positive, there is still room for improvement.
Read more...
---
Leaders in risk & security: Honesty and no BS!
Associations
Tony Botes has had a long career in the South African security industry from owning his own security company to now being the national administrator of SASA.
Read more...
---
A balanced, fair industry
PSIRA (Private Security Ind. Regulatory Authority) Residential Estate (Industry) Security Services & Risk Management Associations
PSiRA is focused on supporting the effective promotion and regulation of the private security industry.
Read more...
---
Service station security basics
Associations Integrated Solutions Retail (Industry)
It comes as no surprise that the petroleum and retail industries are targeted by criminals as these businesses receive, to a great extent, cash in exchange for their products and services.
Read more...
---
Magtouch Electronics joins ESDA
Associations News
Magtouch Electronics, a manufacturer of high-tech monitoring systems for the security and cleaning industries has joined ESDA, the Electronic Security Distributors' Association.
Read more...
---