printer friendly version
Networking fire
September 2010
Fire & Safety
High-speed fault tolerant networks for fire systems.
"The networking of fire alarm control panels for large fire detection systems is a well established practice, however few people realise how the design and performance of the network affects the overall operation of the system and, most importantly, the end-user's experience of the system", says Brett Birch development manager for Technoswitch.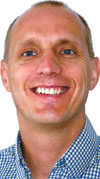 Brett Birch, development manager for Technoswitch
"As the official distributor of the Advanced Electronics' intelligent fire alarm control product range in sub-Saharan Africa, Technoswitch is in the fortunate position of being able to offer a high-speed fault tolerant network for fire systems which is robust and exceeds the requirements of the relevant EN standard."
Advanced's Ad-NeT+ fire network can be configured to allow the interconnection of up to 200 panels (nodes) in a fault tolerant configuration. The maximum cable length between nodes is 1,5 km, with a total loop length of 20 km. The network is capable of withstanding a single fault between nodes without loss of communications to any single panel. This is all achieved using standard two-core fire resistant cable.
The standard EN 54-13:2005 (E) 4.3.2.1 states that "a fire alarm condition on a CIE shall be indicated on the main CIE within 20 sec". The typical delay on an Ad-NeT+ 50 panel network for each panel to indicate a fire from any zone is less than one second and 3,5 seconds for a full 200 panel system.
The network operates as a true peer-to-peer system allowing information from any input or output device to be passed over the network and displayed on any Mx-4000 control panel or remote terminal as required. Details include Fire, General Alarm, Pre-alarm, Fault, Control Inputs and Disablement as well as analogue values, test instructions and status information. The Ad-NeT+ systems DynamiX zoning facility allows the networked system to utilise up to 1000 zones providing non-confusing indication and allowing true peer-to-peer cross panel report, control and site-wide cause and effect functionality. No single panel is required to act as a 'Master' for the network to operate.
According to Birch the ability to be able to remotely interrogate the fire system is another feature which is extremely important for both the end-user and fire detection installer as it allows them to identify problems before they actually happen, saving time and money by reducing unnecessary visits to site. Furthermore, more and more clients are requesting the ability to monitor their fire system using their existing Internet infrastructure.
The new ipGateway product is a fully interactive Internet portal for the Mx-4000 range of fire alarm control panels, which allows remote monitoring of any Mx-4000 series fire system from anywhere on the Internet using a standard Web browser. A distinct advantage is gained from the use of a browser to view the information as it eliminates the need for any proprietary software to be installed on each PC that uses ipGateway.
When accessing ipGateway, the user is presented with comprehensive information about the fire network. Including a breakdown of all the zones on the network, a detailed description and current status of all devices contained within each zone and an overall indication of the current status of the network. The information displayed on the user's web browser is updated in real-time, ensuring that any change to the status of the network is clearly identified and reported to the user as it happens.
In addition to the visual representation of the fire network, ipGateway allows the user to interact with the fire network as though they were stood in front of a fire panel. From a remote location anywhere in the world a user, with the correct authority and access rights, can enable/disable zones, enable/disable devices, reset networks, reset panels, mute networks, mute panels, silence or resound sounders on a panel or a network. By connecting the system to the Internet a higher level of security is needed due to such threats as viruses and unscrupulous access. Therefore, built-in security features of ipGateway require an authorised user to logon using a password and to connect to the remote system via a secure IP address.
ipGateway can also be configured to use an existing e-mail server to send a notification as a result of an event on the fire network. Each event can be setup to alert a number of different personnel at varying times of the day. This is useful for environments where a number of people are responsible for the fire network, but those people work various shifts throughout the day. These e-mail addresses are simply to set-up in the browser without the need to configure local e-mail clients.
Credit(s)
Further reading:
Workplace fire detection: early warning is key
Fire & Safety
Workplace fire detection systems should be correctly installed and regularly tested to ensure they provide proper cover and are able to assist staff members to safely escape and alert you before a fire becomes an inferno.
Read more...
---
Fire safety in financial organisations
Financial (Industry) Fire & Safety
The data that drives modern finance is physically stored and processed by banks of equipment in cabinets where they give off a significant amount of heat as a side effect to their furious electronic activity.
Read more...
---
ZYTEQ Fire offers EN54 certified range
ZYTEQ Fire Fire & Safety
Cape Town-based ZYTEQ Fire, a manufacturer and supplier of electronic fire detection equipment, offers a range of addressable, conventional and extinguishing equipment that is certified in Europe to the EN54 standards.
Read more...
---
Technoswitch appointed as FST distributor
Technoswitch Fire Detection & Suppression News Fire & Safety
Technoswitch's appointment as a distributor for the Fire & Security Techniques (FST) range of fire suppression solutions forms part of the company's strategic plan to expand its range of suppression solutions.
Read more...
---
Perimeter and fire protection
Hikvision South Africa CCTV, Surveillance & Remote Monitoring Fire & Safety Perimeter Security, Alarms & Intruder Detection
Hikvision's HeatPro is a new series of thermal cameras designed to provide affordable all-weather deterrent and alerts, aimed at perimeter protection and fire prevention applications.
Read more...
---
Integrated fire protection for mines
FS Systems Fire & Safety
A recent installation of the latest fire detection and gas suppression technologies with custom integrations into the Mining Fire Control Network, was completed by the FS Group in 14 E-Houses for a mining client in West Africa.
Read more...
---
Suppression solutions by Technoswitch
Technoswitch Fire Detection & Suppression Fire & Safety Products
Technoswitch supplies an extensive range of trusted fire suppression solutions for various applications.
Read more...
---
ORYX conventional fire panel range update
Technoswitch Fire Detection & Suppression Fire & Safety
Technoswitch recently added the redesigned ORYX repeater panel range to its second-generation ORYX conventional fire panel range. The repeater panels offer control functionality with silence buzzer, silence alarm, sound alarm and reset buttons.
Read more...
---
EN54-4 certified power supplies
Technoswitch Fire Detection & Suppression Fire & Safety
The Technoswitch EN54-4 certified range of power supplies deliver additional built-in performance features that most others fail to provide. These features ensure that the PSUs provide reliable power and continuously monitor total performance.
Read more...
---
Five things you can do for workplace fire safety
Fidelity Services Group Fire & Safety
Any responsible business owner or office manager should be concerned about workplace fire safety and whether or not there are enough preventative measures to avoid an emergency.
Read more...
---