printer friendly version
Cavicel fire resistant cable
August 2010
Fire & Safety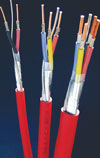 Fire detection systems have always been perceived as grudge purchases.
For some time now various industry bodies have been busy educating end users, insurance companies and consultants alike about the importance of a properly installed, conforming fire detection and control system. One of the key areas of focus has recently been the use of fire resistant cable.
Fires have a high cost in terms of loss of human life and damages to industrial plants, structures and other property. Research states that the most commonly identified cause of death from a fire accident is being overcome by gas or smoke (Department for Communities and Local Government – formerly ODPM – Fire Statistics, United Kingdom, 2005).
Other influential sources have demonstrated that for the last 50 years, the average time from ignition of a fire to flashover has gone from 15 minutes to 3 minutes, thus seriously complicating the escape from fire. It has to be considered then, that even the most sophisticated alarm systems or emergency systems can be rendered useless if their performances are compromised by the destruction of the cables because of the fire. This is the reason why, over the last few years, companies have invested in design and development of insulation material and of cables granting the best performances in case of fire, while reducing fumes and acid gases emission and granting the circuit integrity even in case of fire.
Earlier in the year the FDIA (Fire Detection Installers Association) conducted tests on the commonly used FR20 fire cable and found it to be non-conforming to the prerequisites of the SANS 10139 standard. As a result of these tests and together with a renewed focus of the fire resistant standards, local suppliers of fire detection and control systems are now looking to establish relationships with manufacturers of approved fire resistant cable to supply into the local market. Unfortunately there does not seem to be any local manufacturers currently manufacturing approved fire resistant cable.
Cavicel, an Italian-based ISO 9001 company manufactures FIRECEL fire resistant cable and has installations in over 30 countries. Fire resistance means that the cable or the installation where the cable is installed is capable to continue to operate even in case of fire for a specific period of time (from 30 to 180 minutes).
To be more precise, it is possible to have two different definitions:
* Circuit integrity (or insulation integrity) which indicates tests exclusively referred to cables.
* System circuit integrity is referred to tests on cables and systems (ladder, cable tray, clamps).
The behaviour of the electric cables in case of fire can be evaluated according to various aspects: fire resistance, non propagation of fire and emission of fumes and acid gases.
The first aspect can be considered as active since the cable continues to perform its main function, transmit power and signals even during the fire. The other characteristics can be defined as passive, but of primary importance, by limiting the fire propagation and by reducing fumes and gases that are developed by the combustion and that cause severe damage and human lives losses.
Cables can be a critical vehicle for the fire transmission since they run for long tracts, even in vertical ducts that could behave as chimneys and therefore propagate the fire even in other areas. Cavicel uses high self-extinguishing materials and realises constructive solutions that contrast the flame propagation. Normally two characteristics are checked: non propagation of flame on a single cable alike the wiring and the non propagation of flame on more cables assembled as a bunch, as generally happens for electric installations.
Cavicel always uses LSZH (Low Smoke Zero Halogen) sheaths for its FIRECEL cables (unless when specifically prescribed because of special working conditions). This term indicates materials that are properly formulated to guarantee, besides the high self-extinguishing characteristic, also a low emission of clear fumes, without halogens (corrosive gases) and that do not develop toxic gases in case of combustion.
The importance of using the correct cables in fire detection and warning systems cannot be emphasised enough and it is very assuring to see the increased demand and usage of the fire resistant cables as specified in the standards.
For more information about the options and various fire resistant products available, please call Trevor Harty at Technoswitch.
Credit(s)
Further reading:
Linear heat detection under difficult conditions
Issue 5 2020, Technoswitch , Fire & Safety
Securiton's SecuriHeat ADW535 linear heat detector prevails where conventional fire detectors reach their physical limits.
Read more...
---
High-precision aspirating smoke detectors
Issue 5 2020, Technoswitch , Fire & Safety
The SecuriSmoke ASD range by Securiton offers three VdS approved models and makes the lightning-fast detection of fires both scalable and cost-effective for any area.
Read more...
---
Competency in the fire industry
Issue 5 2020, FDIA (Fire Detection Installers Association) , Fire & Safety
Persons who design, commission, install or service fire protection equipment or systems should have the required level of competence for the task they perform.
Read more...
---
Public address/voice alarm partnership
Issue 5 2020, Johnson Controls Global Products , Fire & Safety
Johnson Controls customers now have single-source access to a complete line of fire detection products, including high-quality PA/VA systems.
Read more...
---
Hochiki Europe's L@titude system distributed by XtraVision
Issue 5 2020, XtraVision , Fire & Safety
Hochiki Europe's L@titude range of fire alarm control is both sophisticated, yet simple to use.
Read more...
---
Hochiki shines a light on luxury
Issue 5 2020, XtraVision , Fire & Safety
Luxury hotel chooses fire safety equipment from Hochiki as part of extension and restructuring works.
Read more...
---
Industrial fire safety
Issue 4 2020, Technoswitch , Industrial (Industry)
Industrial settings are high-risk environments in general, but the risk of fire in these locations is always a top concern.
Read more...
---
Self-test for fire alarms
Issue 4 2020, Johnson Controls Global Products , Fire & Safety
Johnson Controls notification appliance self-test technology receives UL Verification Mark.
Read more...
---
New FireClass addressable fire alarm panels
Issue 4 2020, Johnson Controls Global Products , Fire & Safety
Johnson Controls has introduced two new FireClass addressable fire alarm panels, the FC702 and FC708, to its range of fire detection solutions.
Read more...
---
University of Sudan tackles heat and dust with life safety solutions
Issue 4 2020, Hochiki Europe , Fire & Safety
To guarantee the safety of students, staff and visitors, Sudan University chose fire safety devices from Hochiki with the ability to withstand the harsh Sudanese environment.
Read more...
---