printer friendly version
iPhone jailbreaking: legal, but dangerous
July 2010
Cyber Security
After the announcement that iPhone jailbreaking has become legal in US, a malware-spreading campaign targeting the 'iPhone unlocking' fans goes to confirm that cybercriminals never lack imagination.
Owners of iPhones are one step closer to taking total control of their widgets, after US pronounced legal the practice of 'jailbreaking', on Monday, 26 July 2010.
This means that anyone can jailbreak or unlock any cellphone without fear of legal consequences. Still, iPhone unlocking fans should pay attention to the software they download for this operation, because cybercriminals never sleep.
And this is how the story goes: you receive an e-mail in which you find out that you might get a new application for iPhone jailbreaking. All you have to do is click a link that will take you to the web page on which the desired software awaits you.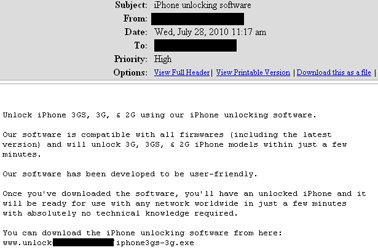 Figure 1: The e-mail offering the wonder-software
As you go further into this labyrinth and click the link, an exe file attempts to download onto your computer. But once saved and run, the executable opens up the way for a nice Trojan.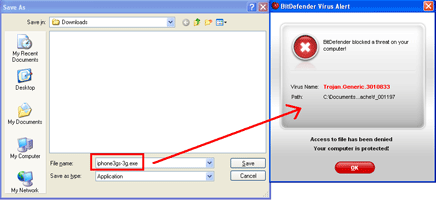 Figure 2: The software proves to be malware
Identified by BitDefender as Trojan.Generic.3010833, this piece of malware is a keylogger that transmits everything the user writes on the computer to a specific e-mail address, in this particular case to directory[REMOVED]@hotmail.com.
This allows the malware creators to intercept the victim's visited sites, usernames, passwords, bank accounts information, such as pin number, bank account numbers, passwords, etc.
In order to stay safe, never open suspicious links or attachments without scanning them first. Install and update a complete antimalware software solution.
For more information contact Alina Anton, senior PR and marketing coordinator, EMEA & APAC Business Unit, BitDefender, +40 212 063 470, aanton@bitdefender.com, www.bitdefender.com
Further reading:
Work from home securely
Issue 5 2020 , Cyber Security
First Consulting provides enterprise-level IT security to working-from-home employees at more than 40 South African organisations.
Read more...
---
Agility, meticulous alignment and testing
Issue 5 2020 , Cyber Security
Data loss can put the nails in the coffin for unprepared businesses. Investing in cyber resilience is key to succeed in the age of digital transformation.
Read more...
---
Cybersecurity comment: Cyber threats remain relentless
Issue 5 2020, CA Southern Africa , Cyber Security
Over 80% of email-based threats in Q1 2020 leverage COVID-19 in some form to feign legitimacy to the end user.
Read more...
---
11 essential steps to reinforce cybersecurity
Issue 5 2020 , Cyber Security
Wayne Olsen has compiled a guideline to ensure that businesses and their employees are protected while working remotely.
Read more...
---
Cybersecurity comment: Securing the real endpoint
Issue 5 2020 , Cyber Security
The corporate perimeter is fast becoming irrelevant, as the so-called security boundary extends to wherever an Internet connection exists.
Read more...
---
Don't squeeze your cyber assets
Issue 5 2020 , Cyber Security
Inadequate investment in cybersecurity is directly related to the spate of cyberattacks we're seeing in South Africa now.
Read more...
---
Cybersecurity comment: Create layers of security
Issue 5 2020 , Cyber Security
Any organisation, whether large or small, public or private, should follow an established framework in order to protect itself against cyber threats.
Read more...
---
Next-generation security operations centre
Issue 4 2020, AVeS Cyber Security , Cyber Security
Pay-as-you-use cybersecurity from AveS allows all businesses access to world-class expertise.
Read more...
---
Strengthen your passwords for world password day
Issue 4 2020 , Cyber Security
May 7 is World Password Day and KnowBe4 is providing tip sheets, videos and tools to help people strengthen their passwords.
Read more...
---
Tips on secure remote working
Issue 3 2020 , IT infrastructure, Cyber Security
NordVPN advises how to stay secure while working from home during the coronavirus outbreak.
Read more...
---