printer friendly version
BitDefender v2011
June 2010
Cyber Security
BitDefender v2011 has entered the BETA phase and it has been made public.
This is an opportunity for testers to get an exclusive preview of BitDefender's upcoming release, and to play an active role in helping BitDefender build better products. Among this year's prizes BitDefender gives away one Apple iPad and one Nintendo Wii.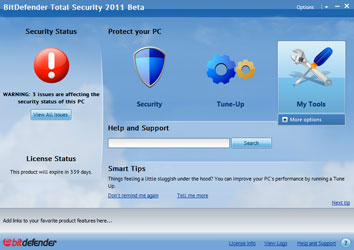 What is new in BitDefender 2011:
New Redesigned and streamlined installation. You install and configure BitDefender 2011 in one step without having to reboot your PC. It detects viruses before installing BitDefender and cleans your computer to ensure optimal usage from install time.
New Search Advisor warns you about unsafe pages displayed in search results by checking each URL against the BitDefender online URL database.
New Firewall Troubleshoot Wizard guides users and solves most common problems related to Internet, printer or remote office (VPN) connectivity.
New Performance Optimiser shows which applications are slowing down the PC and suggests corrective actions. The Optimiser includes memory and CPU usage gauges that show the last 60 minutes activity for each application running on your PC.
New The protection level adapts to the processing power of your computer by adjusting settings to match the available memory and CPU type. This allows the user to be fully protected without slowing down the computer.
New Basic and intermediate users can customise the dashboard by adding shortcuts to their favorite sections or actions.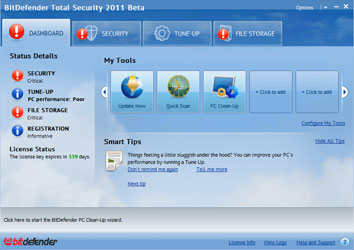 Improved Smart Schedule provides maximum performance with system load analysis so tasks like on-demand scanning are suspended, to free-up resources for other processes, such as a media player or games.
Improved Improved usability with typical (easy) vs custom tune-up options.
Improved Select the interface that best matches your security needs and knowledge. Basic, Intermediate, and Expert users can select the interface that best suits their needs. Most sections of the product have been redesigned to support basic and intermediate users.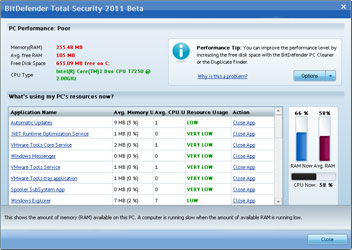 The press release has been published on the BitDefender website, at this link: http://www.bitdefender.com/NW1603-world--BitDefender-2011-Beta-Just-Released.-Test-Now-and-Win.html
For more information contact Alina Anton, senior PR & marketing coordinator, EMEA & APAC Business Unit, BitDefender, +40 212 063 470, aanton@bitdefender.com, www.bitdefender.com
Further reading:
Cyber attackers used over 500 tools and tactics in 2022
Cyber Security News
The most common root causes of attacks were unpatched vulnerabilities and compromised credentials, while ransomware continues to be the most common 'end game' and attacker dwell time is shrinking – for better or worse.
Read more...
---
Addressing the SCADA in the room
Industrial (Industry) Cyber Security
Few other sectors command the breadth of purpose-built and custom devices necessary to function, as the industrial and manufacturing industries. These unique devices create an uncommon risk that must be assessed and understood to fully protect against incoming attacks.
Read more...
---
Recession or stress?
Cyber Security News
The economic landscape has seen many technology companies lay off vast numbers of employees, but for cybersecurity, the picture looks very different – a dynamic mixture of excitement, challenges and toxicity.
Read more...
---
Vulnerabilities in industrial cellular routers' cloud management platforms
Industrial (Industry) Cyber Security Security Services & Risk Management
Research from OTORIO, a provider of operational technology cyber and digital risk management solutions, unveils cyber risks in M2M protocols and asset registration that expose hundreds of thousands of devices and OT networks to attack
Read more...
---
NEC XON appoints Armand Kruger as Head of Cybersecurity
News Cyber Security
NEC XON has announced the appointment of Armand Kruger as the Head of Cybersecurity. Kruger will oversee all cybersecurity offerings including cybersecurity strategy, programmes, and executive advisory.
Read more...
---
Caesar Tonkin new head of cybersecurity business, Armata
News Cyber Security
Vivica Holdings has announced the appointment of cybersecurity expert Caesar Tonkin to head up its cybersecurity business Armata, which provides technology solutions and niche expertise needed to help businesses better protect themselves.
Read more...
---
Surveillance-free surfing
News Cyber Security Products
Zoho has launched Ulaa, a privacy-centric browser built specifically to help users secure their personal data and activity by providing a browser solution that universally blocks tracking and website surveillance.
Read more...
---
Troye and Arctic Wolf join forces
News Cyber Security Security Services & Risk Management
Troye has announced a strategic partnership with Arctic Wolf to enable Troye to provide customers with enhanced cybersecurity solutions and services that help protect their businesses from advanced cyber threats.
Read more...
---
Relaxed home cybersecurity could render consumers accidental 'inside actors'
Editor's Choice Cyber Security Smart Home Automation
Cisco security experts warn of snowball impact of relaxed approach to cybersecurity on personal devices, noting 60% of users primarily use their personal phone for work tasks and 76% have used unsecured public networks for work tasks.
Read more...
---
VMware unveils new security capabilities
Cyber Security IT infrastructure Products
At the RSA Conference 2023, VMware unveiled enhanced features for its suite of security solutions to address the increasing sophistication and scale of cyberattacks and to deliver strong lateral security across multi-cloud environments.
Read more...
---