printer friendly version
Converged college access
June 2010
Access Control & Identity Management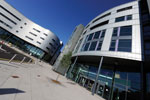 College opts for converged physical and logical security solution.
City College Coventry's mission of 'Responding to diversity; raising the standard; taking education further', was something to be reflected in the development and choice of a suitable logical and physical access control solution.
Satel Naik, the college's technical services manager explained that he had not previously used access control except for a few door code locks and there was no information technology (IT) security solution in place. Naik's vision for the future of the college was to bring security technology to the forefront, by selecting the best possible solution and creating a truly intelligent building.
The college faced many challenges, including staff and students not wearing ID badges. Not to mention, limited secure parking, no real physical access control – some doors were left open, limited control of IT user accounts and some abuse of photocopying and printing privileges.
Naik explains that it was important for the college that current laborious and manual processes, such as library book inventory and fine payments, could also be automated and simplified in the future and be part of the planned ID solution. For the safety and convenience of students and staff, the college was also keen on reducing cash handling on site by introducing a cashless payment solution for the canteen.
Making the vision a reality
A key requirement for Coventry College was the ability to control real estate, personnel and assets through one medium, a multi-application smartcard.
Looking at the college's requirements, Jason Hiller proposed an integrated and seamless solution that would combine both physical and logical access control. "Coventry College required a sophisticated and reliable solution that would cater to its needs not only today, but in the future," said Hiller. "We recommended a solution based on HID products, ensuring that the college will have a solution always up to date with the latest standards."
Hiller recommended HID Global's networked access control solution in conjunction with HID partner company, DVtel, for physical access control. To meet the logical access requirements the college selected HID's Crescendo solution, a multi-application smartcard.
"Having looked at several logical access solutions that are currently available on the market, Crescendo was the only real option for the college. Crescendo allowed us to use the same card for physical and logical access control, it is compatible with Windows and has a straightforward set-up," said Naik.
As part of the solution, C700 HID Crescendo cards were deployed, which have integrated middleware. Logical access is run on a virtual college server on a VM slice, running an SQL database and Windows 2003 Server software.
"Crescendo cards allow us to have card records initialised centrally through Microsoft Active Directory and use Microsoft's Identity Lifecycle Manager (ILM) to control starters/leavers process to one record/account. The enrolment process is quick and easy, and is managed via HR by the technical team of the college," said Naik.
"Coventry College opted for C700 Crescendo cards with 16k/16 iCLASS 13,56 MHz technology, which provides enough memory for current application requirements and has enough space on the card to add future deployments," said Naik. "Should one day we require even more memory on our cards we can always upgrade to HID's 32k cards."
Coventry College also has plans to implement a cashless catering solution, and currently promotes card carrying by offering their staff and students a 10% discount on all card purchases. The chosen system is server-based, which means the cash on the card remains in the cardholders account should the card be lost or stolen.
"Finding something that truly works in an environment such as a college is rare, as students do test and challenge equipment quite thoroughly," explained Naik. "We are very happy with the results, and feedback we have received regarding the new solution and plan to roll out Crescendo for all 12 000 students."
For more information contact HID Global SA, +27 (0)72 923 9426, jlakin@hidcorp.com, www.hidcorp.com
Credit(s)
Further reading:
Improved security health check tool
Gallagher Access Control & Identity Management Products
Gallagher Security has streamlined its free Security Health Check tool, making it easier than ever to protect against potential system risks and improve business efficiencies.
Read more...
---
Suprema showcases integrated security solutions
Suprema Access Control & Identity Management Products
Apart from being an access terminal that supports multiple credentials such as facial recognition, RFID, mobile and QR codes, the BioStation 3 also supports VoIP Intercom and real-time video monitoring features to make it a truly multi-functional reader.
Read more...
---
Local electronic locks
Access Control & Identity Management
YeboTech is an electronics manufacturing company, founded in 2005, which designs, markets and sells an electronic key and locking systems, aimed at replacing all conventional mechanical locks.
Read more...
---
Selecting the correct access control system
Enkulu Technologies Access Control & Identity Management
Frazer Matchett, Managing Director of Enkulu Technologies, suggests the right questions to ask when selecting an access control solution; not just the access system, but the integrated solution that fits your requirements.
Read more...
---
Integrated guarding services
XtraVision Integrated Solutions Access Control & Identity Management Industrial (Industry)
XtraVision offers a few tips on how to go about planning and setting up an integrated approach to sustainable and successful security services, from the initial risk assessment to the technology and people required.
Read more...
---
Paxton secures multi-tenant office in Cape Town
Paxton Integrated Solutions Access Control & Identity Management Products
Cecilia Square in Paarl, Cape Town is an office building from where several businesses operate. The multi-tenant site has recently undergone a full refurbishment, including a complete upgrade of its security system for access control.
Read more...
---
AI face recognition OEM module
Suprema News Access Control & Identity Management Products
Suprema AI, a company specialized in artificial intelligence–based integrated security solutions, recently launched its high-performance face recognition OEM module called 'Q-Face Pro' in response to the growing need for contactless security solutions.
Read more...
---
KWAL raises a glass to security upgrade
Turnstar Systems Access Control & Identity Management Products
The Kenya Wine Agencies Limited (KWAL) was in need of an integrated security upgrade. This is where Turnstar came into the picture to provide a solution that would keep KWAL secure and efficient.
Read more...
---
Dahua Insider Series for touchless access
Dahua Technology South Africa Access Control & Identity Management Products
The Insider Series Access Control Solution offers touchless access (via Bluetooth) using the DMSS mobile app; it has three distance modes and two trigger modes (normal and shake).
Read more...
---
Time and attendance with a difference
Access Control & Identity Management
The Platinum Mobile app allows employers to track employees work hours, location, leave and more, when employees do not have access to the office clocking terminal, are onsite or out in the field visiting clients.
Read more...
---